Knowledge Base plugin for WordPress with built-in Analytics
Add documentation and track its performance instantly!
If you have any questions, don't hesitate to ask us in comments or via contact form in Envato profile. We try our best to respond right away (or within 1 hour) during working time (we're at GMT+2, EET) or within 1 day otherwise.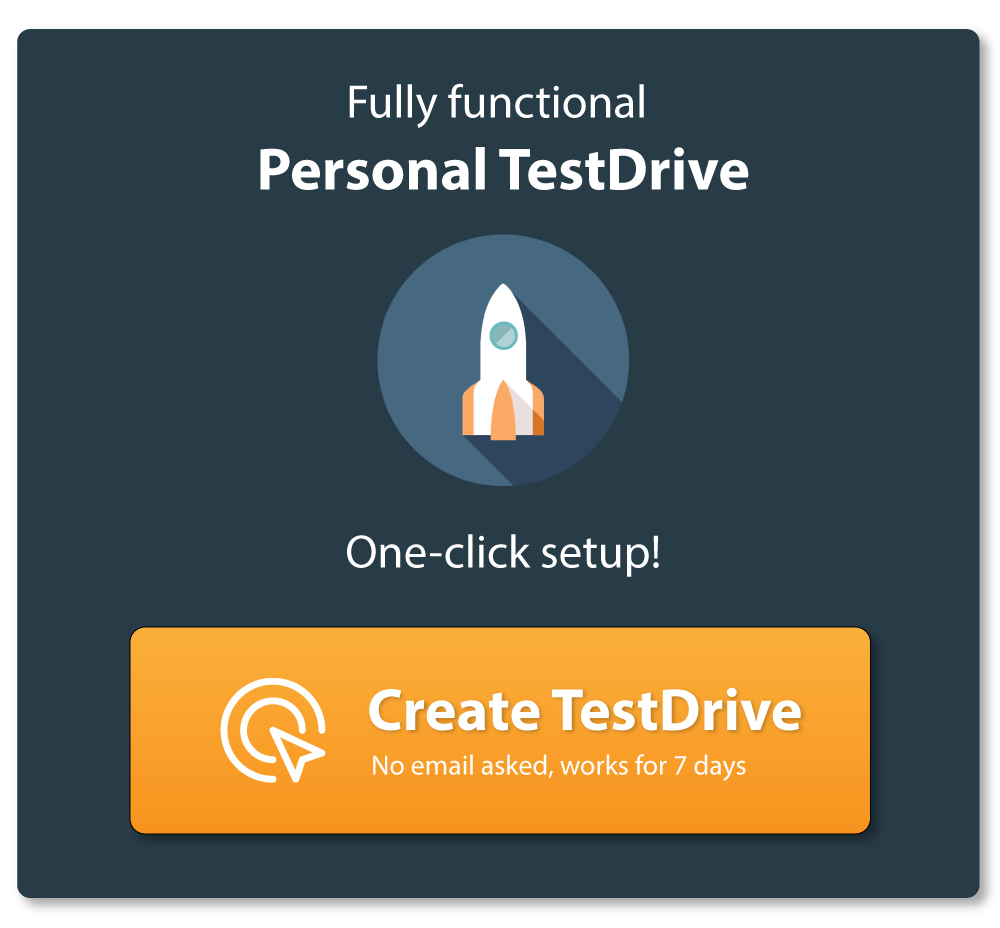 Version 1.4.4 is out – now with Visual Composer elements!
Great news! New major update added in version 1.4.2: MinervaKB now has a powerful WordPress FAQ module, with instant filter and categories. Plus a ton of flexible style options for it! As a bonus, you can save up to $20 not buying a separate FAQ plugin. This time we decided to go against the grain a bit. Instead of adding every feature available in WordPress FAQ plugin today we spent a great deal of time to investigate how FAQ module is used by largest companies and businesses, collected the key features and dropped the rest, so it has only the important stuff. Let us know what your think!
Read more details about restrict content feature in this blog post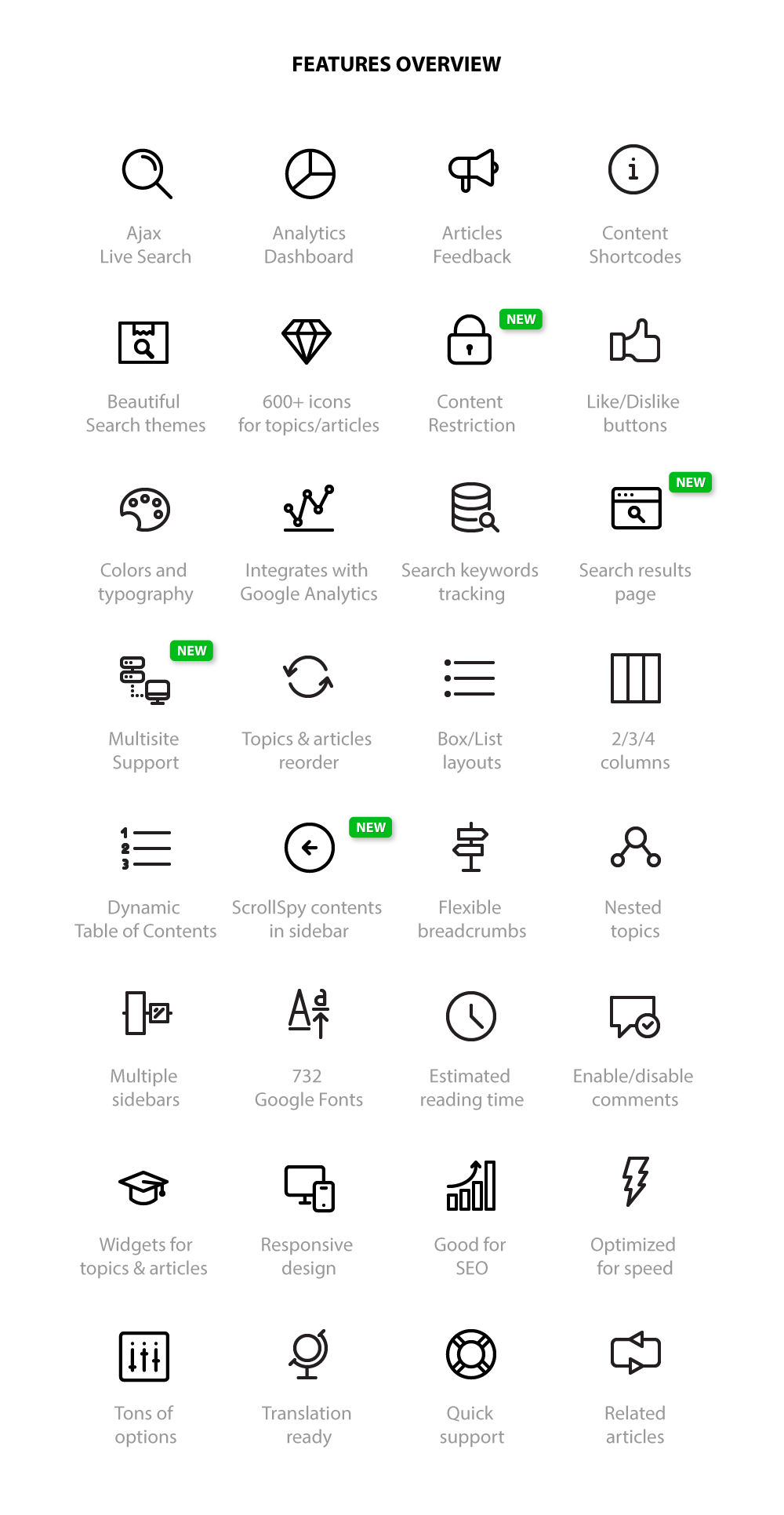 Features
Ajax intuitive Live Search with multiple themes
Analytics dashboard, with views, likes and dislikes weekly / monthly graph
Search analytics – see what users searched for and which results they received
Shortcode builder
Visual Composer elements available
One-click demo import
Articles feedback
Content restriction. Restrict access to articles based on user role. Show login form and teaser to users who are not registered.
732 Google Fonts with flexible load options
Articles text color and typography
FAQ module
Google Analytics integration
Search on articles and topics pages
Search for articles using tags
Custom order of topics (drag n drop)
Custom order of articles (drag n drop)
Home page box or list layout, with 2, 3 or 4 columns
Dynamic Table of Contents in articles
Custom post type slugs
Breadcrumbs on topics and articles pages
Nested categories support
Multiple sidebars for each page type
Optionally can display page content on knowledge base page
Icons for topics or articles (600+ icons)
Show or hide article views, likes and dislikes buttons and count with custom icons
Estimated reading time for articles
Enable or disable comments
Use our templates or switch to your theme default templates
Override plugin templates from theme
Topic and articles widgets
Topics, articles and search shortcodes
Tip, Info and Warning content shortcodes for use in our articles, with custom colors and icons
Responsive design
Documentation
Optimized for speed
Translation & WPML ready
Roadmap
* RTL support
* Automatic updates
* Article attachments
* Code highlight shortcodes
* More widgets
* ...
Changelog
Version 1.4.6 – Jan 10, 2018
Note on Automatic Updates feature. We've been requested to add automatic updates in plugin several times and we planned to add it in this version finally, but after investigation and testing official Envato Market plugin we decided against developing our own, as this plugin works well, is maintained by Envato and does everything needed. Besides, by enterning your token once, you can update all your purchases in one place. So, please use it, check their site for more details: http://envato.github.io/wp-envato-market/ Of course we are always ready to help, and if this solution has some drawbacks, please let us know, we'll find a better one.
* New better icon selector with filter
* New terms select, with hierarchy and reorder
* Fixed: FAQ animations shaky
* Option to control FAQ animation speed
* Option to control URL in table of contents navigation
* Fixed compatibility with themes, that styled header/section tags incorrectly
* Added option to use percents for container
* Added max width for images in articles
* Added more actions for home page lists and child topics block
* Fixed bug with Visual Composer caching javascript file
* Tested for compatibility with Envato Market plugin for Auto updates: http://envato.github.io/wp-envato-market/ 
Version 1.4.5 – Nov 19, 2017
* Added articles ordering settings (date, title, last modification, etc)
* Added URL setting to remove global site prefix from KB items
* Table of contents now uses hash navigation, so when opening a link with heading hash, content will be scrolled to section
* Plugin settings now remember the tab you were on after page refresh
* Checked for compatibility with WordPress 4.9
* Added option to disable articles archive. Now you can use articles URL slug, for example /kb for your KB home page.
* Added support for paged articles to table of contents
* Added option to control scroll to top (article or site top)
* Fixed: scrollSpy sometimes highlighted previous item when using together with scroll offset;
* Fixed: table of contents not working in theme templates
* Fixed: admin footer message overlapping page builder
* Fixed: feedback sometimes appeared in search results
* Fixed: warning for missing second argument on old WordPress versions
* Fixed: console error when using theme template for articles
Version 1.4.4 – Oct 9, 2017
* Major feature: Visual Composer elements. Now all KB sections are also available in Visual Composer!
* Major feature: non-blocking search. New search mode added, which sends requests at the server as you type, resulting in much more responsive experience. You can also change it back to blocking mode, if you need to reduce load on your server. Search analytics was also rewritten to play well with new search - only the valuable results are stored in search history.
* Added search request indicator icon for more responsive UX.
* Added reset possibility for Likes, Dislikes, Views and search stats.
* New widget: KB Search.
* Added option to remove icons from widgets.
* Sidebar is now always rendered after content on mobile and tablet.
* Added switch to disable FAQ post type and modules.
* Fixed: search by tags were absent in search results page, while available in live search.
* Fixed: fancybox script loading.
* Fixed: WPML css breaks icon selector.
* Fixed: search is now not performed when search input is empty.
Version 1.4.3 – Aug 28, 2017
* Major feature: WPML compatibility. All the major features were tested for compatibility with WPML. Please, check the multilingual content demo: http://ml.minerva-kb.com/
* Major feature: 2nd restriction mode added: possibility to exclude restricted content from topics and search results. Now instead of showing articles with login form for non-authorized users you can remove these entries completely and show only for allowed user roles.
* Hierarchical table of contents now has proper numbering: 1.2, 1.3.1, etc. Works for any level of depth.
* Post type/slug settings section improved, as many customers were confused by it.
* Articles count was incorrect in some cases, thnx David https://codecanyon.net/user/blackcode777 for reporting
* Added settings to remove title and container for KB home page created via plugin settings.
* Added child theme support for theme overrides.
* Fixed: shortcode builder working only for admin users.
* Fixed: WP pagination setting affecting search results.
* Fixed: undefined topic when search result has no topic.
Version 1.4.2 Translation Hotfix – Jul 23, 2017
Big thank you to David https://codecanyon.net/user/blackcode777 for reporting!
* Fixed: bug with translations that caused some settings to not work when using plugin on non-English WordPress installs.
* Settings pages responsive layout improved
Version 1.4.2 – Jul 11, 2017
Upgrade notice: this version has many new features added, so it is advised to backup your data before updating.
* Major feature: FAQ added with live filter and categories
* FAQ home page section
* FAQ shortcode
* FAQ page builder section
* FAQ demo page and content added to one-click import
* Added possibility to reorder and remove global home page sections
* Added topics and tags columns in articles list admin page
* Added topics and tags filters in articles list admin page
* Added better CSS size controls to page builder and shortcode builder
* Improved font awesome styles compatibility with some themes
Version 1.4.1 – May 29, 2017
* Fixed: custom articles order broken on multisite
* Fixed shortcode builder compatibility issue with ACF plugin
* New search option: allow multiline results. Works in page builder and shortcodes as well.
* Fancybox improvement: now fancybox works without titles and captions as well
* Added confirmation popup for restore defaults in settings
* Added possibility to remove feedback directly from articles pages
* Fixed bug with rating buttons inlined with images when using aligned image as the last item in content
* Fixed bug with Related shortcode showing current article link when no articles selected
* Fixed CSS bug with 3 columns displayed as 2 in some themes when using shortcodes
Version 1.4.0 – May 11, 2017
Upgrade notice: If you are using shortcodes, it is important to check your pages after update, as shortcodes code have been significally rewritten in this version to support Shortcode Builder, and some defaults were changed.
* Main feature: added Shortcode Builder with ability to edit added shortcodes
* Added Uninstall page, with possibility to remove all plugin data
* Fixed bug with topic options not removed after topic removal
* Fixed bug with deleted topics affecting home columns layout, when added
* Fixed articles custom order in topic archives
* Added option to force topic icons selected in section
* Fixed title and color options in topics shortcode
* Added option to show/hide descriptions for topics in section
* Fixed pattern overlay opacity
* Fixed search results overlapping topics in some themes
* Fixed custom background/color for topic labels in shortcodes
* Topics shortcode defaults are not affected by global settings now
* Added force topic color in shortcodes (and fixed for home pages lists)
* Fixed demo import when importing after changed post type option
Version 1.3.9 – Apr 20, 2017
* Main feature: Added one-click import + imported content management panel
* Added option to not load Font Awesome (in case theme loads it already)
* Added more template actions: now you can wrap any template in your containers
* Fixed CSS for search input margin in some themes
* Fixed compatibility issue with WP Mobile Detect plugin
* Added custom link option for breadcrumbs home page
* Added notification for sidebar with no widgets
* Added configuration for comments box: after content, inside or outside of container
* Fixed CSS for images not appearing in some themes when using em size
* Most viewed and most liked topics now fallback to recent if there are no topics to display
Version 1.3.8 – Mar 29, 2017
* Major feature: Full WordPress Multisite Support
* Fixed nested categories display when parent has no articles
* Fixed KB home display when used as site front page
* Fixed bugs when trying to view article not added to any topics
* Added message when using non-existing topic ID in topic shortcode
* Fixed bug with topics shortcode using topics from home page
* Fixed defaults in topic shortcode, now works correctly without limit set
* Demo data fixed for new post type defaults
* ScrollSpy removed on mobile
* Fixed compatibility with older WordPress versions: 4.4, 4.0, 3.8
Version 1.3.7 – Mar 14, 2017
* Added sticky sidebar functionality for articles
* Added table of contents widget + option to disable table of contents in article body
* Added ScrollSpy functionality for table of contents (in widget only)
* Added setting for article, topic and tag URLs. Now you can change post type and taxonomies names and slugs separately, keeping the existing content
* Added option to control nested topics articles display
* Added support for paged articles (using nextpage tag)
* Fixed notice on article pages in some systems
* Header in settings page is now sticky, for easier save button access on long sections
* Added error notifications on failed save/restore actions
* Improved theme compatibility when using plugin templates
* Added option to remove tags archive and tag links from articles
* Added setting for number of articles per page for topics, tags and search results page
* Added preview link to home page selector to quickly open KB home page
* Compatibility checked with WordPress 4.7.3
* Scroll offset option changed to use positive values instead of negatives by default
* Fixed shortcodes in page builder page content section
* Fixed bug with feedback form not appearing without rating message enabled
* Fixed bug with article appearing twice if matched by content and by tag
* Fixed bug with live search finding draft articles
* Improved performance a little
Version 1.3.6 – Feb 23, 2017
* Dedicated search results page added
* Desktop/mobile/tablet device detection added
* Custom css option added
* Added possibility to disable live search by platform. For example, you can keep live search on desktop and tablet, but disable it on mobile and use dedicated search results page instead
* Container and sidebar width settings added
* Added content hooks for tag and archive page templates
* Generic text strings moved to localization tab
* Pagination layout and styles added. Now you can choose between plugin and theme pagination
* Added theme compatibility settings (include/exclude header and footer)
* Fixed bug with notice about is_tax called incorrectly
* Fixed width issues for themes that use flexbox display mode and/or content-box CSS model
* Major code cleanup and refactor
* Public hooks API rewritten
* Search results now returned by relevance
* Login form width fixed on mobile
* Added table of contents scroll offset option
* Twenty Seventeen theme CSS fixes
* Eduma theme compatibility fixed
Version 1.3.5 – Feb 14, 2017
* Added content restriction functionality
* Added possibility to restrict articles globally, by article or by topic
* Added customizable login form for restricted articles
* Fixed compatibility with Impreza theme
* Fixed bug with search results under the breadcrumbs
* Client-side SCSS moved to separate files
Version 1.3.4 – Feb 7, 2017
* Font selector added with 732 Google Fonts
* Article text typography and color options
* Widgets typography and color options
* Headings typography and colors options
* Advanced breadcrumbs style settings added - background color, paddings, bg image, pattern, gradient, etc
* Added body classes for home pages, archives and article pages for custom styling
* Article, topic and home page padding settings
* Fixed bug with topics shortcode ignoring passed IDs
* Fixed bug with icon select not highlighting new icon
* Improved responsive styles for mobile and tablet
* Search results now also include matches by tag
* Inline CSS minified
Version 1.3.3 – Feb 2, 2017
* Added feedback tab in dashboard, with possibility to remove feedback
* Added hierarchical dynamic table of contents, built from H1-H6 heading tags in content. You can use either dynamic TOC or TOC built with shortcodes. Table of contents settings moved to separate tab.
* New feature: Search keywords tracking and analytics
* Search delay setting added
* Added sortable columns to articles list in admin  - views, likes, dislikes, feedback
* Fixed: missing related content shortcode preview image added
* Technical: admin SCSS files organised and cleaned-up
* Admin pages styles minor fixes
* Added dummy data xml for quick initial setup
Version 1.3.2 – Jan 24, 2017
* Dramatically improved performance (up to 20x reduced loading time on some pages). Big thank you goes to @kimekim for noticing this issue.
* New feature: ability to reorder articles inside topic using drag n drop
* New feature: ability to add and display related articles
* New feature: ability to display related content links in article
* Fixed: articles and topics giving 404 on fresh installs due to WP cached rewrite rules
* Fixed: article archive intercepting custom post type archives in some cases
* Extended support down to php 5.3
Version 1.3.1 – Jan 18, 2017
* New feature: added articles feedback functionality
* New feature: Google Analytics integration. Now you can track successful and failed searches, likes, dislikes and feedback directly to your Google Analytics account, using custom GA events. All event fields are configurable and have hassle-free, working out of the box defaults.
* Added possibility to display tags in articles
* Also, search now can be limited to selection of topics
* Every topic now can be attributed to specific KB home page, allowing to separate KB into multiple logical sections (requested feature)
* Added configuration to display messages on like / dislike action
* Some minor dashboard UI improvements
Version 1.3. – Jan 9, 2017
* Added search in articles
* Added search in topics
* Added possibility to use images instead of icons for topics
* Configuration settings added for all visible text so you can easily localize Knowledge base without WPML or other plugins
* Option to remove like / dislike icon
* Added separate defaults for search shortcode
* Fixed: bug with duplicate slashes before quotes
* Added option to show/hide topic in search results
* Added option to show/hide "Show all" link
* Search shortcode now supports all the options you have in page builder
* Added public API for search and topics with all the options available, insert anywhere in theme
* Article and topic templates are rendered via actions, so it is possible now, for example, to put your content before rating or after reading estimate
* Added option to disable search autofocus
* Added featured images support to articles
* Many other small settings and improvements
Version 1.2.1 – Jan 5, 2017
* Fixed: taxonomy templates were not overridden if taxonomy.php existed in theme
* Fixed: icons on the left stack were shifted in some themes
* Fixed: custom topic colors and icons did not show up
* Fixed: list tags custom styles in theme conflicted with plugin styles
* Fixed: page builder had lower render priority than global home page
* Added security check for page builder save process
* Plugin compatibility checked and fixed: SEO by Yoast
* Theme compatibility checked and fixed: Newspaper 7
* Theme compatibility checked: Avada theme
* Added option to configure number of articles on home page and in page builder
Version 1.2 – Dec 27, 2016
* New feature: Added many search themes
* New feature: Added many search style options: background color, image, gradient, pattern and many more.
* New feature: Added Drag n Drop home page builder
* New feature: Dynamic topics - Recent, Most liked, Most viewed
* Requested feature: Added setting for breadcrumbs root page text
* Requested feature: Tip field now allows HTML
* Added container settings for home pages
* Added title settings for home pages
Version 1.1 – Dec 19, 2016
* New feature: Dynamic table of contents in articles
* New feature: Custom topics order on Home page (use drag n drop)
* New feature: Optional FancyBox popup for articles images
* New feature: Add custom HTML at the bottom of articles. Can be used for additional support contacts
More color settings added
Home page container configuration added
Improved compatibility with themes

Version 1.0 – Dec 13, 2016
Initial release