WebViewGold. The WebView solution that just works.
Create your own app for iPhone, iPod and iPad with just a few clicks. Use your mobile site as basis and this Xcode package wraps your URL (or local HTML) into a real, native iOS app! No more coding, no more plugins needed. It just works.



Optimized for high performance (up to 2x faster than UIWebView)
Universal app: Optimized for iPhone, iPod touch and iPad
Full support for latest iOS 12 and newest iOS lineup including iPhone XS
Easy: Just define your URL (or your local HTML folder) and WebViewGold takes care of the rest!
Native iOS activity indicator while loading your URL
Native Offline screen with "Try again" button if your app is offline
File Uploads & Geolocation supported
HTML 5 Audio supported – even if your app is in background mode
Define which URLs should be opened in Safari instead of your app (for external links, e.g. Facebook/Twitter)
iOS Splash Screen & Multitasking supported
Custom status bar color (+ text) design
Define separated, custom UserAgents for iPhone and iPad devices
Downloader for PDF documents (using "Open with" dialog)
Native JavaScript dialogs like alert(), confirm() and prompt()
Image Saving API (use JavaScript to save images to Photos app)
First Run dialog (e.g. "Thanks for downloading this app!")
Direct, native In-App App Store rating dialog
Follow on Facebook dialog
No WebView bounce for better usability feeling
Cache Management
Push notifications via JavaScript or OneSignal with URL Deeplinking (both optional)
AdMob banner & full screen interstitial ads (both optional)
Universal links (possibility to easily configure a link scheme like webviewgold:// which can be triggered from Mail app, Safari app, ... and opens the attached link in the WebView app)
Swift Xcode source code + Objective-C Xcode source code included
...and much more!
What's new in the latest update?
Please check the changelog
here
.
Will Apple approve this app for the App Store?
We know hundreds of apps that were accepted (e.g. this one). This highly depends on the content you provide in your app – WebViewGold does not provide content by itself. Please make sure to submit an app using an URL which behaves like a classic app (for example by disabling user zooming on your site). Try to add different link colors than standard HTML for a better UX experience. And please feel free to send all details to support@onlineappcreator.com – we are here to help you! If Apple rejects your app, we can offer you a full refund of the WebViewGold license.

How will push notifications work?
You can insert a piece of JavaScript code in your website to define a push notification, which can be shown after your app was closed (while scheduling it during the app is open). This works without OneSignal configuration at all. If you want to use further remote push notification functionality with OneSignal in your app, the backend OneSignal.com will be your place to send notifications to your users. The SDK is already included and can be activated easily.

What version of Xcode is required?
WebViewGold is optimized for the latest non-beta version of Xcode from the Mac App Store. Swift edition requires iOS 9.0 or higher, Objective-C edition requires iOS 6 or higher. iPhone X/XS Max screen dimension support, AdMob SDK, OneSignal SDK & WKWebView technology are available in Swift edition only (Objective-C edition uses UIWebView technology instead). Both versions are included. No coding required.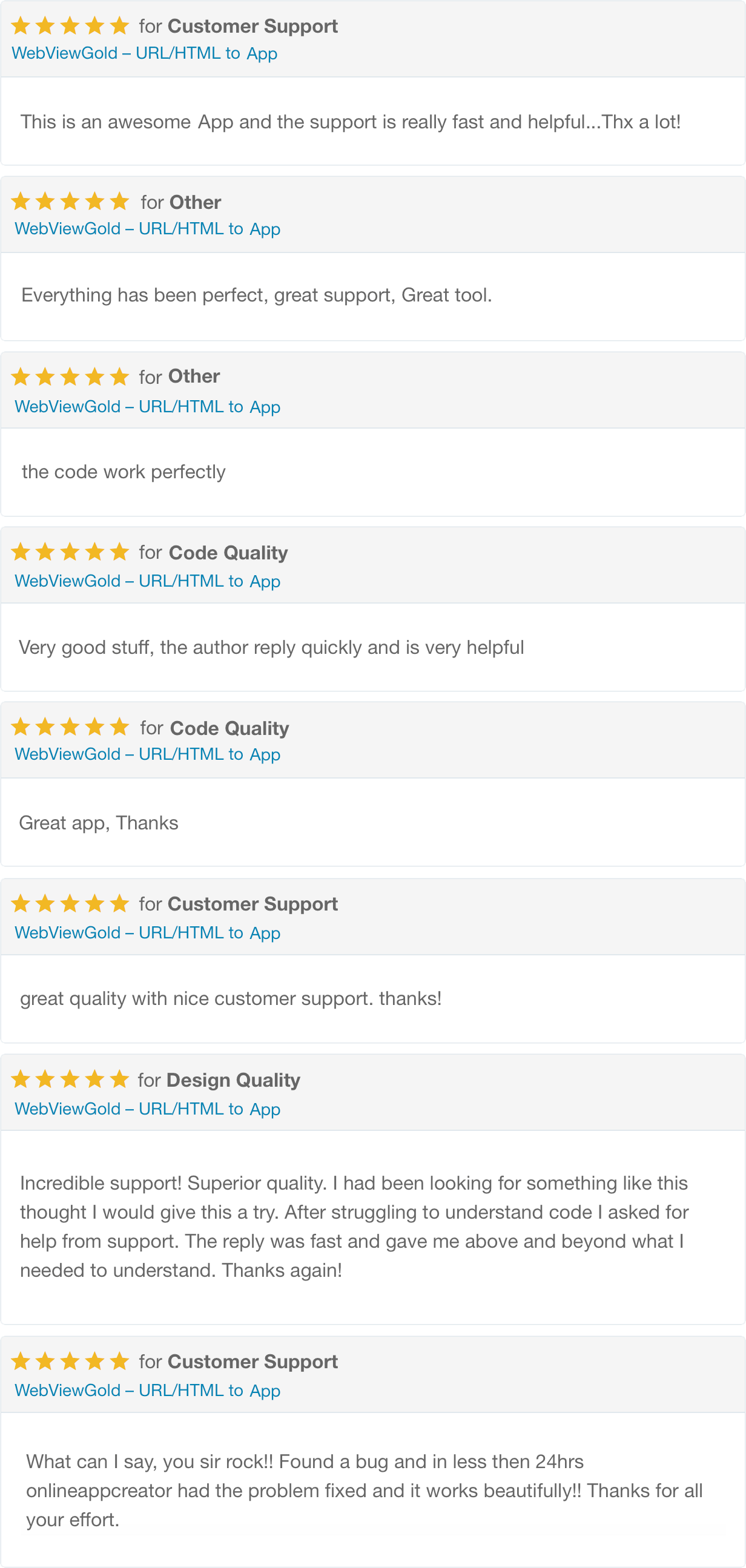 read more reviews




© OnlineAppCreator.com
View update changelog | Get WebViewGold for Android | Contact | Imprint