Amelia is a next-generation Appointment Booking WordPress plugin built with the newest technology by an award-winning team.
Amelia is your automated booking specialist, working 24/7 to make sure your customers can make appointments even while you sleep.
It is a comprehensive booking software, supporting:
Front-end demo | Back-end demo (admin/admin)
Where can I see the feature list?
Feature list can be found
here
. It's not 100% complete, but covers all major features. Detailed documentation, tutorials, demos can be found
on the plugin's website
. A demo (fake Gym website) can be found
here
. A back-end "sandbox" demo is coming in a few days.
Will Amelia be a match for my business?
Amelia is perfect for any business that relies on scheduling and booking appointments in advance. Between others:
Spa salons.
Beauty and hairdresser salons.
Private photographers and wedding photographers.
Private tour guides.
Private clinics, dentists, other healthcare companies.
Law and business consultants.
Personal life and business coaches.
Tourism industry.
Repair and service centers.
Private psychologists.
Cosmetologists.
Internet Cafes.
And many others…
Is it complicated to set up and use?
Not at all! Installing and configuring are trivial. Each backend page includes tooltips and has a link to related documentation pages in the bottom part.
We tried to make the documentation as detailed as possible to make your onboarding experience smooth – see for yourself!
Search-like booking interface
As proved by many major booking websites, it's very convenient for users to pick an appropriate slot by entering one or more search criteria in a filter interface – if we take a hairdresser salon as an example, one may choose a date and a particular hairdresser and browse through available time slots. Amelia provides a shortcode which allows displaying the search interface in 2 clicks: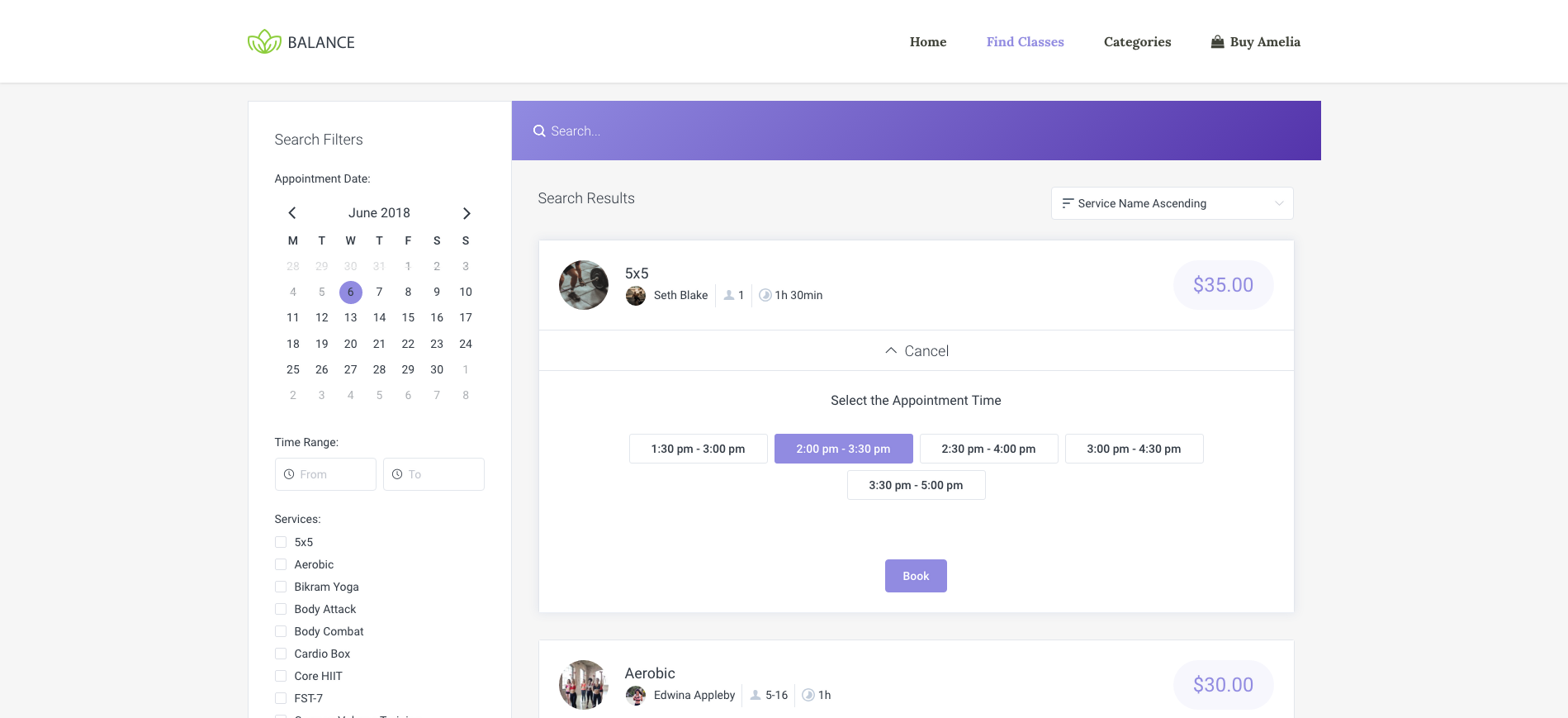 Catalog view for categories and services
If you have Amelia installed on your WP – you don't have to worry about struggling through adding a separate WordPress page for each service category, each service, use additional plugins for displaying images of a service, or organize services in folders. Amelia provides a built-in interface, where with one shortcode you can show all your service categories on one page, or optionally a single category, or just a single service.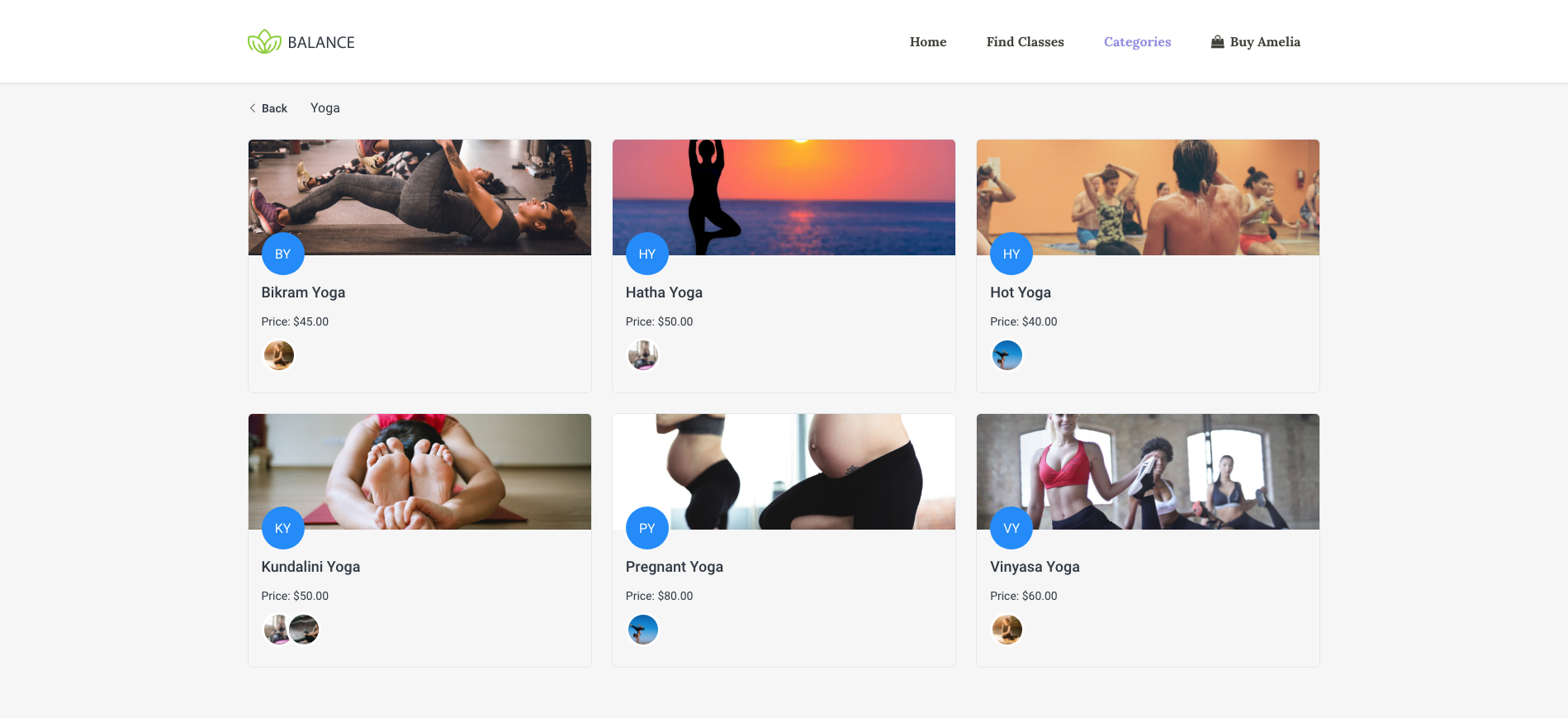 Step-By-Step Booking Wizard
In some cases users prefer booking in a step-by-step manner, where they first choose a service and an employee, then a date, then a time slot, etc. Amelia renders a step-by-step booking wizard as a neat one-page app, which allows to switch between steps smoothly. Wizard is added to any page with a single shortcode.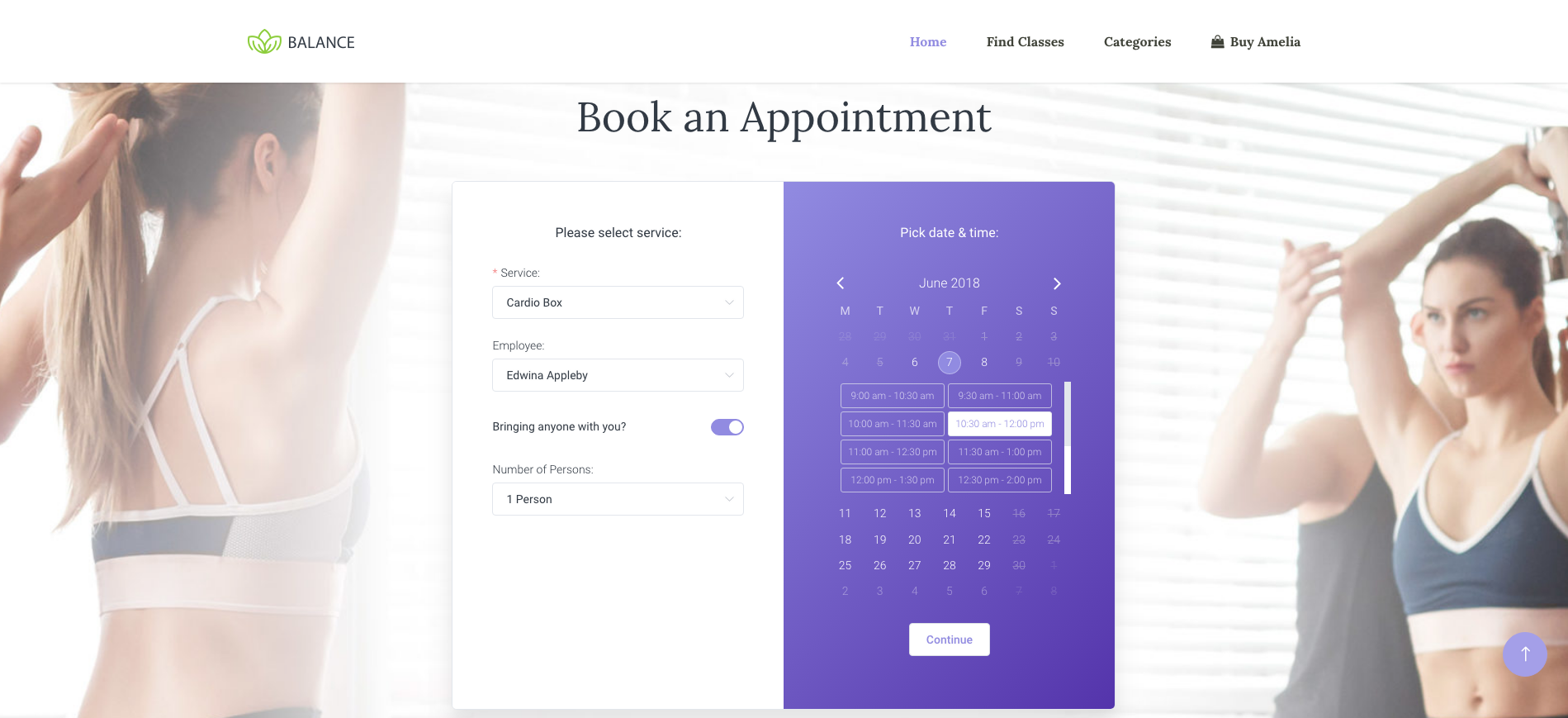 On-Site Payments Support
If you don't want to bother setting up external payment systems, and pay transaction fees, you can just use the on-site payments, which means that your customers will pay in cash when they arrive. Payments data is still stored in the database.
PayPal Payments Support
Amelia implements support for the most popular payment system in the world – PayPal. Configuration takes just a couple of clicks, and you can use the Sandbox mode to try it before you launch it in Production mode.
Stripe Payments Support
Stripe payment system becomes more and more popular worldwide. Amelia has built-in support for this system as well – and as everything else, configuration just takes a minute. Stripe allows demo mode before switching to production mode.
Informative back-end dashboard
Amelia was built with the focus on what's important to all participants of the booking process. The most important is the business owner. That's why the main back-end page of the plugin is the Dashboard, which monitors all business-critical KPIs in a single one-page control panel, allowing the business owners and managers to always keep track of all vital parameters.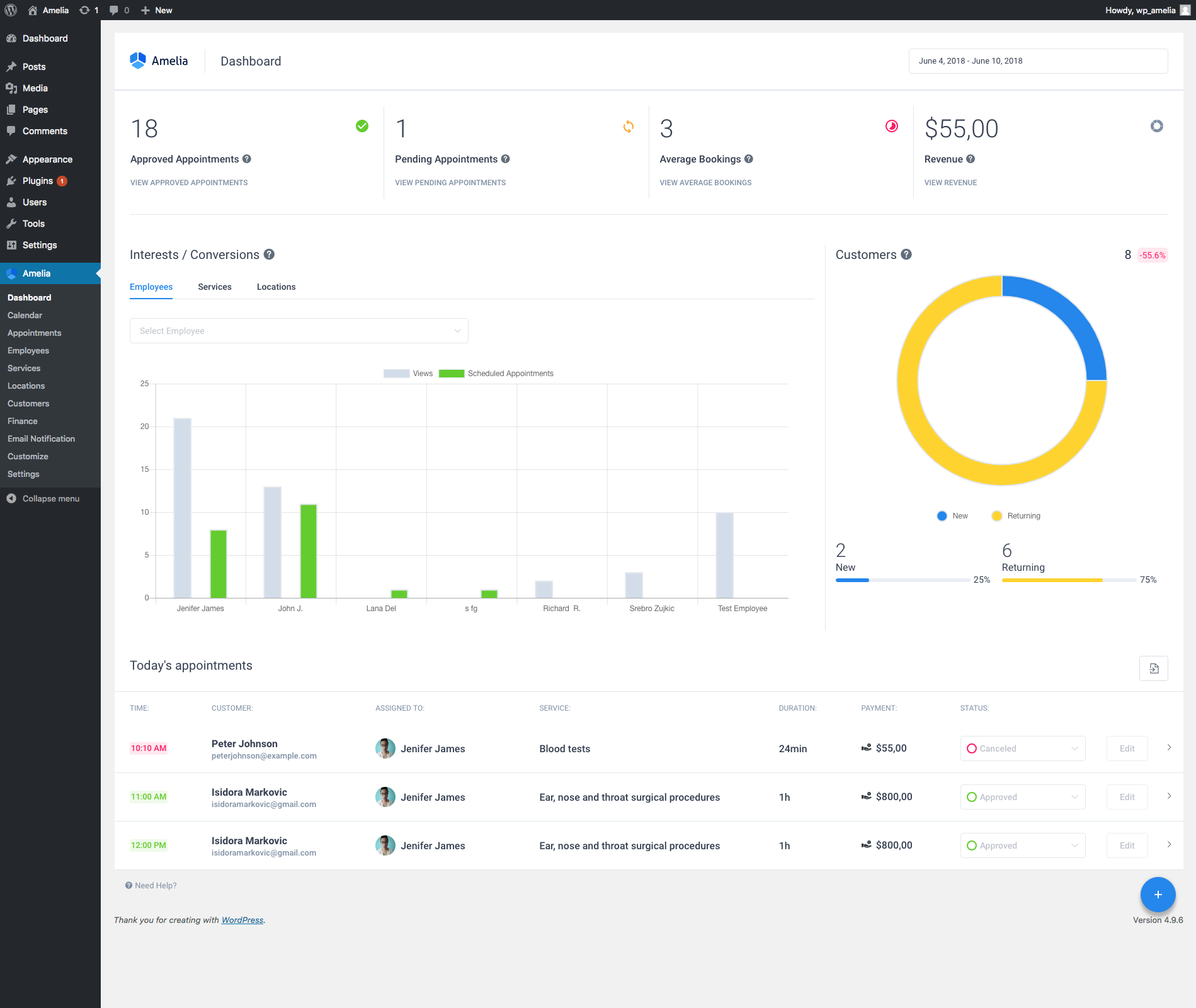 Interactive Calendar for Scheduling
Schedule is always best visualized on a calendar view. We worked hard to prepare a very flexible and detailed calendar view, that can give you any level of insight that you need – all services and all employees, or just particular ones; monthly, weekly, daily views, or more specific List and Timeline views.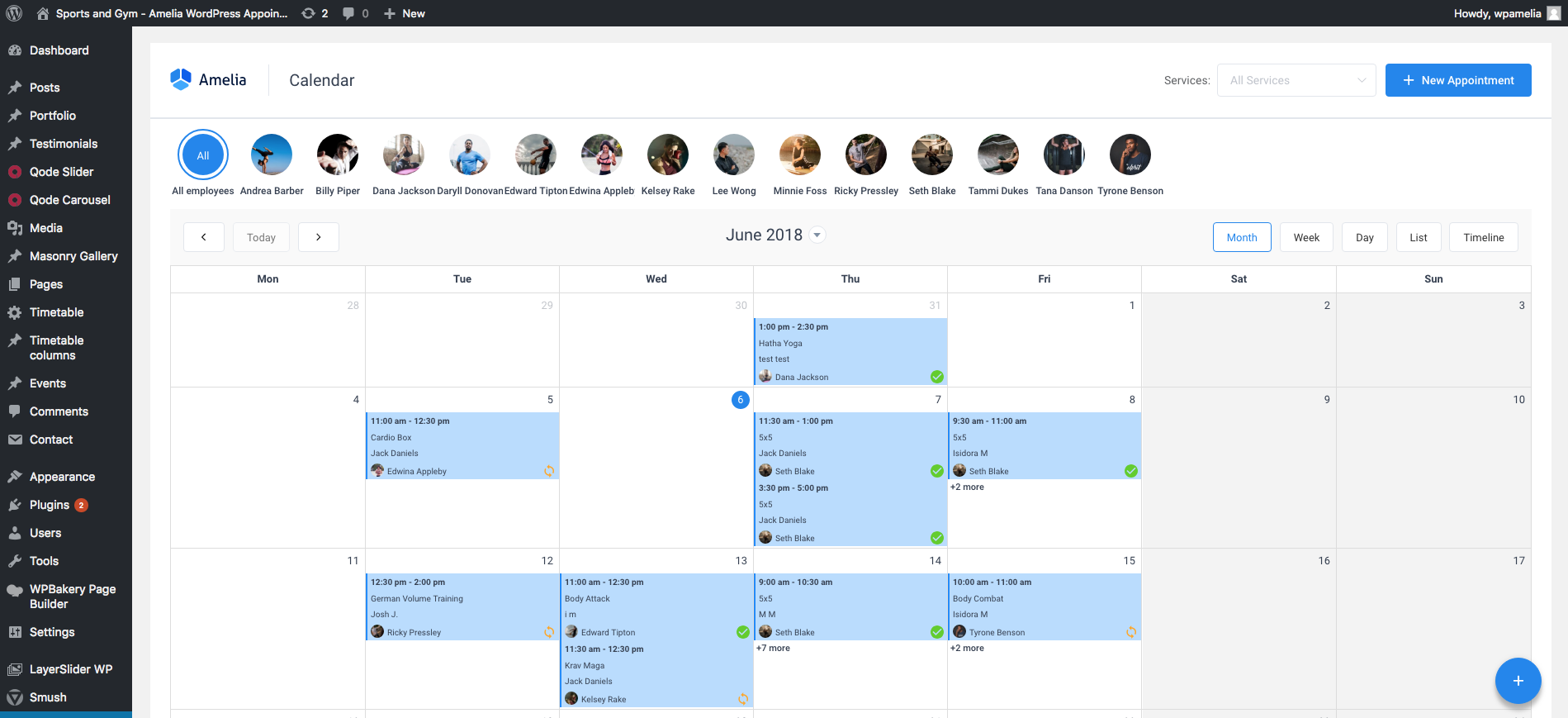 Support for Multiple Employees
It doesn't matter if your business is a one-man-show, or you have 20 employees – Amelia can support both cases. Each employee can provide a particular set of services, and had individual schedule, days off, working hours and breaks.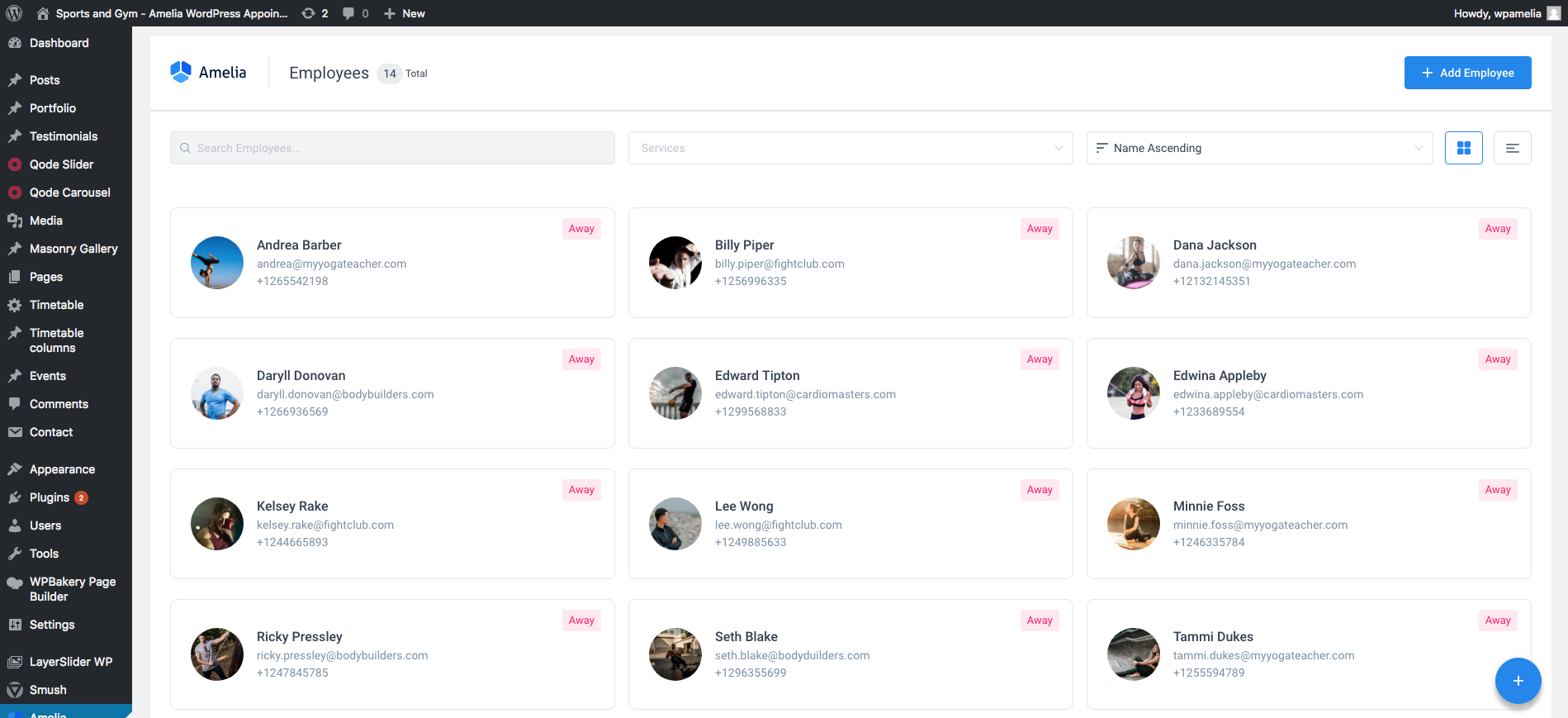 Support for Multiple Services and Categories
Amelia provides a way to configure a catalog of services and categories (groups) of services – each service can have its own price, duration, allow or disallow group appointments; it is possible to configure buffer time before (time needed to prepare for an appointment) and buffer time after (time needed before same employee will be able to accept new customers, e.g. to rest or clean up).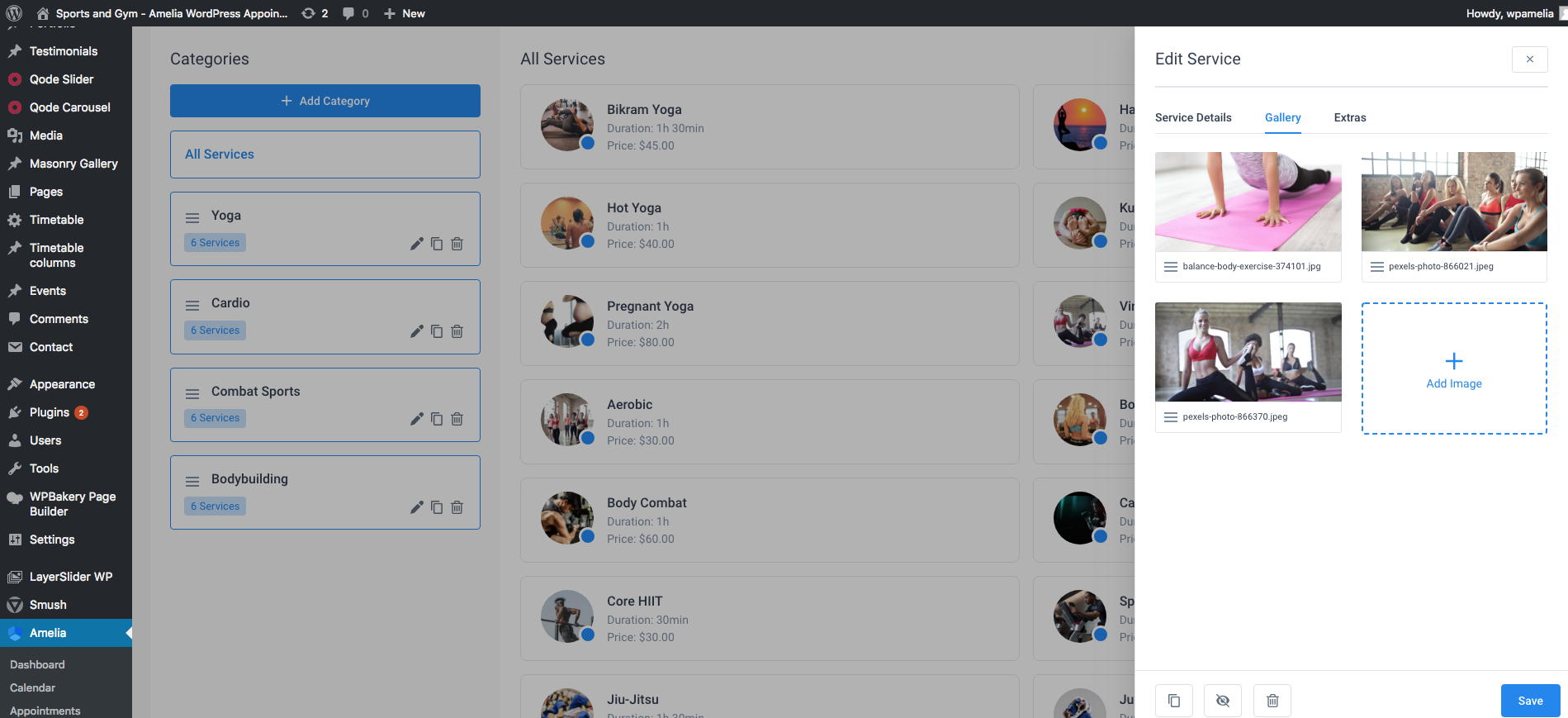 Support for Appointment Extras (Bonuses)
If you would like to upsell some activities or products to your customers when they book appointments, you can easily do so with Amelia. E.g. if you're providing a guided tour and would like to sell also a meal during the tour, and several polaroid photos, and include museum tickets – just add these as Extras (Bonuses):
Support for Multiple Business Locations
Amelia will support you as you grow your business and expand to multiple business locations. Each location can be added to the database, employees assigned to locations, and then your customers will be able to additionally choose a location while they book.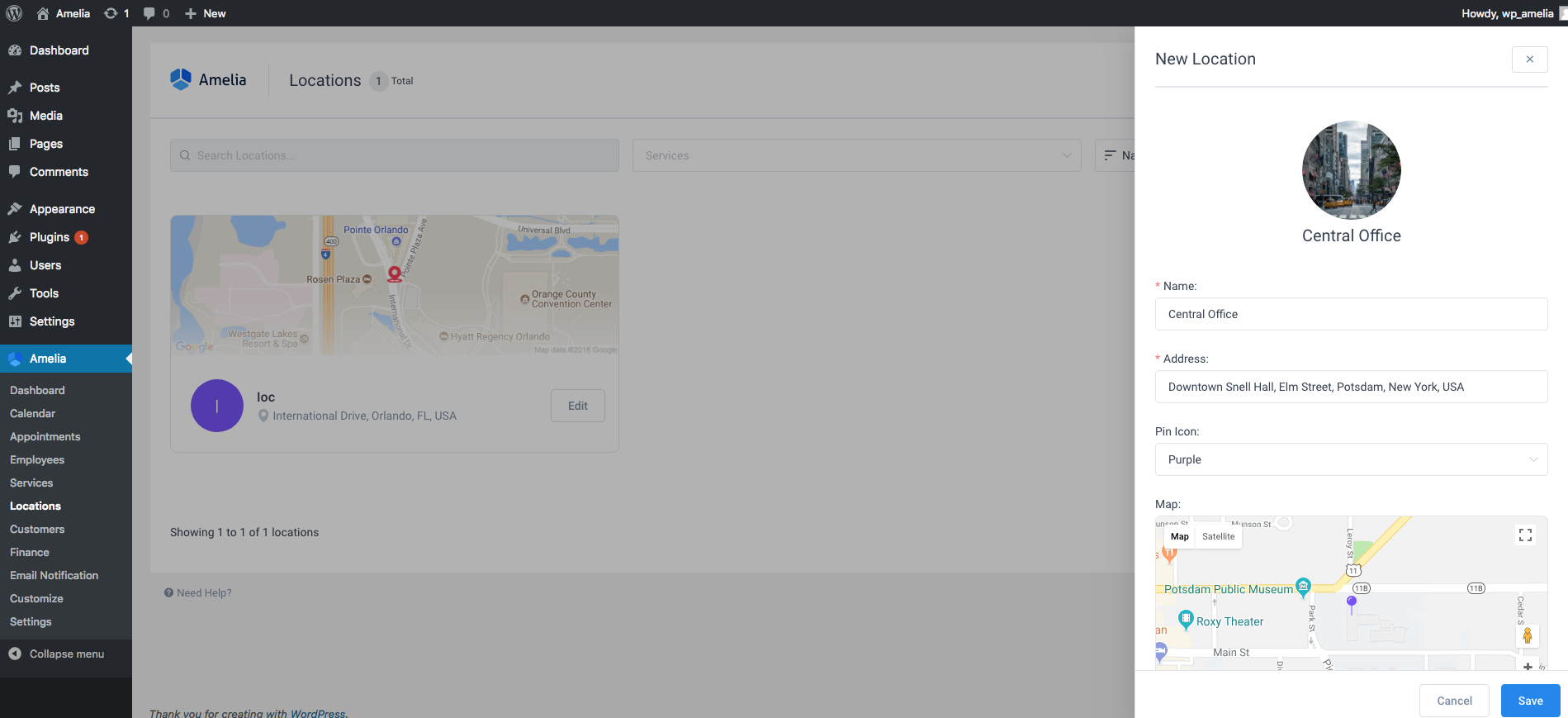 What's next?
We have a lot of our ideas plans for Amelia plugin – however we would love it to bring most value to the end users, so we always listen to the feedback to make it as useful as possible. If you have an idea, suggestion, or if Amelia is missing a key feature that you need – please vote for a feature or suggest your own idea here.
Changelog
Version 1.3.1, released 15.10.2018
A minor release with a few small features, a couple of fixes and stability improvements:
Feature: Custom fields can be used in email notifications.
Feature: Added support for auto-update (will be available starting from the next update).
Feature: Added Greek translation.
BugFix: Duplicate Appointment fixed.
BugFix: Payment modal won't open from appointment modal fixed.
Small bug fixes and stability improvements.
Version 1.3, released 27.09.2018
A major update with a couple of new features, bug fixes and stability improvements:
Feature: Custom Fields feature – now it is possible to add custom fields (checkboxes, text areas, etc.) to the booking form – now you can collect additional information from your customers about their requests.
Feature: Option to use service duration for time slots on Booking form.
Feature: Option to show/hide the "Bringing anyone with you" option for each service.
Feature: Spanish translation.
Feature: Extras time and price are now visible on the Booking form.
Feature: Other small improvements like: preloader on the booking form, changed label 'Stripe payment' to 'Credit card', new view of the Booking form when there is no options for choosing.
Small bug fixes and stability improvements.
Version 1.2.1, released 22.08.2018
A minor update with a one patch:
BugFix: Fixed issue with saving appointment for users who installed Amelia first time from version 1.2.
Version 1.2, released 20.08.2018
A major update with a couple of new features, bug fixes and stability improvements:
Feature: 2-way Google Synchronisation – now it is possible to disable time slots in Amelia calendar with events created in the employee Google calendar
Feature: Integration with WooCommerce.
Feature: Location filter in Step-by-Step Booking Wizard.
Feature: Option for choosing the default page on the back-end – now you can choose one of the three pages to appear first on the back-end.
Feature: Option to choose whether the phone input on the Booking form will be mandatory or not.
BugFix: Problem with a price calculation and payment methods when service price is 0.
Small bug fixes and stability improvements.
Version 1.1.1, released 07.08.2018
A minor release with one small feature, couple of fixes and stability improvements:
Feature: Option to allow employee to manage their appointments (Added in the General Settings).
Feature: Option to translate Amelia menu items in WordPress dashboard.
BugFix: Fixed issue with saving customer's phone number from the front-end.
BugFix: Fixed "G \h i \m\i\n" French time format.
BugFix: Fixed issue when coupon discount is bigger than service price.
Small bug fixes and stability improvements.
Version 1.1, released 13.07.2018
Feature: 1-way Google Synchronisation – now you can add appointments in the employee's calendar.
Feature: Option to hide the "Add to Calendar" step for customers in booking process (added in the General Settings).
Feature: Appointment next day reminder for employees.
Feature: Hidden price and payment systems on the front page – when the price of the service and extras is 0, price calculation and payment systems will not be visible.
Feature: Hidden employee on the front page – when there is just one employee it will be automatically hidden on the front pages.
Feature: Employees are now allowed to edit their personal details.
Feature: Option to allow employees to configure their own schedule (Added in the General Settings).
French translation
Small bug fixes and stability improvements.
Version 1.0.2, released 09.07.2018
Bugfix: Uppercase letters for translation strings.
Bugfix: Front-end strings translatable.
Bugfix: Stripe live transactions.
Bugfix: Issue with older MySQL databases solved.
Version 1.0.1, released 29.06.2018
Feature: Canceling appointment for non-logged-in customers through email.
Feature: Added English and Japanese translation files.
Feature: Option to add custom names for labels.
Bugfix: Resolved conflict with YOAST plugin.
Version 1.0 [Submitted 06.06.2018]
Initial Launch.
Amelia featured in popular WordPress and web design resources