WooCommerce Boost Sales stimulates the purchase of customers with the products up sells, cross sells. Increase revenue as well as profit for your website, stores. WooCommerce Boost Sales allows you to:
Up-sells: Display popup related products after the customer Add to cart.
Cross-sells: Show combo, product group with lower price that customer can buy.
Bundles Product: group many products into a combo that can be lower price.
Allow discount with a fixed amount
Up-sells on Category page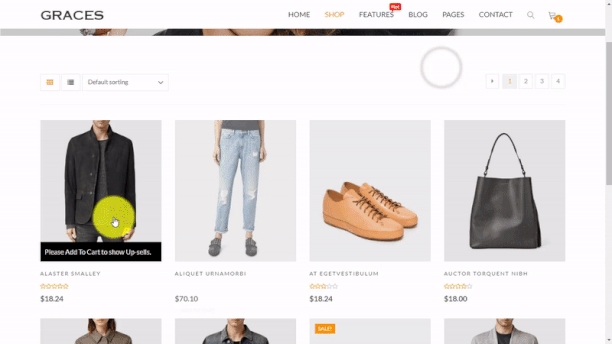 Up-sells on Single product page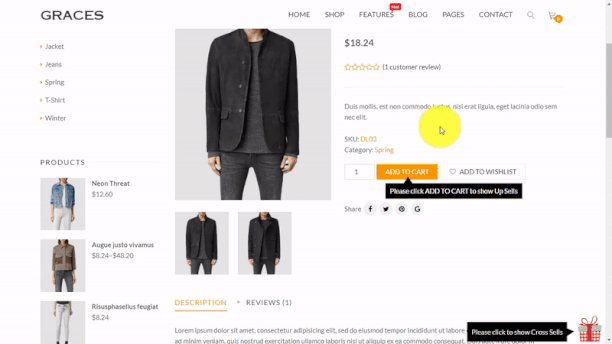 Cross-sells with Bundles Product on product page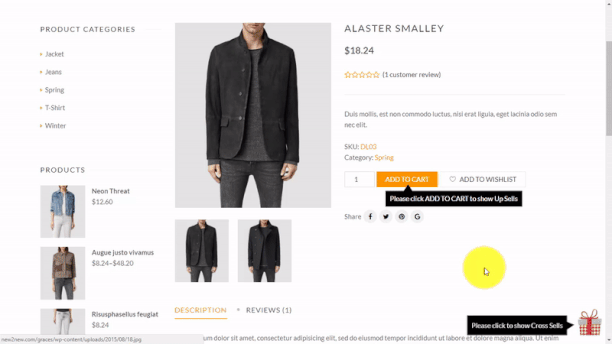 FEATURES
Product Bundles: Creating product combos then sell at a discounted price.
Sync with WooCommerce: Sync Up-sells products with WooCommerce system.
Show popup Cross-sells products: Cross-sells are bundle products that instead of buying a product costumers can buy a bundle product contain the product they're going to buy.
Show popup up-sells products: Up-sells are products that related to current product added to cart.
Works on mobile: Woocommerce boost sales work on mobile devices as well. You can choose to turn it on or off on mobile devices.
Discount progress bar: A progress bar to show how much costumers need to spend to get the discount. You can enable or disable it. (Operator base on coupon discount of WooCommerce system).
Customize discount progress bar: You can customize the position, color, background, description, and messages of the progress bar.
Show how much to reach discount: Support users know how much they have to pay to achieve the discount.
Select the coupon for discount: You need to create new coupons for this plugin that choose a coupon from WooCommerce for the discount.
Thanks to customers: When a customer achieves minimum for the discount, a "THANK YOU" will be sent to them. Or you can turn it off.
Customize checkout button: Customize text display, text color, the background color of the "Check out" button.
Automatically direct to checkout page: Allow automatically redirect to checkout page after a chosen time.
Customize up-sells pop up: Choose pop up style, how many products appear on the pop up.
Enable or Disable Cross-sells: You can turn cross-sells on or off.
Choose which pages Cross-sell appear: Hide cross-sells on the archive page, display Cross-sells on Cart page, Checkout page.
SPEED:Plugin uses Ajax technology. Pop up will be loaded when costumers add products to cart
Easy to use: Friendly interface, very easy to use.
CHANGELOG

/**1.3.3 - 2018.04.11**/
- Fixed: Removed bundle in cross-sells
- Fixed: CSS element with box sizing
- Fixed: Show bundle in checkout, cart page with Bundle below add to cart button

/**1.3.2 - 2018.03.23**/
- Fixed: CSS
- Fixed: Removed other JS in Setting page
- Fixed: Total tax on discount bar
- Fixed: Max price of product variation
- Fixed: JS Add to cart on archive page

/**1.3.1 - 2018.03.02**/
- Fixed: RTL Upsells template
- Fixed: Data init
- Fixed: Upsells with bundle
- Fixed: Ajax URL
- Fixed: Compatible with Flatsome theme
- Fixed: Rename overlay class
- Fixed: Add to cart template
- Fixed: Field of variable product
- Added: Custom CSS
- Added: Custom Icon color

/**1.3.0 - 2018.02.21**/
- Fixed: Upsell template
- Fixed: Ajax callback upsell
- Added: Search products in upsells and cross-sells page
- Added: Cross-sell on product single page
- Added: The same bundle not show in cart page, check out page
- Added: RTL support
- Added: New Icon