Simple Link Directory Pro
Simple Link Directory Pro is a unique and advanced WordPress plugin for One Page Directory and
Content Curation
solution. Create innovative and elegant Link, Resource Page or Partners page on your WordPress website in a matter of minutes.
This is a new way to curate useful Link Collections and Link Directories easily and quickly. Turn your website into an Authority by curating niche specific useful link directories that your users will love, bookmark, embed and share!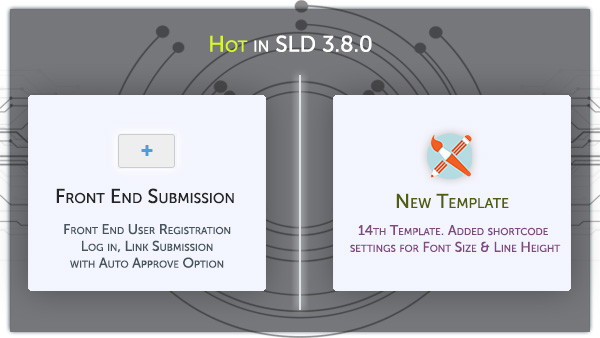 What Can You Do with Simple Link Directory?
Forget those old style boring directory styles and layouts. This innovative and powerful, yet Simple Link Directory WordPress PlugIn allows you to create and curate comprehensive Lists of links with website logo and a short description with ease.

Build Useful Links Collections or Link Library of your favorite bookmarks in style and share with your website users. Curate dozens or hundreds of lists of relevant website links on any broad topic. Then show all your Link Lists in a beautiful layout on a single page. Or you can choose any single link List to show with short code. Possibilities are endless. Let people upvote Links and show what they like.
Embed List
feature now allows other website owners to show Lists you created on their websites and increases sharing, engagement and value of your own. As a HUGE bonus, you can get
Backlinks
when your Curated Link Lists are shared!
Live Use Case Examples:
Ultimate Directory of Website Marketing Tools
Ultimate Directory of PHP Web Development Tools & Resources
Ultimate Directory of Best SEO Tools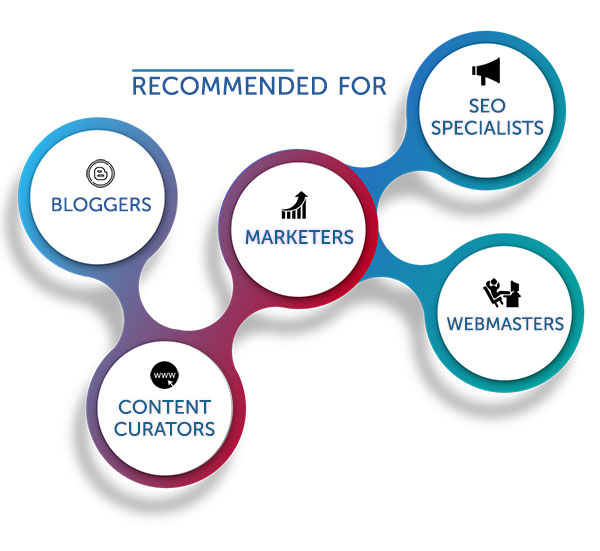 Simple Link Directory is, in a sense, the ultimate Content Curation Plugin and Bookmark manager you will need for your WordPress website, period.
Simple Link Directory Pro Features
Usability
Build lists with dozens or hundreds of links and show them in one page
Topic based Link Lists that can be Displayed Category wise
Use as Link Directory, Resources page, Links page, Partners page, Associates page, Logo showcase, Local Business Directory, or Vendors page. Possibilities are endless
Invite user interaction with Upvote
Allow users to submit links to your directory
Allow users to embed your lists on their websites
Live, on page, instant search
Live, on page, instant filtering of lists
Scroll to Top Button
Design
14 templates to choose from
Fully responsive and modern designs
Directory templates are designed for differenbt use case scenarios
Use theme fonts or choose a Google font
Fixed position filtering area
Custom CSS to add your own style
Customizability and Flexibility
Choose font size, letter spacing for your directory lists
Configurable highlight color for each list
Customize colors of all aspects of the link lists
Complete control over directory list ordering
Custom Ordering of Lists
Order List Items by Up votes, Item title
Randomize Lists and List Items
Over 2 dozen shortcode parameters
Easy and Powerful Shortcode Generator – no need to hunt down all the different parameters
Custom JS and CSS panel to modify directory functionality
Pagination for List Items available as a shortcode option.
Functionality
4 ways to add images: Auto Favicon, Font Awesome Icon, Upload Image, Paste Image Link
Front End User Registration with Captcha, Log in, Link Submission
Alternaive option for link submission button (link to a contact form or google doc)
Admin Approves User Submitted Links to Listing Directory or Set to Auto Approve
3 widgets for Latest Links, Most Populat Links and Random Links
User Up Vote
Admin settings to turn on/off live search, filtering
RTL support
Embed option. Other website owners can now embed the useful lists you create on their websites with a backlink to your own website. Great for SEO!
Google Analytics Integration for outbound link click tracking!
CSV Import to create new lists easily.
CSV Export your lists for backup
Import your exported CSV back with update lists
Monetization Option
AD/Text Block with each list
URL masking option for affiliate links
Integrated PayPal payment option for user link submission is Coming Soon


Simple Link Directory Pro comes packed with 14 fully responsive and innovative templates. We are working on more beautiful templates. If you are a blogger, webmaster, seo specialist or marketer this powerful Link Manager is an indispensable plugin for you!



Template design samples for single list:

Getting Started with Simple Link Directory:
Getting up and running with SLD pro cannot be any easier! Create Categories >Create Lists by adding Link, Description and an Image (optional)>Use the Shortcode generator to publish one list or a Category of Lists on any page or post!
You can select to use a Favicon – which will be autodetected by the plugin, or add an external link to any image or quickly select a Font icon, or upload your own image with each link.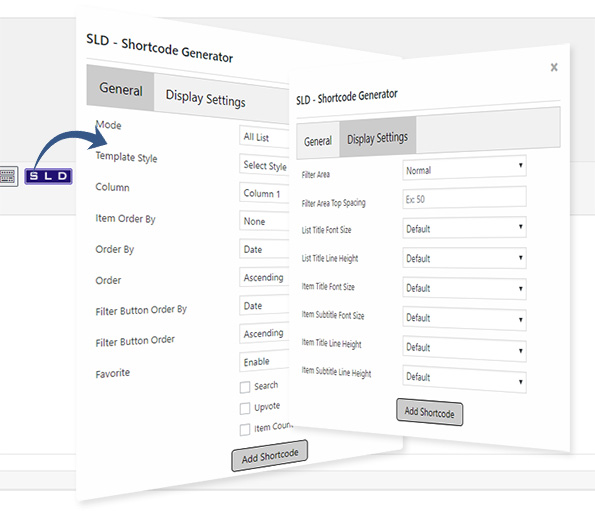 Upcoming Feature
If you have any feature request, let us know in comments.
Why Simple Link Directory Pro?
Developed by a company with 15+ years of experience. You can rely on us
Always up to date and under active development for new features
Extended documentation
Easy and Flawless Setup
Fully Responsive Templates
All in One Link Manager
Powerful List Options panel
Unique Features
Quick, Reliable, No-nonsense and Friendly One-on-One Support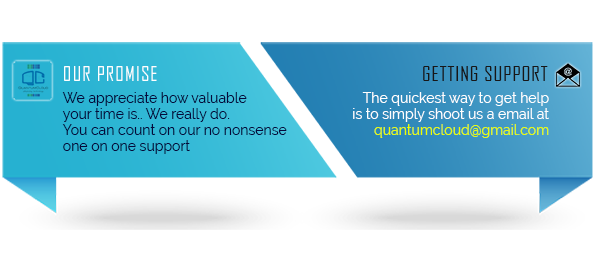 If you like Simple Link Directory – you may also like our Infographic and List Builder for WordPress plugin iList.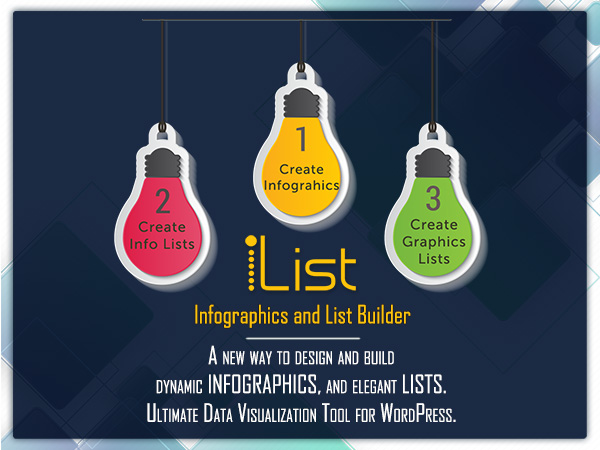 Version History

Version 3.8.0 – released on Aug 12 – 2017
 #  Front End User Registration with Captcha, Log in, Link Submission
 #  Admin Approves User Submitted Links to Listing Directory or Auto Approve
 #  New Template Added - style-13 (14 templates total) 
 #  Fixed Position Filter Area (Shortcode Generator Option)
 #  style-3, style-4, style-9, style-11 improved
 #  Migrated Settings Area to Option Tree framework to avoid conflict with some themes
 #  Font Size & Line Height Option Added for Title & Subtitle in Shortcode Generator
 #  Scroll to Top Button Added.
 #  Misc. Improvements and Minor Bug Fixes

Version 3.5.5 – released on Jul 10 – 2017
 1. Fixed conflicts with some themes
 2. Better Export/Import
 3. Added Custom JS option

Version 3.5.0 – released on May 16 – 2017
 1. Custom font settings
 2. New shortcode to Randomize List Item
 3. Improved Import Feature

Version 3.2.0 – released on Apr 19 – 2017
 1. Added item pagination for more templates 
 2. Minor CSS fixes 
 3. Minor fixes for multicolumn layouts

Version 3.0.0 – released on Apr 19 – 2017
 1. Export / Import 
 2. Favicon/Image URL Improved 
 3. Checkbox Fixing for Nofollow & NewTab 
 4. Alt/Title field for the Images 
 5. Thumbs Up switching for widgets 
 6. Tooltip for Template-1

Version 2.7.0 – released on Mar 16 – 2017
 Auto Favicon Detection
 Better Admin Interface

Version 2.5.1 – released on Mar 06 – 2017
 Font awesome icons integrated
 New template

Version 2.4.0 – released on Feb 14 – 2017
 AD or Text Block feature with each list

Version 2.2.0 – released on Jan 29 – 2017
 Vastly improved short code generator
 Minor CSS updates

Version 2.1.0 – released on Jan 13 – 2017
 Bug Fixes
 CSS adjustments.

Version 1.9.1 – released on Dec 30 – 2016
 Added Google Analytics Integration for outbound link click tracking!
 Minor CSS adjustments.

Version 1.7 – released on Dec 09 – 2016
 Added 12th template.
 Added option to set custom LinkBack title and link for embed option.

Version 1.6 – released on Nov 30 – 2016
 Added 11th template: Usecase example: 24 Books to learn programming in PHP

Version 1.5 – released on Nov 27 – 2016
 Added embed option
 Added icon option with style-9

Version 1.4 – released on Nov 16 – 2016
 Added 10th template
 Minor bug fixes for widgets
 Version 1.2 – released on Nov 08 – 2016

Hide empty lists from Live search
 Added RTL support
 Widget for Latest, Most Voted and Random list items
 Order Items by up-votes & item title
 Custom CSS Box in Settings
 URL masking option for affiliate links

Version 1.0 – released on Oct 28 – 2016
Inception