Interactive Human Body Organs Diagram

This is an interactive human body organs diagram coded in HTML5 based on Scalable Vector Graphics (SVG) utilizing a high quality image as a background. So it can be scaled to any size up to 840px X 1200px without losing its quality
It can be easily customized through 2 Javascript files; "organs-config.js" to customize the general organ colors, links, and hover description. And "hotspots-config.js" allows you to put customizable clickable spot anywhere on the diagram.
This diagram has 18 clickable human body organs including:
Digestive System: Stomach, Liver, Intestine, etc
Respiratory System: Larynx, Trachea, Lungs.
Circulatory System: Heart, Major Blood Vessels.
Urinary System: Kidneys, Ureters, Bladder
Other Organs: Diaphragm, Spleen, Thyroid
If you want to add other organs to the diagram, or create a new diagram from scratch, please email us for a free quote.
Learn More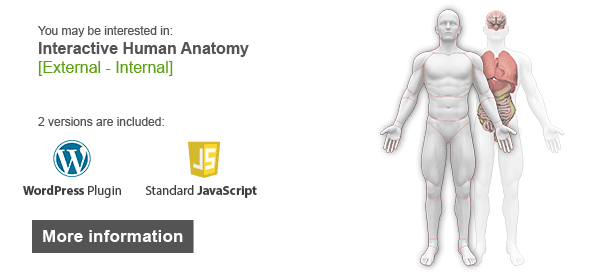 You may be interested in: