FAT Gallery is a premium responsive wordpress gallery plugin. There are 5 main gallery style : Masonry , Justified, Album , Carousel, and Grid . FAT Gallery compatible with Visual Composer . You can change all colors, font sizes, spacings etc. from powerful plugin settings panel.
Features
Fully responsive clean design
Image size, colors,font sizes, spacings, hover background color are changable via plugin settings panel.
5 different gallery style. Masonry style, Justified, Album , carousel style, and grid style (filter category)
Mix between image and video
You Tube and Vimeo video support
5 custom gallery shortcode
Compatible with Visual Composer
Filter galleries with gallery categories
Ready for translation (.mo file is included)
Well Documented
Cross Browser Support
Videos
Customer Satisfaction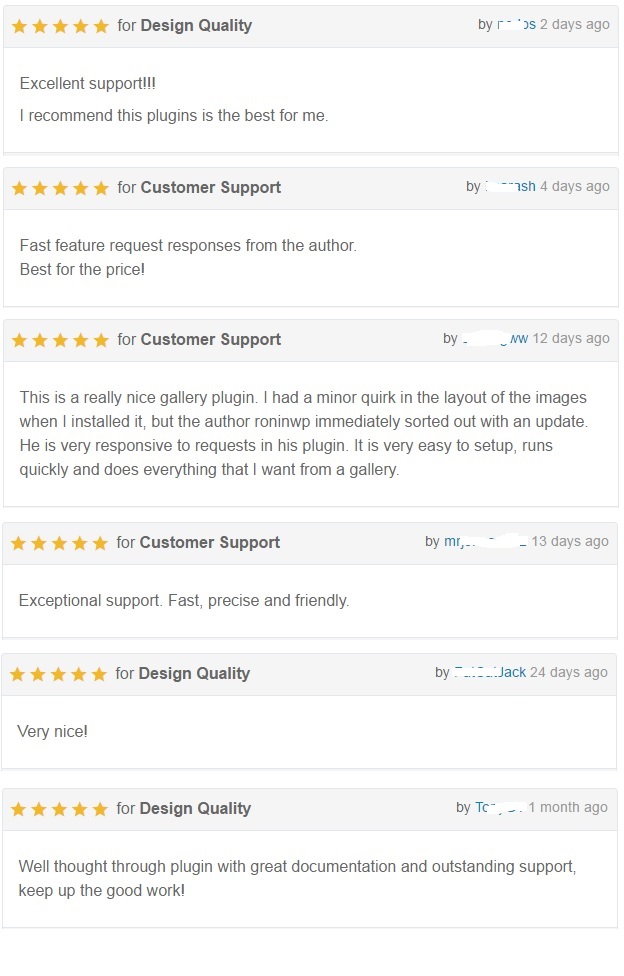 Change Log
v.1.25 (18-June-2018)
Fix conflict with fancybox popup gallery.
v.1.24 (24-March-2018)
Fix missing Image height in Layout setting tab.
v.1.23 (07-March-2018)
Add option to input link to detail for Album layout
Add image click able to detail for Lily and Zoe effect
v.1.22 (07-Jul-2017)
Fixed image on justified gallery on some theme
add zoe and lily hover effect to grid and masonry layout
v.1.21 (07-Apr-2017)
Update font-awesome to latest version (4.7.0)
Replace select2 library by selectize to fix conflict select2 on some theme
v.1.20 (01-Apr-2017)
Update max-height for image in light gallery
Fix missing thumbnail in light gallery for compact mode
Update translate for 'All category', 'View more' in WPML
v.1.19 (20-Jan-2017)
Add share to lightbox gallery
v.1.18 (13-Jan-2017)
Add options for shortcode album layout
v1.17 (09-Jan-2017)
Add dynamic resize for site using jetpack photo module
Update masonry layout for custom link
v1.16 (11-Dev-2016)
Fix bug gallery in "Compact' mode
v1.15 (01-Nov-2016)
Add shortcode generate for album layout
Fix some bug on salient theme
Update resize image for masonry layout
v1.14 (14-Oct-2016)
Add option order category in FAT Shortcode generate dropdown category
Add order category filter at frontend
v1.13 (13-Oct-2016)
Add option order category in select dropdown
Add option order gallery by ID, Title, Slug or Random
Change getimagesize by wp_get_image_meta
v1.12 (29-Sep-2016)
Add option change fat gallery slug to FAT Settings
Add option change 'All category' filter label
v1.11 (13-Sep-2016)
v1.10 (01-Sep-2016)
Update option 'popup lighbox gallery' for mix gallery
v1.9 (26-Aug-2016)
Update filter on mobile's horizonal screen
Hide thumbnail default on lighbox gallery
v1.8 (18-Aug-2016)
Add option change 'View more' label to FAT Setting
v1.7 (08-Aug-2016)
Fixed color picker on FAT Setting
Add option crop image constrain for masonry layout
v1.6 (05-Aug-2016)
Add caption to lightbox popup
Fix small space between items when choice padding
v1.5 (03-Aug-2016)
Fix black square div on header in galleria's library
v1.4 (28-July-2016)
Add justified layout and shortcode generator for justified layout
Add option hide or show image title and image caption when hover
v1.3 (24-July-2016)
v1.2 (19-July-2016)
Remove message 'No theme CSS loaded' on galleria shortcode
v1.1 (16-July-2016)
v1.0 (12-July-2016)