Crypto Trading Competitions
Crypto Trading Competitions is a web application, which allows website owners to run virtual trading contests and let visitors compete in trading cryptocurrencies without putting any money at risk.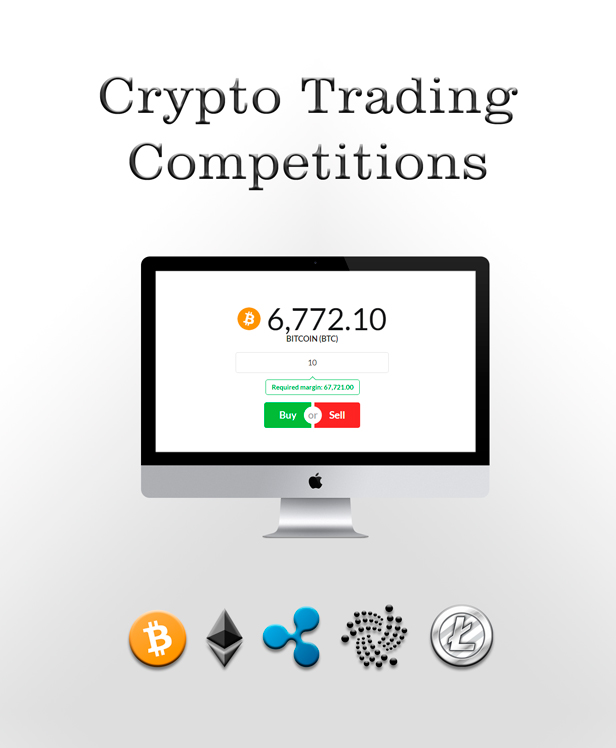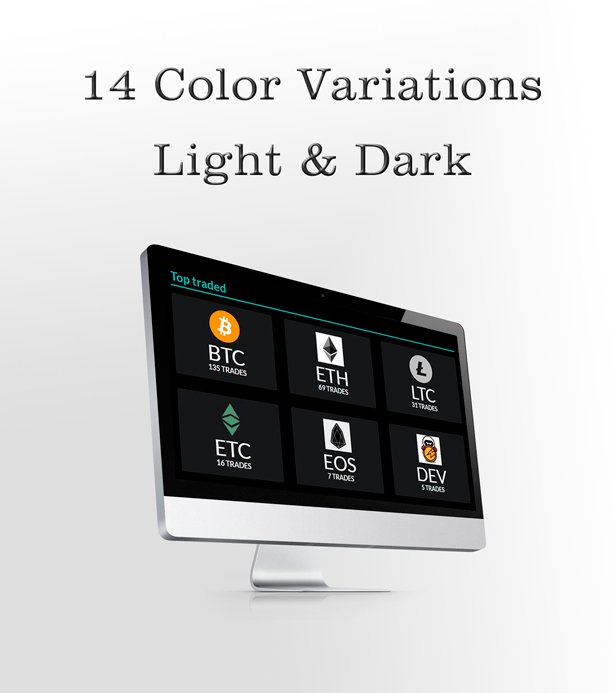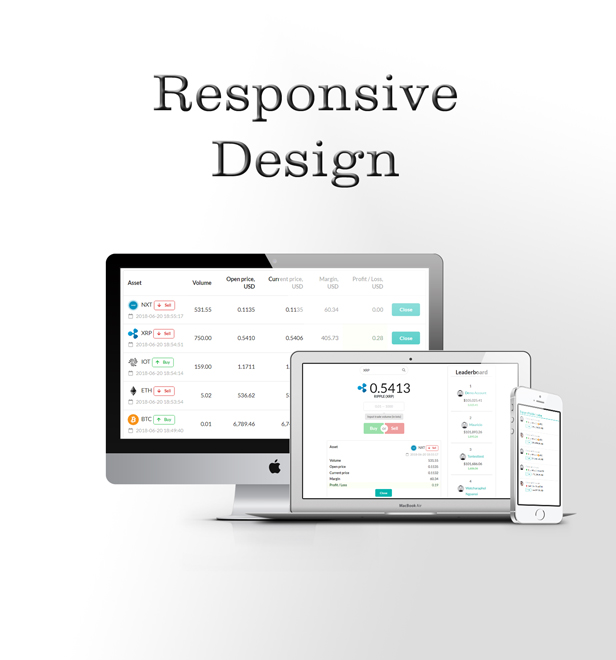 Features
Unlimited number of trading competitions with different starting capitals, leverages, volume restrictions and margin requirements.
More than 1,100 cryptocurrencies to trade.
Multi-currency support.
Live crypto quotes.
Instant trade execution.
Real-time position valuation (equity, profit / loss, free margin).
Automatic margin calls.
Reward points system.
Competition leaderboard and global rankings.
User dashboard.
In-depth trading statistics.
14 built-in color schemes, light and dark modes.
19 languages.
Social login (Facebook, Twitter, Google Plus, LinkedIn)
Google Tag Manager (GTM) integration.
Monetization with Google AdSense ads.
GDPR compliant.
Built-in installation script.
Admin panel features
The following app settings can be adjusted through the admin panel:
Dashboard with statistics.
Coins management (view, create, edit, delete).
Competitions management (view, create, edit, delete).
Trades management (view only).
Users management (view, block, edit, delete).
Settings (customize color theme, default language, number formatting, points).
Maintenance (clear cache, run database updates, execute scheduled tasks).
Accounting & Cash Competitions Add-ons
Accounting & Cash Competitions Add-ons extend the base functionality of the application and offer additional monetization capabilities.
PLEASE NOTE, THAT THESE ADD-ONS ARE PROVIDED WITH THE EXTENDED LICENSE AND ARE NOT AVAILABLE IF YOU PURCHASE THE REGULAR LICENSE.
User accounts
An account is automatically created for each user to track movements of real funds. Current balance as well as account transactions history is displayed on the user Account page. A website administrator can set any account currency (to be used globally by all accounts).
Deposits
Users can deposit real money to their accounts using PayPal and Stripe payment gateways. The following payment methods are supported by Stripe integration:
Debit / Credit card
IDEAL
Bancontact
Giropay
SOFORT
EPS
Multibanco
Przelewy24
Alipay
An administrator can choose which payment methods are available to users.
Withdrawals
Users can withdraw funds from their accounts. Withdrawal forms for PayPal and wire transfer methods are provided, but payments will need to be executed manually by administrators. Once a payment is marked as Completed in the backend the user account balance is automatically decreased. An administrator can choose which withdrawal methods are available to users.
Fees
An administrator can create trading competitions, which require users to pay a predefined fee before joining such competition. Fees are deducted from user account balance, so users will need to deposit funds before fees can be paid.
Rewards (cash prizes)
An administrator can set up automatic allocation of collected fees between competition winners. It's possible to set either percentage allocation (for example, 30% of total fees collected goes to the winner, 20% of total fees goes to the runner-up and 10% of total fees goes to the third-place finisher) or a flat reward (for example, 50 USD paid to the winner, 30 USD paid to the runner-up, 10 USD paid to the third-place finisher). Winners can then spend their cash rewards on other paid competitions or withdraw them.
Demo environment
Please sign up to Crypto Trading Competitions to test the application. You can use the following credentials to check the backend features:
user: demo@financialplugins.com, password: admin
System requirements
PHP 7.0.0 or higher.
PHP extensions: cURL, Mbstring, OpenSSL, PDO, Tokenizer, XML.
PHP function set_time_limit() enabled.
URL rewrite enabled.
The application should be installed to the web root folder of a domain or sub domain (it will not work if installed to a sub folder).
The application can be installed on a shared server, however please ensure you have enough system resources available with your hosting account.
Warning: This is NOT a WordPress plugin or theme and can not be integrated with WordPress.
Credits
The application is built with Laravel 5.5 PHP framework using free CoinCap.io API.
What license is required?
The Regular license entitles you to use the product on one website / domain only. If you want to use it on multiple websites / domains you have to purchase several Regular licenses (1 website = 1 license).
If you like to charge website users to have access to trading competitions and use Accounting & Cash Competitions Add-on you need to purchase the Extended license. 1 website / domain per license restriction still holds.
You can not include this product into other products sold on Envato market and its affiliate websites.
Please adhere to these rules. Read License FAQ for more information.
Support

Rate Crypto Trading Competitions
Please help us to make our product better and rate it 5 stars. Your support is priceless.