Leading Mobile Applications & Website Development Company.
Templatevilla is the leading and best web, android & iOS application development service provider company that provides software development services worldwide. We develop high quality and secured applications in the area of web and mobile for individual and corporate businesses. Since 2016 we have already worked with 2000+ clients and companies successfully.
We build unique applications.
Good user interface and user experience.
Fulfil all requirements.
Versy secured application.
100% quality passed.
Provide source code with the software.
Free technical support.
Very affordable price.
Less time consuming.
Super performance software.
Easy to use.
Don't need technical knowledge to operate the application.
Provide complete documentation.
Quick help with any problem.
Used the latest technology to build the applications.
To get regular updating.
What Application Are We Developing?
We develop the most needful applications which help to solve real problems in the market. Templatevilla offers various application development services. Such as;
Web application development development service.
Android application development service.
iOS application development service.
Ecommerce store development service.
Wordpress Website development service.
Technical support to solve real time problems.
Contact Us :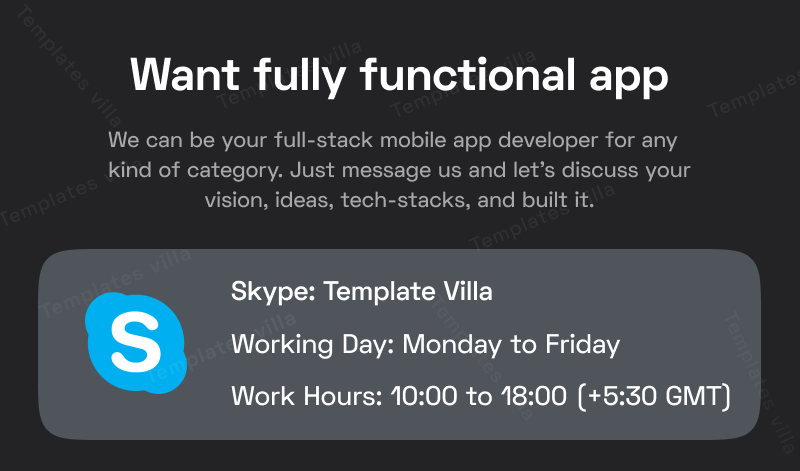 WHY OUT CUSTOMERS LOVE US ?
Great support!
for The support is very good. The author responds very quickly and tries to correct the bugs very fast. – by appavenue_duesseldorf
Great support!
for I have purchased their products and make something out of it just because of their great support you are never stuck, Their professionalism is high level. They respond to you whenever you want. They are the high discipline team – by malikazmi
Great support!
for Very good code, what I was looking for. Support responds very fast, they are very professional – by mehdimounsif
Great support!
for There are lot of features in this app it's great at this price and also customer support is awesome. I am very much happy buying this app. Thankyou Author for this great app with great features. – by alrichroshan
Great support!
for very good store highly recommended support make hard efforts to help in all issue you can face until releasing your up great store will buy more apps – by kidsfunlearningsc
Great support!
for thank so much.. good service.. work app recommended for you… if you want buy app – by sukronjazuli
Great support!
for Such a great in the way of design, code, features and the best part is support. Design and code is very clean and UI is attractive for users.. – by asifnraza
Great support!
for I was able to completely edit the code thanks to the excellent support. Thank you very much, a great job – by pedromu
Great support!
for Excellent customer service, very fast and effective, with screenshots included. I have received help even when the problem was not directly related to the code. By the way, it is a beautiful project with a great design. – by fraschema
Great support!
for Everything is perfect about this app, easy to customize and support is also excellent – by tomzpot
Great support!
for Excelent Template and Support – by appmontanojd
Great support!
for I have bought over 300+ codes on codecanyon and this is by far the best guys, I have purchased all of their products and make something out of it just because of their great support you are never stuck, Their professionalism is high level. They respond to you whenever you want. They are the high discipline team I have worked with so far. – by masum65
Public Collections
View All Collections