Profile
COVID-19 Update: To ensure everyone's safety, we're enabling our staff to work from their homes. Due to the evolving situation, there may be a delay in support or updates.Thanks for your understanding, and we will continue to post updates.
Tinder Clone – Android Native App with Admin Panel
Foodies – Android Native Food Delivery App with Delivery Boy
Tick Tok Clone – Android media app for creating and sharing short videos
Quotes – Android Quotes App with Admin Panel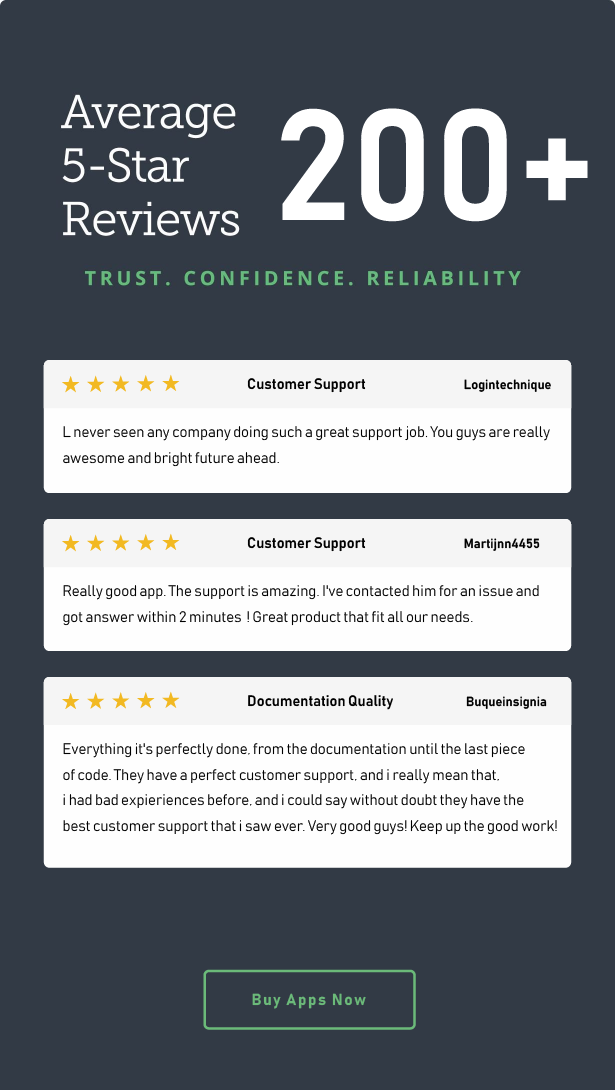 Item Support
Before start asking questions, please read rules below :
We do custom work, working on a fee per hour, depending on the project, and of our free time
We do offer support for our products (VIA Support Ticket or Live Support via Skype). submit a ticket and we'll get back to you personally.
Our products are not destined for any kind of people, you need to have a basic knowledge of HTML/CSS , Javascript , Php, android, ios, so on. We are not here to teach you programming.
Every product contains a Documentation in which it's explained what it does & how to use / integrate different scripts / plugins.
We don't give advice to change, modify or make the extra features in the app
Our support only related with the app configuration and documentation
if you'd like to integrate any further functionalities, you're always free to integrate this functionality, but please keep in mind that help with this is beyond the scope of our support.
We reserve the right not to respond to rude/unsatisfied customers, if you have a problem with it, read the official rules from envato
Don't paste too much code or error log in the comment section, because it's very disturbing and we dislike it
we do not give advice to users to change, modify the code or move one or other design element, all changes in the code of the product and design you do at your own risk.
Feel free to make a request, we do reply all requests and trying to help everyone with what we can. We currently have a high volume of tickets and our current response time is between 1 to 4 days.
Our schedule time work and support Monday – Friday from 010AM to 07PM GMT+5. we will provide help support outside these hours with considering that among the buyers have different time zones if possible.
Customization & Freelance
To get in touch with us regarding customization or a custom project, send an email to hello@qboxus.com for more information or a quote for your job/project.