welcome to NiceGame :
NiceGame is a professional company. We build modern games templates. We develop creative games templates for individuals and businesses. We also offer premium games development services to create a flawless online presence for our clients. Our goal is to create a beautiful and seamless experience for the customers, which simply means to create things for them that not only look amazing but also work as they should!
We put a lot of effort into this one and we hope you'll like it.
You can ask your pre-sale questions from the comments page of the item.
Need support ?
We are available on Discord or just email NiceGame to help you if you face any problem or if you need anything. So we are availaible to :
Answers within 24-48 hours.
Answering questions.
Answering questions about item's features.
Assistance with reported bugs and issues.
Need to reskin games or availability for freelance projects?
If you want to reskin for games just contact NiceGame . We provide the reskin for only 70 $.
This package contains :
New icon.
New screen shot.
New cover.
New video.
Sourcecode.
Description with ranked keywords.
Full reskin :

New Ui.
New graphics.
New sounds.
New character.
You can contact NiceGame here if you want the reskin .
Have a question ?
NiceGame highly skilled support team is at your service from 7 am to 22 pm during weekdays. Send us a request at NiceGame.support and we will do our best to provide you with all the info you need within the 24 hours.
Note: We will refer to your issue as soon as possible, so please be patient.
Let's connect :
NiceGame has a server on Discord you can join it, it's free. We can help you if you face any problem here.
We have also page facebook : NiceGame page, you can join it.
Here is our channel: NiceGame channel. We will publish some tutorials about the reskin and game development.
Don't forget to follow NiceGame to receive our new items.
Recent reviews :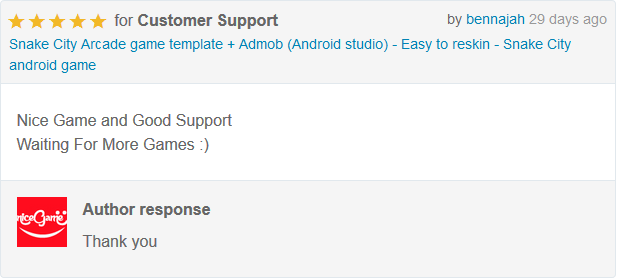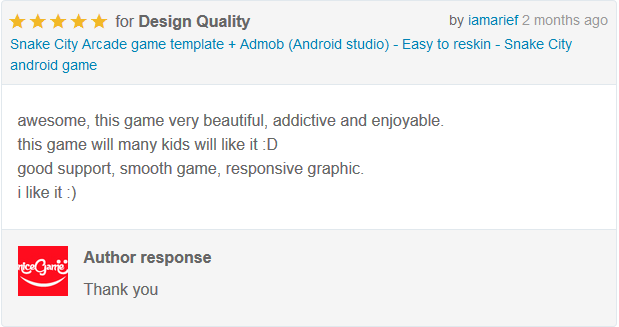 Games templates by NiceGame :
Thank you :
Thank you for visiting our account and we hope you buy our items. Feel free to contact NiceGame if you have any pre-sale questions or if you have already bought the item and need help with it. We would be more than happy to help and answer all of your questions. If you have any suggestions about what you might want to be added in the future updates please don't hesitate to contact us.
Have a nice day !!