Welcome to my page .. !!!
Hello, I am Gevorg Hakobyan. I am a professional musician, I am involved in music, doing arrangements. I used to work in films; broadcasts the show. I'm making records that contribute to the success of your work. List of our services:
-composing
-arrangement
-sound design
-audio editing
-mixing
-mastering
Contact us:
gevstudiox@gmail.com
I would be grateful if you would evaluate one of my works. Thank you for your attention.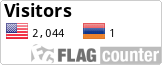 Public Collections
View All Collections