Professional Freelance Designer and Developer
Hi!
We are GeniusOcean, expert in any kind of Graphic Design, Web Design and Web Development work. We are working as freelancer since 2011 and Completed more than 5400 projects all over the world. We are one of the most loved PHP Laravel script seller at codecanyon and we have sold more than $250000 USD and became ELITE AUTHOR here.

We are working to produce few quality products for codecanyon. We always believe in quality and our coding is very clean for both frontend and backend.

We not only sell products here but also take custom orders for any kind of web and Flutter projects. We also customize our products according to clients needs for additional reliable charge.

Feel free to contact anytime and you will get response within 24 hours.

Let's create your dream website with our skills and experience for a fraction of cost!
Our Latest eCommerce Store!
We just released our best All in One single or Multi vendor eCommerce store with Mobile apps for a fraction of cost! you can create any kind of store using this Latest product
Genius Shop
. Grab it before discount is closed.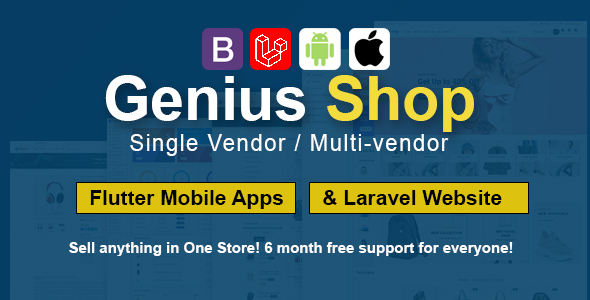 Public Collections
View All Collections