I never get tired of improving my items! I am a perfectionist!
A little about me
Hi, I'm Alex, I'm a web developer and I build stunning web applications: PHP standalone scripts & Wordpress Plugins.
What are my overall goals and mission?
Providing high quality & constantly updated items.
What are my benefits over my competitors?
Support, blazingly quick response time, friendly
What do my customers already like about me and my items?
All round nice guy! Support and simplicity of use, very intuitive products
Support: You're backed up by purchasing any of my items
All my items on Envato come with impecable customer support. I am keen to see my customers using my apps and being happy in the same time!
Don't just take my word, check out my latest reviews and have a sneak below as well.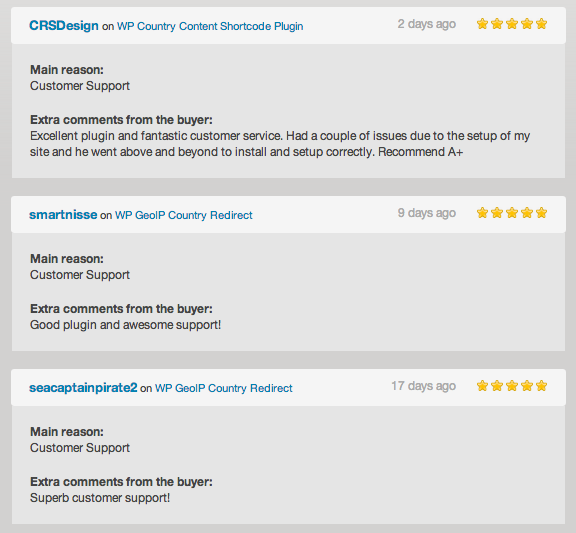 Are you trying to redirect your visitors based on their country?
My plugin WP GeoIP Country Redirect will do that for you.
Do you need to show different content based on guest location?
There's also a plugin called WP Country Content Shortcode which helps you easily achieve it!.
Need to run your Watch Movies Online type of website?
Watch Movies PHP Script
With
PHP Watch Movies Script
built with CodeIgniter & Boostrap, you will be ready to start your own movies & tv shows website in less than 10 minutes.
Watch Movies Wordpress Plugin
WP Watch Movies & TV Shows Online Plugin.
Automatically send SMS text messages?
You may want to send SMS text messages at any scheduled date & time. I have a solution for this as well, which is called PHP Automatic SMS Scheduler
Public Collections
View All Collections