Bringing a Revolution in Code!
Hello! – Hola! – Salut! – Ciao! – Hallo! – Bonjour! – Olá! – Namaste!
Szia! – Привет! – Witam! – नमस्ते! – 你好! – হ্যালো! – مرحبا – السلام علیکم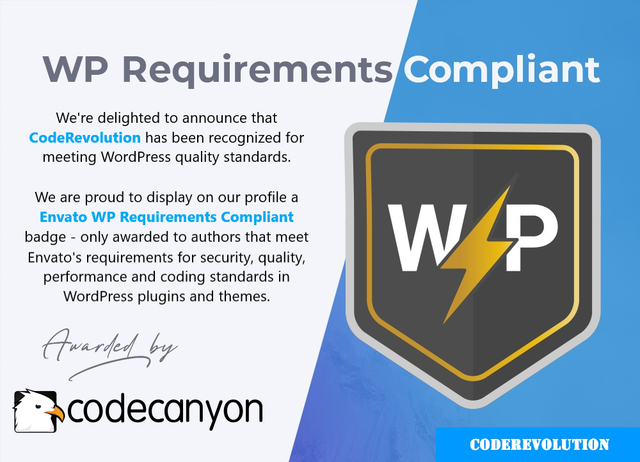 Nice to meet you! My name is Szabi from
CodeRevolution
. We are a team of a few people who work FULL TIME as freelancers, making plugins and scripts for Envato Market. Because we dedicate all our time to this, our items are filled with passion, and we can offer premium support to our customers all the time! Feel free to ask in advance any question you might have about our items! If you buy any of our items, you will have support in case something is not working as specified, related to our item, according to
Envato Support Policy
.
Before requesting support, please check:
Read carefully the item documentation and check if there are FAQs.
Try to make more than one test. Often virtual servers can cause problems.
I hope that you enjoy my work!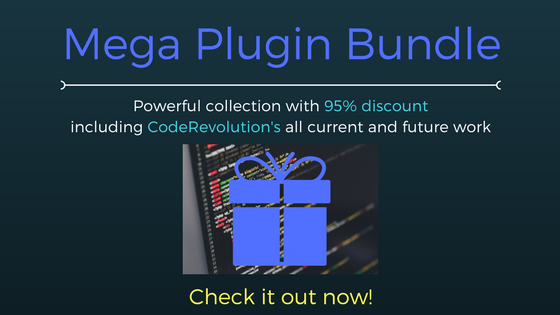 Why You Should Choose Items From Us?
We offer premium class dedicated support to all our customers and introduce free lifetime updates to all our items on Envato once you purchase them. Also, if you find a bug in our code, or you would like to suggest a new feature for it, feel free to contact us anytime!
Do you want to continue supporting our work?
Please check out our Patreon page. It will assure us to be able to build more awesome WordPress plugins! Thank you very much!
Free Video Tutorials!
For every plugin from our portfolio, we offer free video tutorials for installation, configuration and use. We also include quick install guides and full documentation with our code. Check our YouTube channel here.
Do you have any yet unanswered question?
Check out our 'Knowledge-Base' website. It might answer your questions, because it has a great range of FAQs: CodeRevolution Knowledge Base.
See some of our work!
Take a look at a blog that we administer right now (with our custom template and content):
SfatFarma
.
Feel free to contact us
E-mail address:
support@coderevolution.ro
Things to know before buying from us (Terms of Service):
we guarantee to respond to every inquiry within 1 business day (typical response time is much faster, within a few hours)
we provide support via e-mails or via the supported items comment section, in English, Hungarian or Romanian languages. Emails should be sent to support@coderevolution.ro e-mail address (we also know German and Spanish, but not very well, we do not guarantee that we can respond to sophisticated requests in these two languages)
item licensing:

'Regular License': you may use it only on ONE domain/project/theme.
'Extended License': this is usually 5 times the cost of the 'Regular License' – you may use it on as many domains/projects/themes as you wish.
If you wish to create and sell services base on an 'Extended License' for our items, please check and read carefully our license terms, here.

So, if you wish to use a plugin on 2 websites, you must purchase 2 'Regular Licenses' for it. If you wish to use it on 5 or more websites, you must purchase an 'Extended License'.
if you like our work and want to support us, you can buy multiple licenses of our plugins or send a small donation to our PayPal (kisded@yahoo.com)
we provide paid customizations for every item that we have on sale
scope of support does not cover any item configuration
scope of support does not cover any item modification
but if you want an item modification, you can contact us and ask us about it, maybe we'll provide a future update with your request
we also offer payed item customizations and feature additions, based on your request
we are available also for creating paid custom plugins (by client requests)
the default support offered for custom plugins in 6 months – this can be extended with a support extension fee
you are free to use IE6 and IE7, but we cannot fully assure you that all our plugin's features will work in legacy browsers
compatibility with 3rd party products is not guaranteed unless explicitly stated in the item's description
items are supported for as long as you pay the support period for (basic support: 6 months or extended support: 12 months)
please read the official item support policy before purchasing
sending multiple e-mails (and/or item comments) for the same issue will move your request to the end of the queue and delay the response
posting false or abusive reviews will deny you support
support can only be provided for original, non-modified items
support is provided for one domain/project/theme per one regular license or all domains/projects/themes for extended license
customers who breach the item's license terms (ex: use an item on multiple sites although purchasing only one regular license) will be permanently denied support
we reserve the right to deny support for rude and unpleasant customers
we only approve refunds for items that have not been already downloaded or for items that our support team decides that are not working for you (no method found for fixing issue)
inactive refund requests (no response from client) will be automatically closed after 7 days
please note that we live in GMT+2 timezone, response may be delayed by this
Plugins & Support Feedback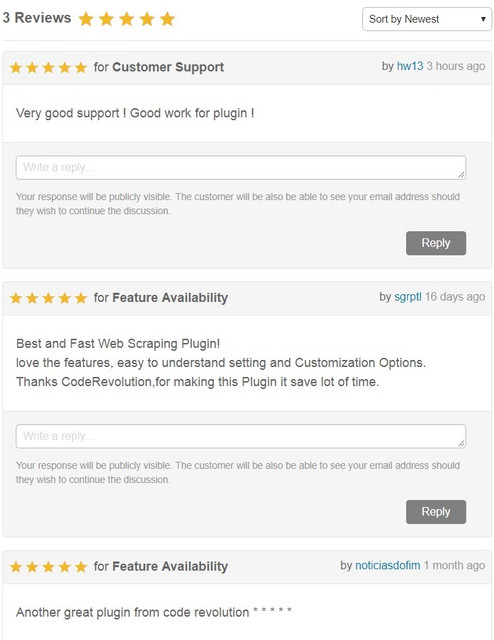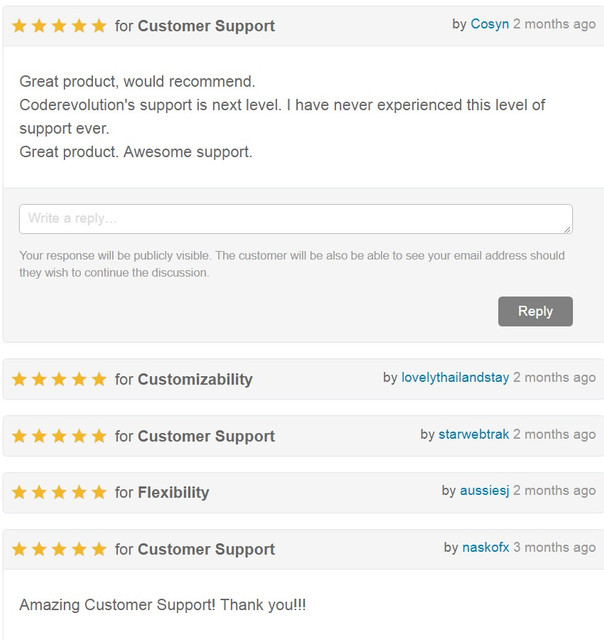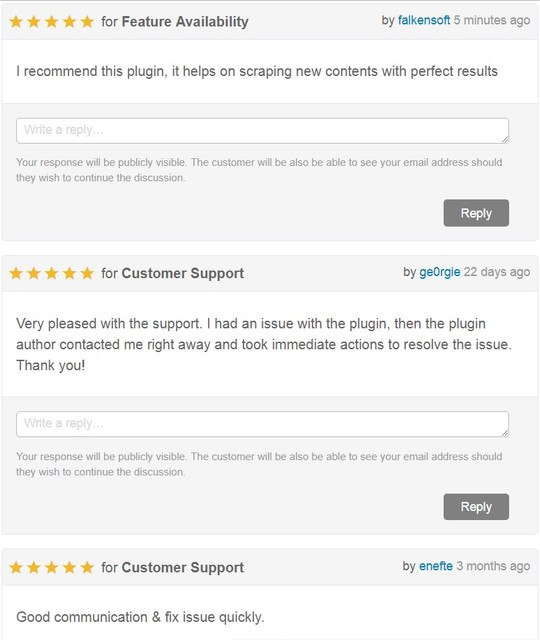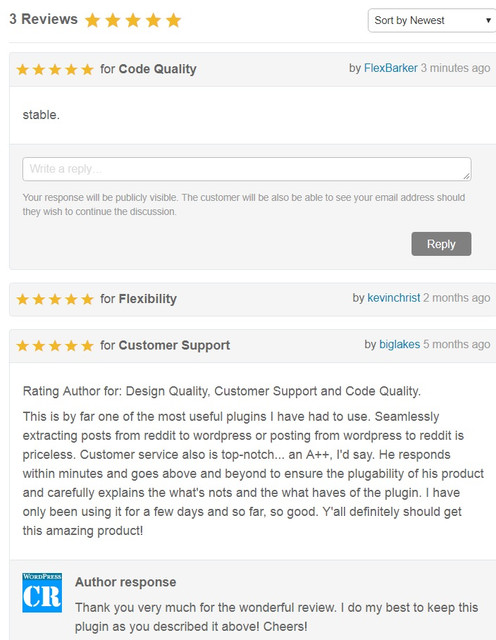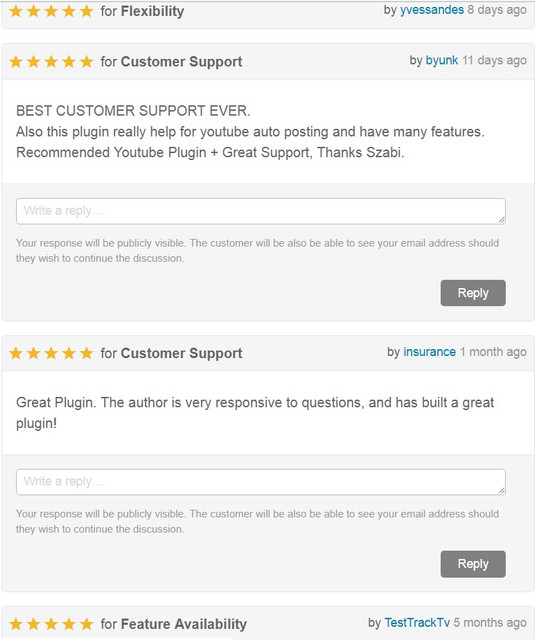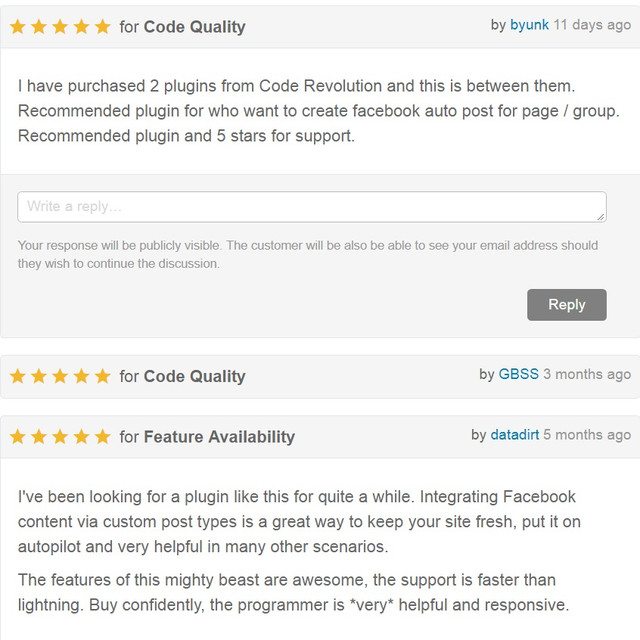 Public Collections
View All Collections