Profile
You can try demo from here : http://demo.apyazilim.com/ishort
iShort – Useful PHP Functions
iShort – Useful PHP is a simple php functions that speeds up the process of creating an application by providing a set of useful codes. It comes with over 23 commonly used functions which are all very simple to use and to customize. Plus, I promise that I will keep adding functions at each update. If you have any suggestion, let me know with comment or email from my profile page…
List of Functions
Special Functions

Social Share with Share Counts (jQuery and PHP)
Weather (with zip code)
Tag Cloud (Can use with database array results)
Gravatar image (by your email address)
Converts Date/Time to Time ago format – More User-Friendly – With CSS
Auto link buttons – CSS3 Animations and Font Awsome
Contact Form (to your mail server)

Grabs Video from URL

Youtube: Convert Links to Video – Perfect for media sites
Vimeo: Convert Links to Video

Can change width and height

Automatically replaces Youtube or Vimeo Link by a Video

Normal Functions

Facebook Like Box
Databese Insert Data
Google QR Code for sites
Files Extension checker
Finding clickable link in text string and make it clickable
Basic Login Authentication
Get Source Code from link
Cleans Text – Remove potentially dangerous tags
Checking is image file.
Redirecting url (width header function or with meta function)
Listing files in folder
Generates Random Password – Stronger Passwords
Shortens URL
Truncates Text
Connect Database with shortcut code
Requirements
- Latest version of PHP is strongly recommended
- cURL and file_get_contents() Enabled
CK Player – HTML5 Video Player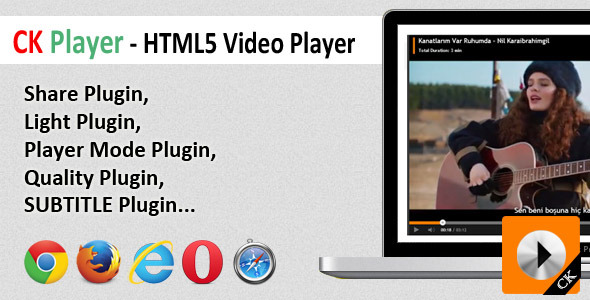 Updates
v 1.2
Fixed bugs.
Added share panel on right click.
v 1.1
Fixed controls hiding on mouseout.
CK Player – HTML5 Video Player main features:
Only mp4 video file required.
Optional share window.
The HTML markup HD modes can be created manually or generated from a database.
Not need thumbnails. Its auto getting first second's thumbnails
The video player can play a HD video on desktop machines, this useful feature is optional, this means that the video player can play the same video source on all desktop machines.
Optional custom watermark logo. The logo can be set to hide with the control bar or to always be visible, also the logo position is customizable.
Optional watermark logo click. The logo can be set to open a window on click with a specific url.
The video controls bar can be showed or hidden when the video is stopped or it hasn't started.
Click to play or pause, you can click on the video to play/pause the video.
Start volume value.
Autoplay, loop and shuffle.
Optional keyboard support.
Play / pause button.
Current and total time (optional).
Volume button (optional).
Loop buttons (optional).
Share button (optional).
Facebook, Twitter, Google Plus, share button (optional).
Fullscreen button (optional).
Light button (optional).
Special plugin:  SUBTITLE plugin.
CK Player – HTML5 Video Player
What is the MyStagram?
The features of this application is, it enables you to show all of your photos through the website to those who do not have instagram accounts. For the application to work properly, the privacy settings of your account must be closed.
Features
Feed (To see your self feed.)
Users liked (To see the authenticated user's list of media they've liked your picture.)
User follows (See how many user follows you.)
User followed-by (See how many user you follows.)
Media (To get information about a media object.)
Comments (See all comments on a media.)
Likes (Show how many user liked your media)
Profile page (Profile page for each user with basic information and recent photos)
Quick preview (Fast media browsing )
Requirements
PHP Short tags must be enabled
Doesnt work on localhost Since OAuth 2.0 protocol used to authenticate user via API, after second step of authorization process user will be redirected on redirect_uri which has to be accessible through internet.
Custom Share with Share Counts
This is a plugin for share counts. You can including any where of page.  
Public Collections
View All Collections