Videon – A video streaming android app with admin panel
Videon is built with native Java in Android Studio. It's an android video application. It has an admin panel by which admin can publish video to the app. Admin can publish video by uploading video or Youtube/Vimeo link. Admin can also provide live streaming video of Youtube. It offers more than 22 screens and all are fully designed. Videon offers all required features, which can fulfill any modern application. It's easy to screen as per your needs. It follows all the standards to fulfill the user's requirements.
Feature Update(March 5, 2020)
Notified with link functionality integration for One Signal push notification
Feature Update(24 February, 2020)
One Signal push notification integration
Feature Update(26 November, 2019)
Feature Update(4 November, 2019)
Solved issue for Categoy and Livetv
Feature Update(13 September, 2019)
Solved issue for Android PIE
fixed Issue
Feature Update(27 May, 2019)
Pagination Functionaity Enhancement
UI Enhancement
Feature Update(23 April, 2019)
Media Player Enhancement
UI Enhancement
Feature Update(17 April, 2019)
Video view replaces with Google Exo-Player
Playing time unchanged even changes the orientation
Customized Exo-Player controller
Feature Update(9 April, 2019)
UI Enhancement
Update – download video extention and title
Update – media controller functionality
Feature Update(4 April, 2019)
UI Enhancement
Search Functionality Enhancement
Fixed issue
Hash key generate for facebook login from admin panel
Feature Update(29 March, 2019)
Fixed Issue- Crash issue in google sign in if server not configured
Add localization option (Chinese and English)
Update UI
Support any type of external live video link (like .m3u8 )
Dynamic download option. Download option Control (visible or invisible ) from the admin panel
Full-Feature Overview
More than 22 screens
Youtube / Vimeo / mp4 video
Live streaming from youtube
Google Interstitial Admob
Google Banner Admob
UI Material Design
Easy to install
Easy to customize
Super friendly code
Well commented code
Basics knowledge for setup
Equip with all modern features



Email : admin
Password : 123456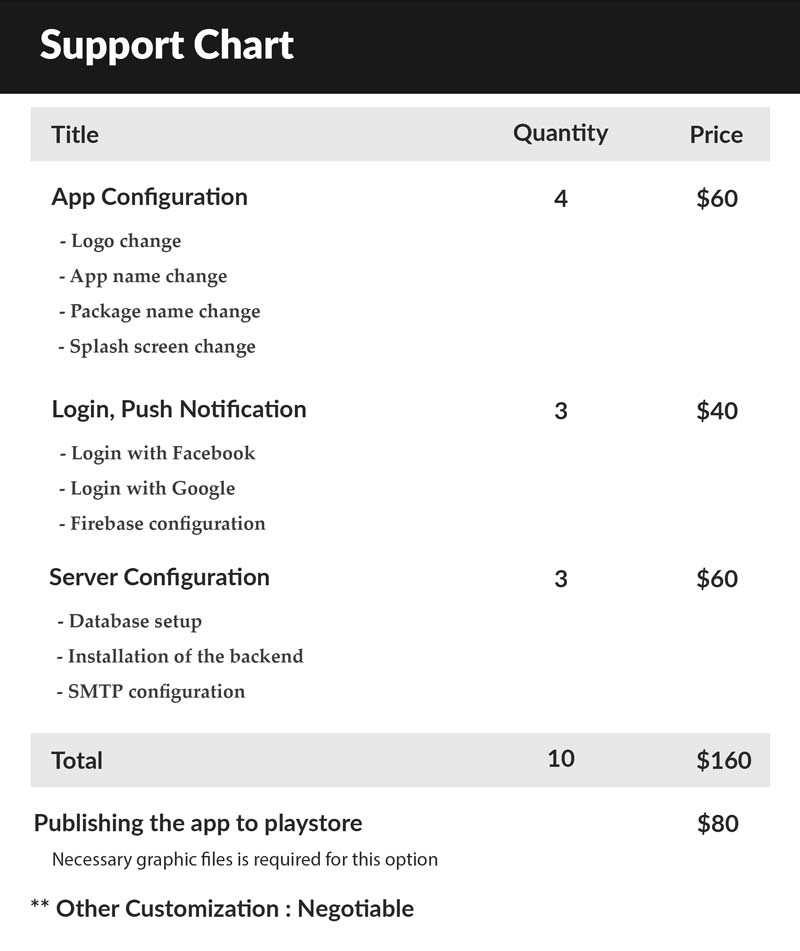 Images are not included in the download file. Images in the preview are for demonstration purposes only.