Coin Market Cap WordPress Plugin Uses CoinMarketCap.com APIs.
Create a website similar like CoinMarketCap.com using this Coin Market Cap & Crypto Prices WordPress plugin. This crypto plugin uses coinmarketcap.com api to grab live crypto prices, market cap, charts and other data related to cryptocurrency.
View CoinMarketCap Demo
Create Crypto Coins List Similar Like CoinMarketCap.com
Display a list of top 1000+ crypto coins inside your website.
You can easily sort this crypto list based on cryptocurrency rank, price, marketcap, volume and other things.
You can select which column/data to show inside your crypto list – Prices, 24h% Changes, hourly changes, 7D% Changes, Market Cap, Charts, Volumne and many other crypto data options.
Every coin will be linked with a single page of that cryptocurrency – This page will automatically generated by this crypto plugin using all market data of that crypto coin.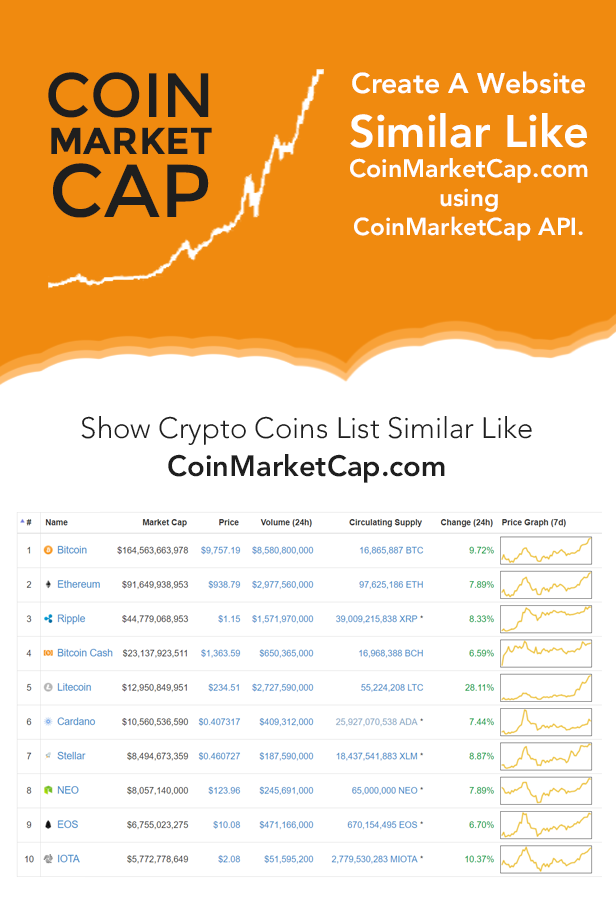 Coin Specific Single Page – Auto Generated
Every cryptocurrency specific single page will be automatically generated by this coinmarketcap plugin. Also you can choose which data to display on single coin page – Charts, Prices, MarketCap, hourly/24h % Changes, Supply, Volume and much more.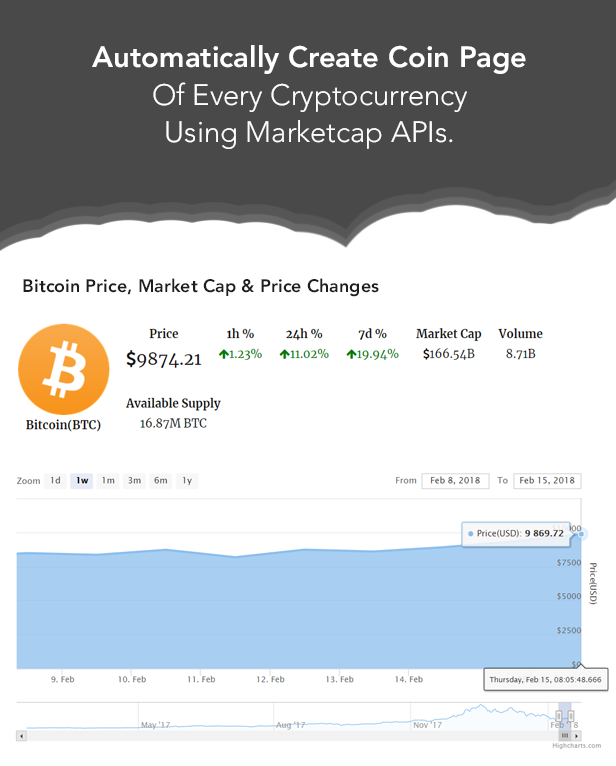 Also Check Crypto Price Ticker Widget Pro Plugin
CHANGELOG
Version 2.2 | 14 March 18

-Added:- Added different-2 shortcodes for Charts,Coin Details,Facbook Comment etc.
-Added:-Introducted new shortcode for coin single page
-Added:-Integrated Dynamic Title settings and feature
-Added:-Integrated dynamic description settings.
-Added:-Introducted Dedicated section for coin description.
-Improvements:- Optimized API's calls.Fetching all coins data in single API's.
-Updated:-Added Currency attribute in global coin info shortcode
-Fixed:Fixed Major currencies logo missing problem
-Improvements:-Improved coin single page
-Improvements:-Code Optimizations.
-Improvements:-Minor CSS improvements

Version 2.1 | 10 March 18

-Updates:- Coin Market Cap updated coins logo and chart API's.
-Fixed:Fixed Major currencies logo missing problem
-Fixed:Fixed chart missing problem.

Version 2.0 | 08 March 18

-Added:Introducted Live Price change feature.
-Added:Create Coin market Cap in currencies(USD/EUR/GBP)etc.
-Added:Integrated global market cap info section shortcode
-Added:Integrated new settings panel for details page and shortcode generator.
-Added:Integrated multilingual compatibilty and translated in (German,Italian,french,Turkish).
-Improvements:Improved search added auto suggestion and coin logos.
-Fixed:Data table rows visibility issue fixed.
-Improvements:Upper Scroll Added
-Added:Integrated Coin description settings
-Improvements:Created different-different shortcode for description and chart etc.
-Improvements:Imporved Chart visibilty