Next Generation Drupal Themes
We are a Drupal Theming team based on Montreal, QC. We love Drupal theming and more than 5.000+ customers encourages us every day to work harder and provide the most of us in each product. And that´s what we have done with CorporateX 3.
Loving Responsiveness, UX and Supporting our clients.
Responsive web designs are the new top trends across the WEB. Visitors love to get into sites where they can experience a graceful navigation, content access, sharing, participation and administration. Our "DoubleMThemes" focus on it and leverage a solid base for building (just in minutes or few hours) your own or just your client's web site. The rest of functionality is just built in it.
Client Support, our second Goal
We really love ThemeForest community, environment, quality, the awesome Drupal & Wordpress items authors create… That's why our client's satisfaction & success with our items is so important. We provide support for any theme/item related question or doubt (We're currently working on GMT-5 so please, be patient for our response) so if you have any, please mail us via the contact form titled "Email DoubleMThemes" at the bottom of the right sidebar of this page. If you need any further support or customization, you can also contact us.
We strongly suggest to browse our forums for any question you have. Perhaps your answer is already there and you can save hours of your precious time
Purchasing one of our items is much more than getting a zip file. Verified buyers get the guarantee of having a solid support service for getting out of troubles and issues during the item usage. It allows you to get it adapted to your client on hours. Here you can read some testimonials you can also find on the item discussion section:
Really love this theme! It was easy to set up, extremely easy to use and DoubleMThemes gave me prompt service when I ran into a problem. Great template and a great price.
Thanks for your outstanding support! I appreciate your prompt replies and your dedication in helping resolve my issues. It will be my pleasure to purchase from you again in the future.
I can say I received amazing technical support for a few issues I was having with installing the theme. In other words, you are not only buying a great theme you are also getting premium support which can save you hours or even days of scratching your head.
I want to thank you again for your fantastic customer service!!! I really appreciate your quick response and helping me solve my issue.
You can get support from the Support forum site at doublemthemes.com and find other Premium Drupal themes there.
Featured items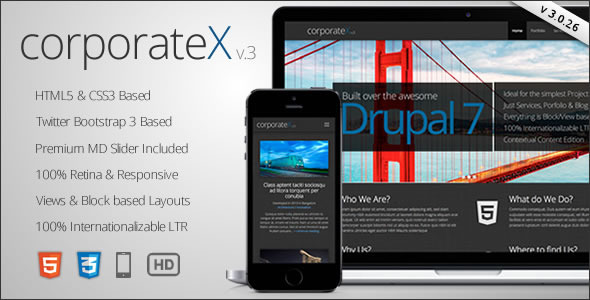 DoubleMThemes dev team is sponsored and backed up by LeaseCosts Canada.
Public Collections
View All Collections