SOME VIDEOS NOT DOWNLOADING?
This is not a script issue. The problem here is when you generate a link for a ciphered video using your server that link remains valid for your server IP but not the client IP. This is a limitation provided by YouTube. To bypass that you'd have to host download at your own server. That will cost your own bandwidth. You can simply download the files using PHP functions to your server from the generated link and then serve to your users.
It follows 100% PSR standards so this can be used and integrated into any existing project with ease.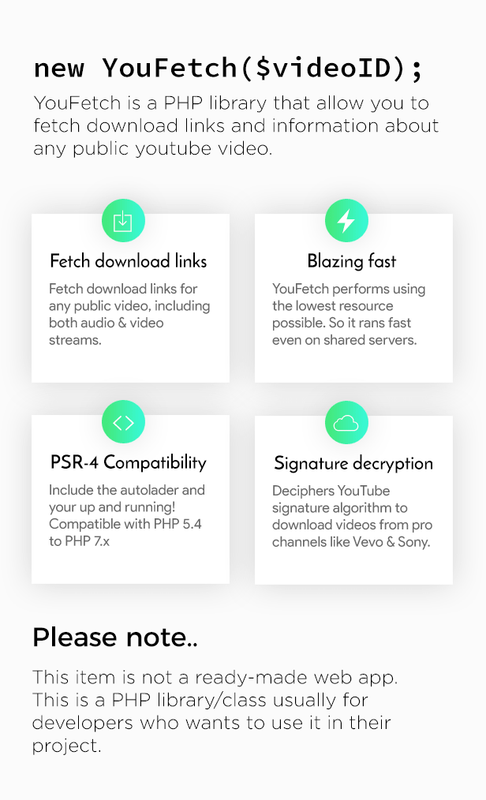 v.1.1.5 - Signature Update Patch - January 31, 2020
- Works with the latest YouTube Cipher Update
- That's pretty much it!

v.1.1.4 - Player Response Patch
- Works with updated YouTube streams
- Improved stream proccessing

v.1.1.3 VideoInfo Patch
- Fixed video information fetching error
- Optimized requests

v.1.1.2 STS Patch
- Fixed YouTube STS error

v1.1 Eid Update
- Now compatible with latest YouTube itags
- Fixed issue of video only streams being treated as full videos
- New adjustment for signature decryption

v.1.0 Ramadan Update
- Fixed video downloading issues

v0.1 | Early Access - June 27, 2018
- Created


Please note, this item is for Developers only.