What is Yellow Page Lead Extractor Software?
Yellow Page Lead Extractor Software – Software can Extract Yellow Page Lead with All Contact Detail
Software Extract All Leads from Yellow Pages Website

Business Name
Business Category
Business Phone
Business Website
Business Fax
Business Address
Business City
Business State
Business Country
Business PostalCode
Business Email – if email available on website for perticular Business Website
Business Map Link
Business Detail Link

Software Search Yellow Pages All Busines information with Location Wise Filter.
100% Real Time Extract Business Contact with Advance Export into Excel ,CSV and Text Format.
Software Support Proxy Server – so if you have proxy server For hide your ip , then you can configure
Getting Started
After Registration Licence , Start Software, software start with below screen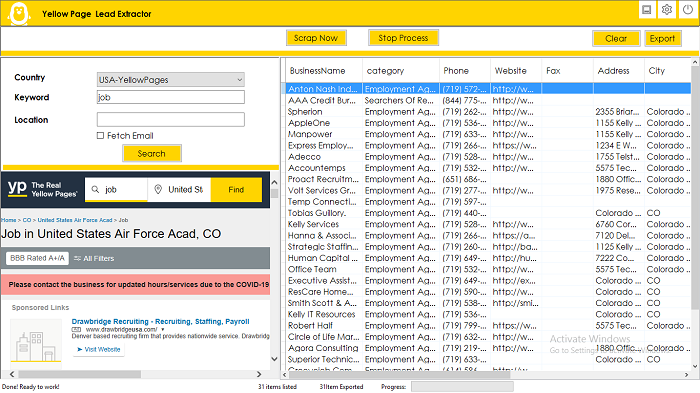 Now you can Search Using below parameter.

Keyword : Any Keyword like Jobs,Sales.
Location : this option is optional but you can write any location .

Click on Search Button, All Result Display in Software Browser Search Engine.
Click on "Scrap Now" Button, Software will extract All yellow page Lead.
You can Export All Details in Multiple Format : Excel, CSV , And Text Format.




This Software Also have VPN Setting if you have VPN Then you can Add

Click on Setting Icon on Top Bar , , You can do VPN Setup here. Also can Change Data Export Format , Excel, CSV,Text Format. Software Support Multiple Language , Can Change Desired Language.
Installation Process