Hi, we have new plugin for you!
Do you want to make your site more interactive? Want to have extra viral traffic? If Yes – It's for You With this plugin you can create any number of BuzzFeed Style Knowledge Tests. Interface is easy and it is mobile friendly. So Just try it!
Any doubts?
Still with Us ? Try to build your own test on demo website
You can login to
http://buzzfeed.voodoopress.net/wp-admin
with Login: test_user, Password: test_user and
test plugin online
!
Features
Easy to use interface
Mobile friendly
Viral thing
Ability to customize result
Unlimited number of questions and answers
Responsive layout
CSS animation
How to use?
Related Quiz Plugin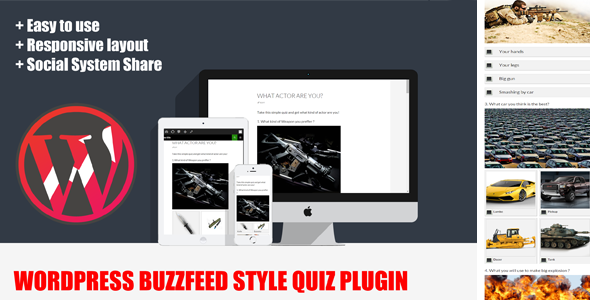 Version 1.4 Release Date 20.07.2015
Version 1.1 Release Date 08.05.2015
Support
If you found bug or need to extend functionality or add new feature – just write it in comments and duplicate it via private message ( http://codecanyon.net/user/evgendob ). TNX!