Support available in Polish and English!
Jesteśmy polskim zespołem – zapraszamy do kontaktu/zgłaszania problemów po polsku!
List of all supported services
Ceneo, Nokaut, Domodi, Allani (w porównaniu do Domodi, wymagany parametr płci), Esentia.pl, Pimpuszek.pl, Miamiga.pl, Agua.pl (wszystkie z nich używają formatu takiego, jak Nokaut.pl), Okazje.info (format ceneo)

Ceneo.pl / Nokaut.pl / Domodi.pl Integration to rozszerzenie do WooCommerce generujace pliki XML uzywane do integracji Twojego sklepu WooCommerce z Ceneo.pl, Nokaut.pl i Domodi.pl, które sa najczesciej uzywanymi porównywarkami cen w Polsce. Ze swoim sklepem zarejestrowanym w Ceneo, Domodi i Nokaut, Twoje produkty beda wyswietlane w ich wynikach wyszukiwania i porównanich. Dzieki temu szanse na dotarcie do wiekszej liczby odbiorców znaczaco sie zwieksza. Rozszerzenie dobrze wykorzystuje reguly integracji narzucone przez te porówywarki, pozwalajac Ci nie tylko na zmapowanie kategorii Twojego sklepu z kategoriami Ceneo, Domodi i Nokaut, ale tez na ustalenie specjalnych wlasciwosci dla kazdego z Twoich produktów, w zaleznosci od typu produktu.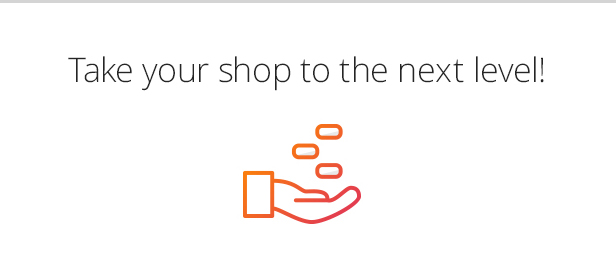 Integracja z ceneo.pl / nokaut.pl / domodi.pl znacząco zwiększa ruch sieciowy.

Ze swoim sklepem zarejestrowanym w Ceneo, Domodi i Nokaut, Twoje produkty będą wyświetlane w ich wynikach wyszukiwania i porównanich.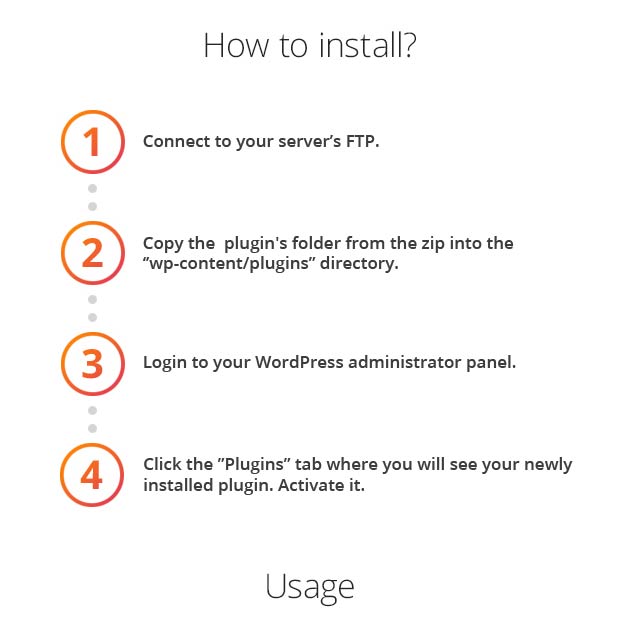 Po aktywacji zobaczysz nową stronę ustawień WooCommerce o nazwie "Price comparison".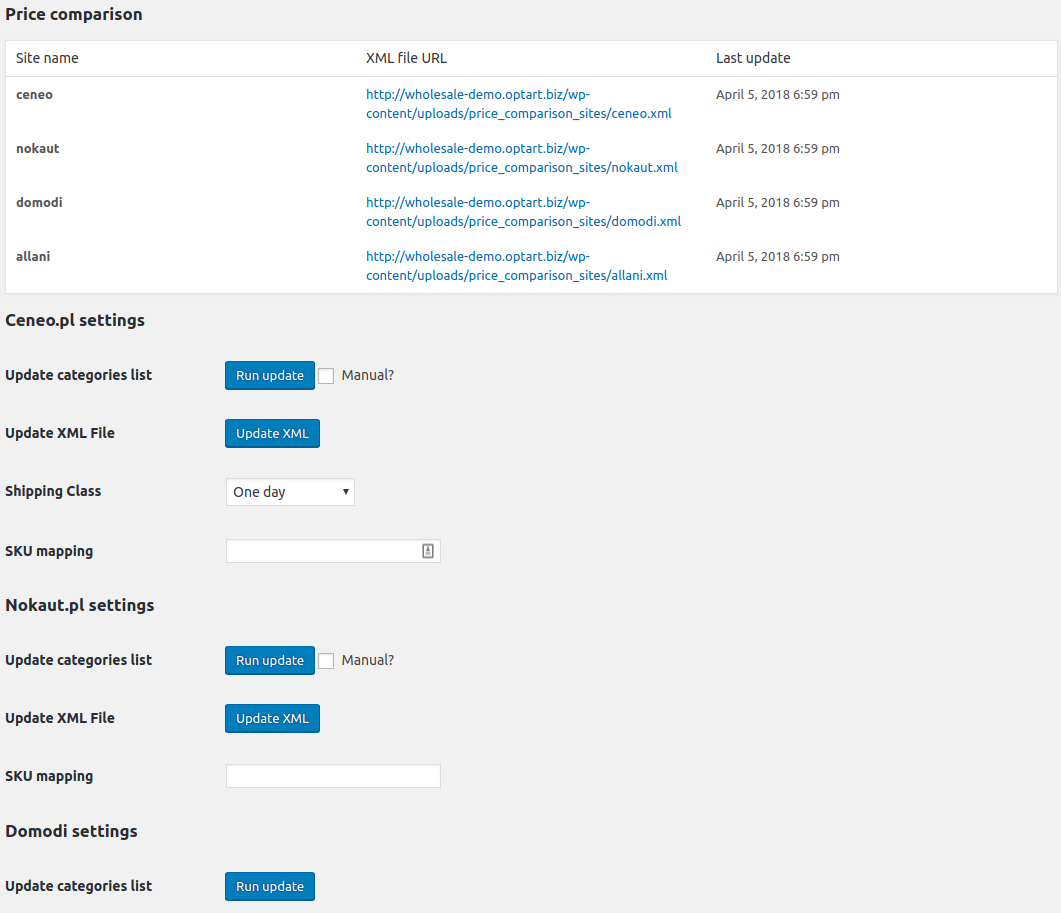 Na tej stronie mozesz znaleźć linki do plików XML, które są aktualizowane co trzy godziny. Znajduje się tam informacja kiedy nastapiła ostatnia aktualizacja, dzieki czemu mozesz łatwo sprawdzić, czy sa aktualne. Możesz również samodzielnie zaktualizowac pliki przez uzycie przycisku aktualizacji. W przypadku, gdy zmienią się kategorie Ceneo/Nokaut/Domodi możesz łatwo je zaktualizowac klikajac w odpowiedni przycisk. Po tym jak skonfigurujesz swój sklep internetowy do integracji, należy wysłać linki do plików XML do Ceneo i Nokaut, aby te wyświetlały Twoje produkty. Trzeba zrobić to tylko raz, pliki sa aktualizowane automatycznie.

Kategorie
Na obrazku poniżej prezentowane są dwie kategorie: "Książki" i jej subkategoria "Powieści i opowiadania". Jeśli spojrzysz na kategorie Ceneo i Nokaut, zobaczysz, ze znajduje się tam ogólna kategoria dla książek, ale w zasadzie wszystkie produkty w tej kategorii nalezą do jej subkategorii, na przykład powieści. Możesz mapować swoje kategorie wyłącznie do kategorii porównywarek, które zawierają produkty, wiec zazwyczaj jedynie do najniższej subkategorii. Z tego powodu my wykluczamy kategorię "Książki" z generowania plików XML i mapujemy nasza subkategorie do kategorii odpowiadajacych porównywarkom: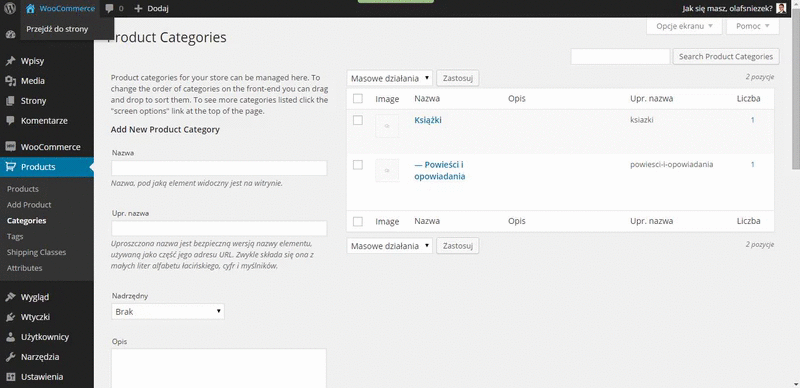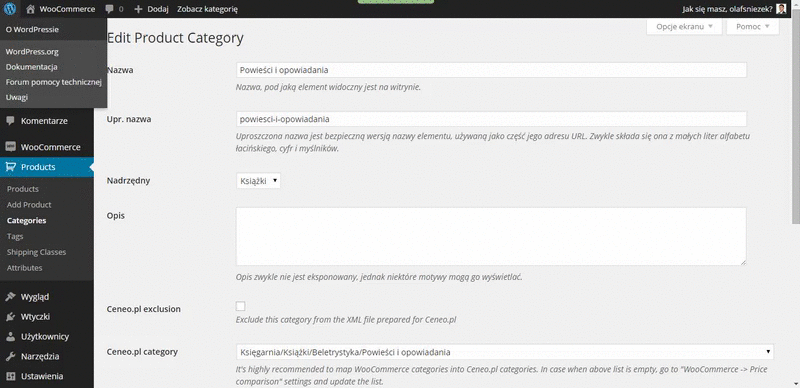 Produkt
Na stronie edycji produktu widnieje sekcja "Price comparison". Oferuje ona wybranie ustawień dla pojedynczych produktów.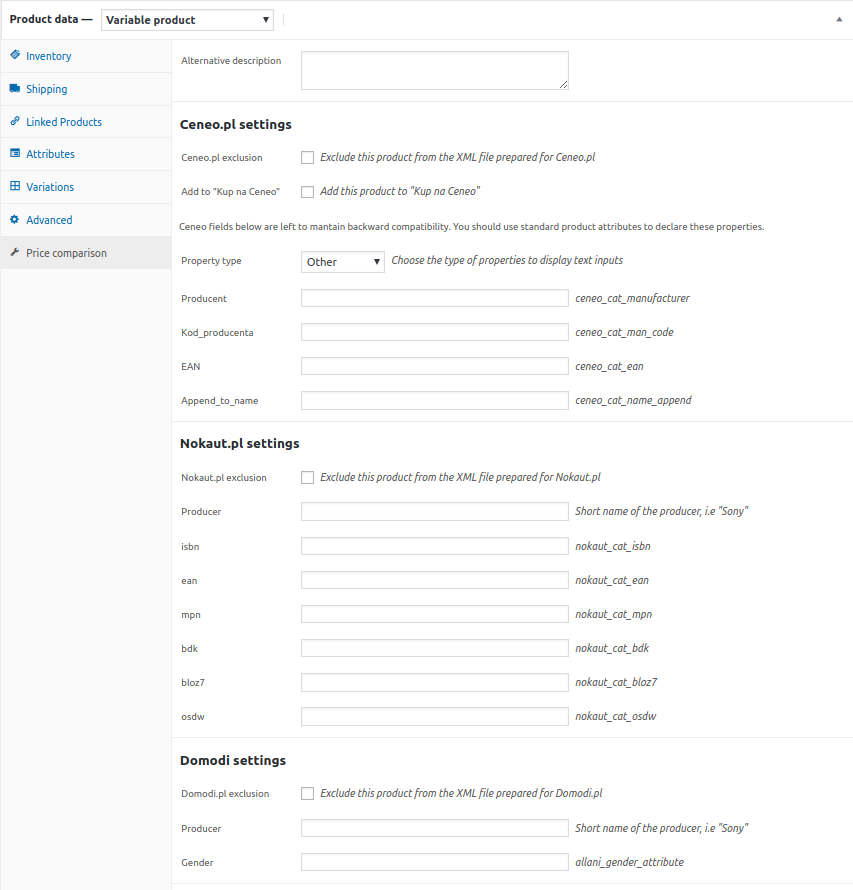 Nowość od wersji 1.3.0 – mapowanie atrybutów
Ceneo pozwala na ustawienie dowolnych atrybutów dla produktów, dlatego możesz użyć zwykłych atrybutów WooCommerce w pliku XML dla Ceneo. Wchodząc w Product > Attributes możesz ustawić zmianę nazwy i wykluczenie atrybutu z XMLa.




* 1.3.2 - 2018-16-05
    * Products with backorders will no longer be added to XML
    * Lowered required PHP version to 5.6

* 1.3.1 - 2018-04-05
    * Fixed Domodi categories mapping

* 1.3.0 - 2018-02-07
    * Updated Ceneo XML
    * Improved performance

* 1.2.5 - 2018-01-30
    * Auto-update fixed

* 1.2.4 - 2017-11-23
    * Added other attributes to Nokaut XML

* 1.2.3 - 2017-11-23
    * Added basket attribute to Ceneo

* 1.2.2 - 2017-11-14
    * Removing Visual Composer tags from content

* 1.2.1 - 2017-11-09
    * Added removing shortcodes from content

* 1.2.0 - 2017-10-28
    * Added mapping SKU
    * Added Allani support
    * Added tracking allani/domodi tracking code support

* 1.1.9 - 2017-09-19
    * Added EAN to variations
    * Fixed ceneo availability when stock is 0

* 1.1.8 - 2017-06-21
    * Fixed error for PHP < 5.5

* 1.1.7 - 2017-06-06
    * Fixed WC3 bug
    * Fixed select2 bug
    * Added weight attribute

* 1.1.6 - 2017-04-27
    * Fixed sending characters before cookies
    * Fixed compatibility problems with select2

* 1.1.5 - 2017-04-08
    * Added alternative description
    * Wrapped XML URLs with <a>

* 1.1.4 - 2017-04-08
    * Added WooCommerce 3.0 compatibility

* 1.1.3 - 2017-03-16
    * Fixed empty attributes mapping

* 1.1.2 - 2016-04-12
    * fixed sale prices error on variation products for Domodi

* 1.1.1 - 2015-03-09
    * fixed XML generation errors on Ceneo (PHP7)

* 1.1.0 - 2015-02-13
    * added manual categories file upload for Ceneo and Nokaut

* 1.0.14 - 2015-02-02
    * fixed Domodi Color attribute appear even if product don't have such

* 1.0.13 - 2015-01-21
    * fixed Ceneo/Nokaut varation prices

* 1.0.12 - 2015-12-30
    * fixed Domodi fatal error (internal)

* 1.0.11 - 2015-12-30
    * fixed Domodi CDATA (no entity)

* 1.0.10 - 2015-12-22
    * added to Domodi some CDATA tags

* 1.0.9 - 2015-12-21
    * Fixed slugs in Domodi
    * Fixed prices in Domodi

* 1.0.8 - 2015-12-14
    * Product content as product description in Ceneo

* 1.0.7
    * Ceneo/Nokaut attributes/properties fix

* 1.0.6
  * Domodi XML shows more than a one category for a product

* 1.0.5 - 2015-12-01
  * Ceneo properties fixed
  * Domodi price fixed
  * Variations on Domodi are now "one" product with different colors/sizes if set
  * Nokaut name & properties fixed
  * Added availability and instock features for Nokaut

* 1.0.4 - 2015-09-13
    * Added domodi.pl support
    * Added select2 for categories

* 1.0.3 - 2015-08-18
    * Fixed product availability
    * Added "imgs" tag in Ceneo class

* 1.0.2 - 2015-07-28
    * Fixed unterminated entity in Ceneo class
    * Fixed unterminated entity in Nokaut class

* 1.0.1 - 2015-05-22
    * Fixed XML update
    * Added manual XML file update for each site
    * Fixed unnecessary "!" in CDATA in XML files
    * Fixed loosing category list if error on category update

* 1.0.0 - 2014-07-07
    * Initial version
    * Removed PHP namespaces
    * Changed text domain
    * Change location of braces, according to WP coding standards
</a>