Woocommerce Category Discount plugin allows you to manage discounts for your Woocommerce store. It is important that you strategically create rules for the discount offers. In addition, things get complicated when you have multiple products and you want to offer discounts based on multiple parameters. Woocommerce Discount Category plugin offers well-defined solutions to help you set the discount rules for your store.
Features
Allows you to create endless discount rules, by creating Discount Categories.


Create discount rules based on following criteria :-

Discount based on User Role.
Discount on specific day.
Discount for specific duration.

Allows you to add product to Discount Category for applying discounts easily to product.


Allows you to add multiple discount rules to product and add priority to the discounts getting applied.


Create Custom Discount Category on product basis.



Want to check free version before buy..?
We have created a free version for you to check it up before you buy full version. You can review the lite version from here
Demonstration Video
Creating discount rules and assigning to products is really easy, thanks to "Discount Category". Please check video to get overall idea.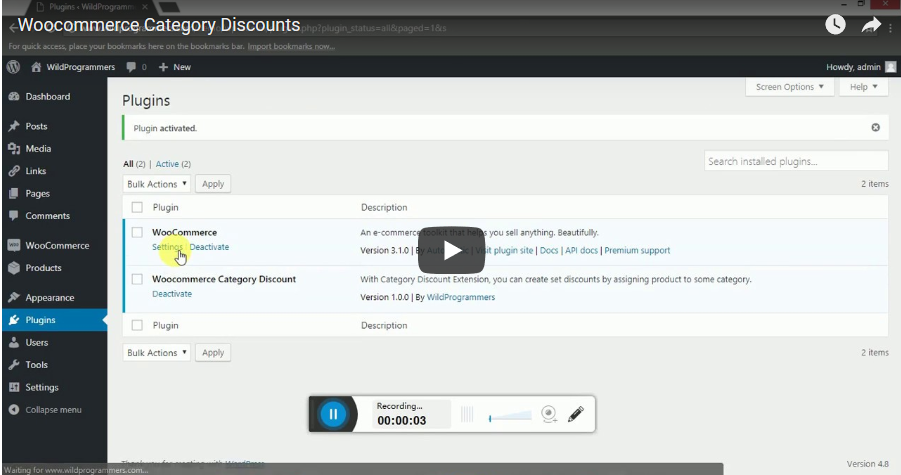 WooCommerce Category Discount provides an excellent feature by allowing you to decide when you want to provide the discount. By default, the plugin provides the discount for current purchase. However, you can also provide the discount to your customers for next purchase, i.e. if you are going to give $20 discount to your customer for current purchase that instead of providing the discount, give them a coupon which can be used for next purchase. Check out video to learn how to configure the plugin to do so.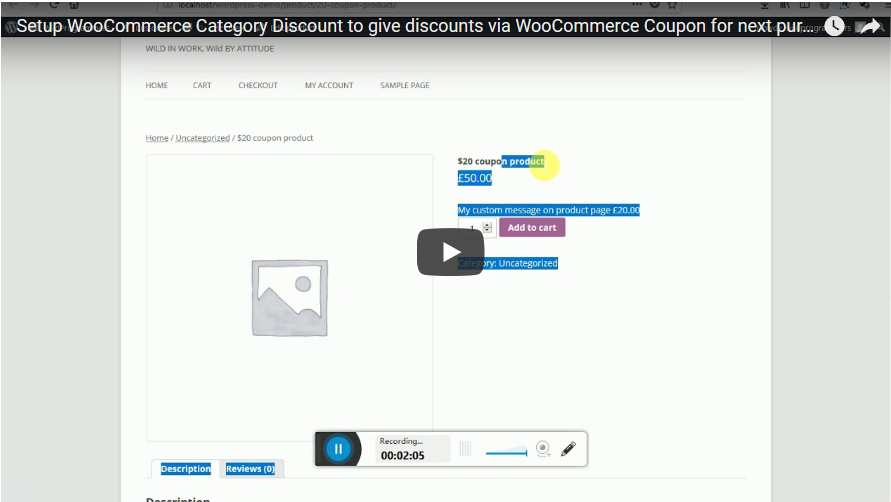 WooCommerce Category Discount provides you seamless feature of applying products to your categories, instead of going to each product and assigning "Discount Categories" to it. By this way you can setup discount on multiple products by simply selecting them, without any hassles. Check out video to learn how to configure the plugin to do so.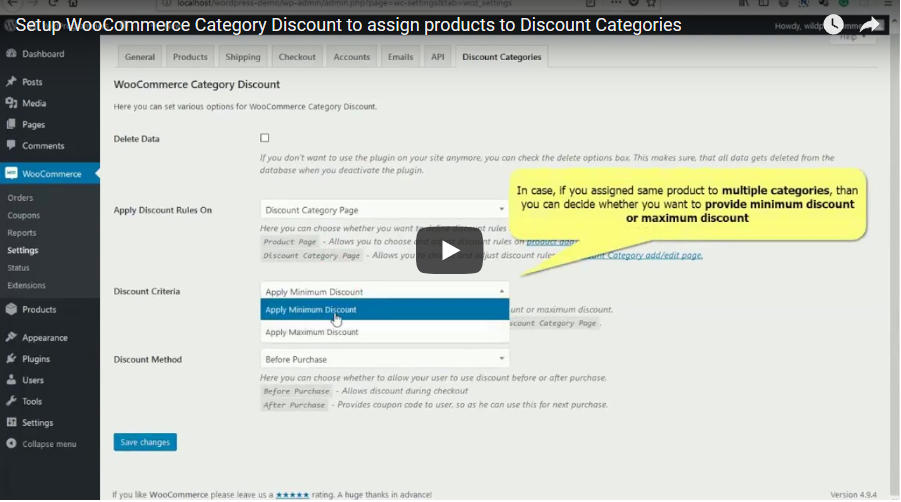 Demo
Admin Demo – Use username and password as "productdemo"
Plugin Settings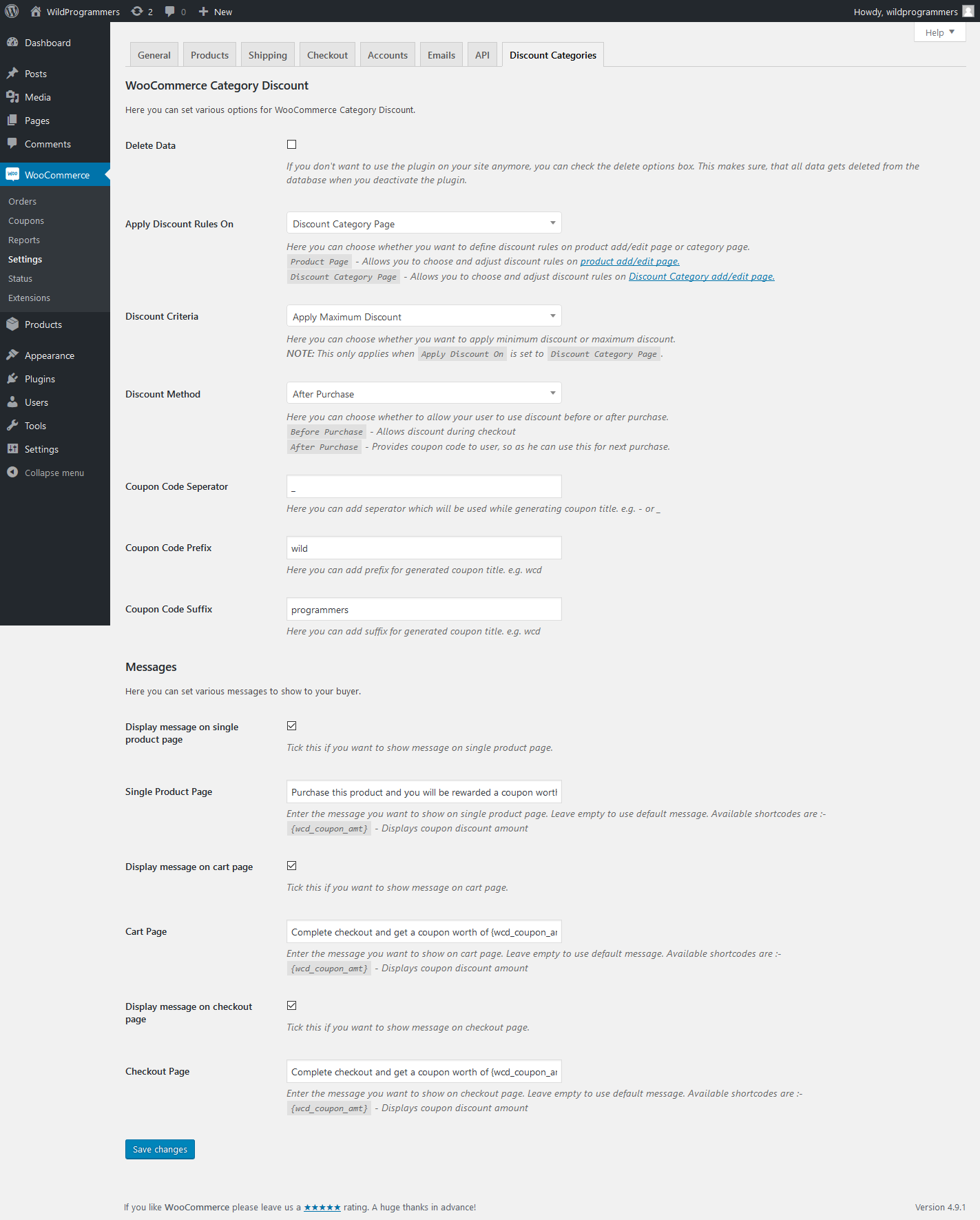 Discount Categories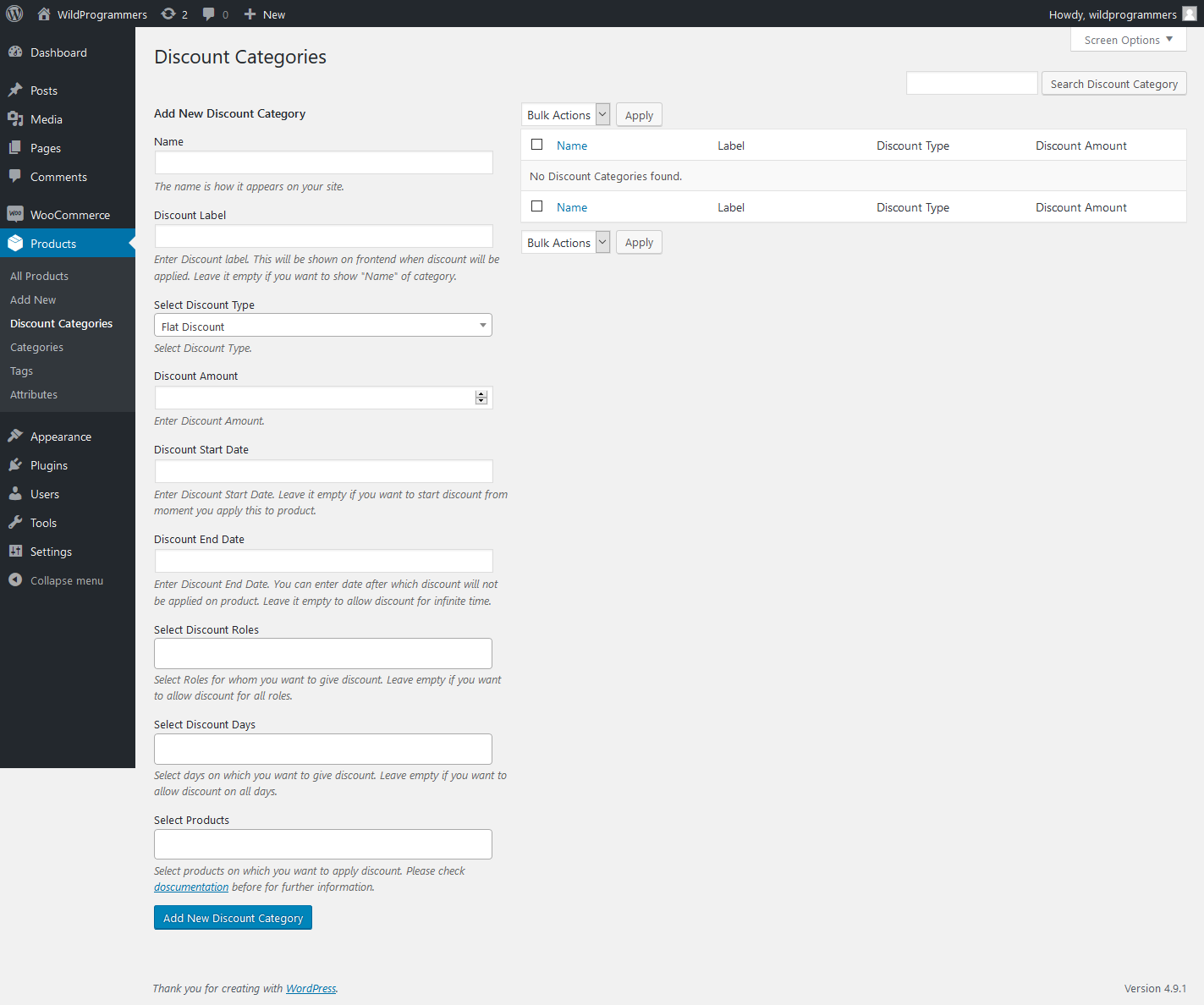 Product level Settings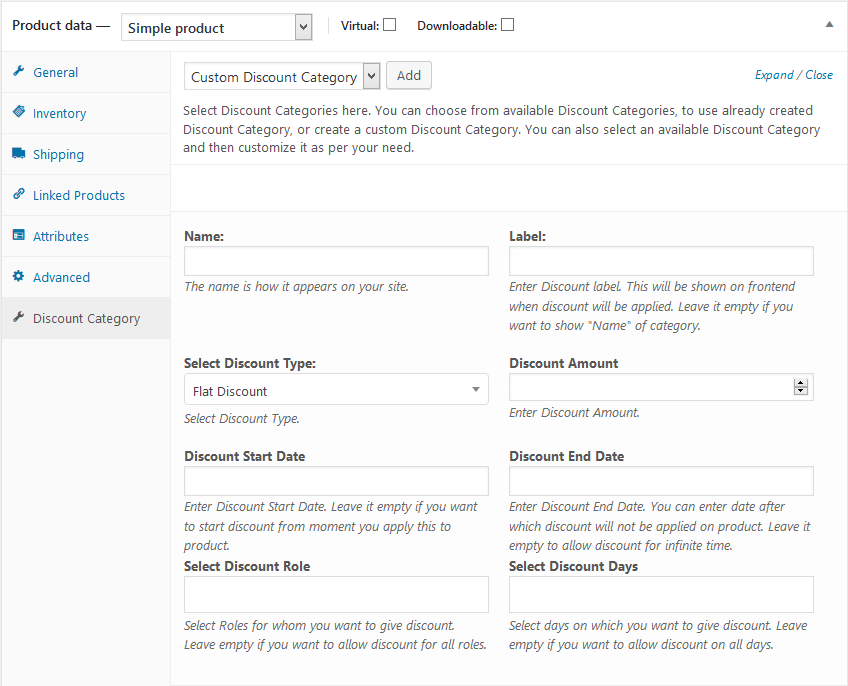 Discount Category – Coupon Settings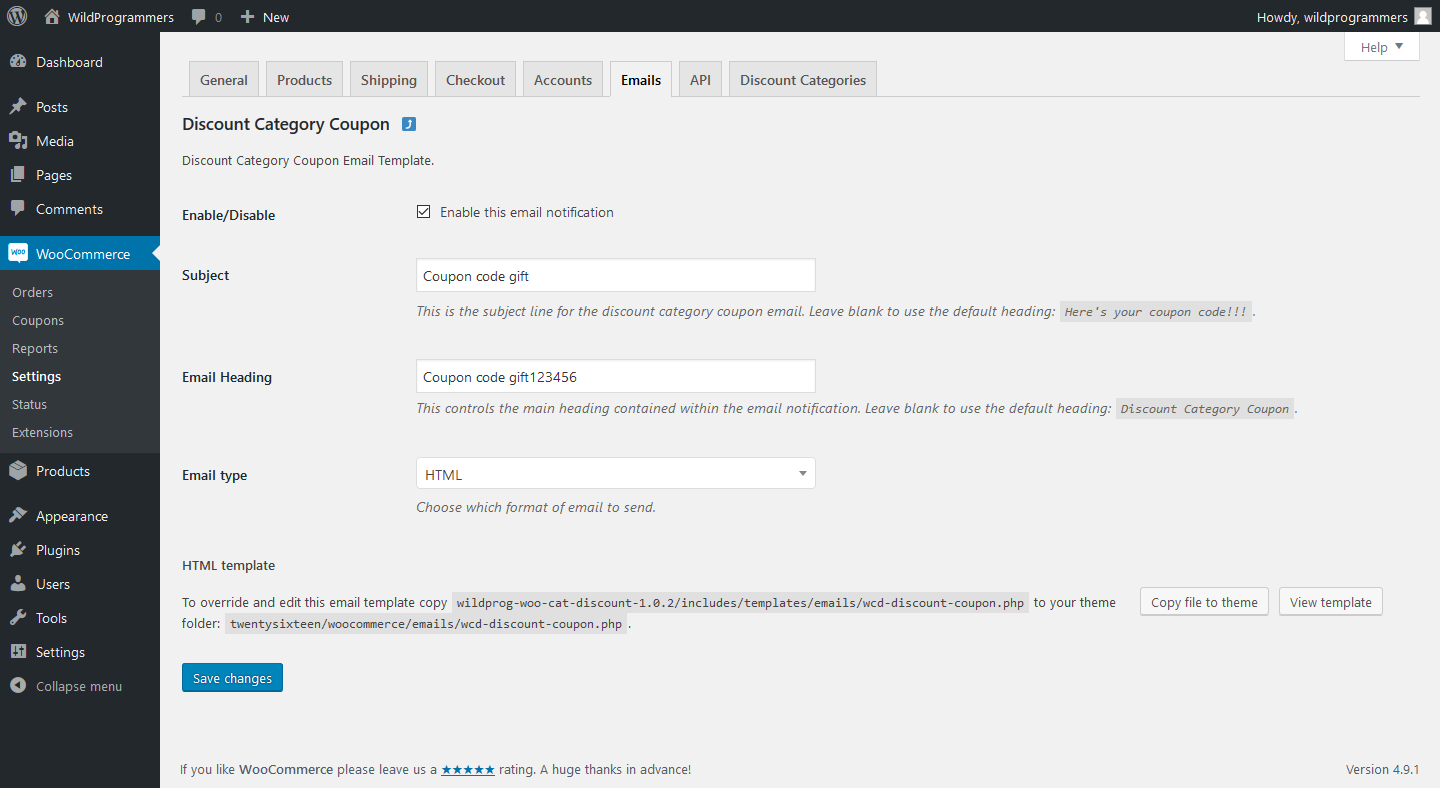 Documentation
Please see the Documentation of the plugin to learn how to use the plugin.
Support:
Need help? Please be sure to read the Documentation. If you're still stuck you can contact through our support platform or email us on wildman.163@rediffmail.com for any pre-sale inquiry only.
Still Confused..?
Checkout plugin lite version from WordPress.org and buy only after you are fully satisfy by lite version.
Change Log
= Version 1.0.5 (2018-03-15) =

* [+] Fix - Updated plugin Install and Uninstall logic.

= Version 1.0.6 (2019-02-18) =

* [+] Fix - Issues specific to product assignment to the category.

= Version 1.0.4 (2018-02-24) =

* [+] Feature - Added support for Adventure Tour theme (https://themeforest.net/item/adventure-tours-wordpress-tourtravel-theme/12781942)

= Version 1.0.3 (2018-01-01) =

* [+] Feature - Added option to assign products to Discount Category page.
* [*] Fix - Removed Discount Category on product list page.

= Version 1.0.2 (2017-12-01) =

* [+] Feature - Added option to allow site owners to offer a discount for next purchase.

= Version 1.0.1 (2017-10-16) =

* [+] Feature - Added support for default WooCommerce Sale bubble.

= Version 1.0.0 (2017-07-10) =

* [*] Initial Release