Description
Whack-A-Zombie is a game template allowing you to create whack-a-mole clones. Using the flexibility of the Corona engine, your app will automatically scale whether its played on tiny phones or enormous tablets. Corona SDK also gives you the ability to build to different devices including Android, Kindle, Nook and iOS (Macintosh required)
Download a demo of this template from:
Gameplay Features
Animated sprites
Multiple enemies
Enemy-specific sound bytes and scoring
Four levels of increasing difficulty
Level-specific background music
Offline Top 10 Leaderboard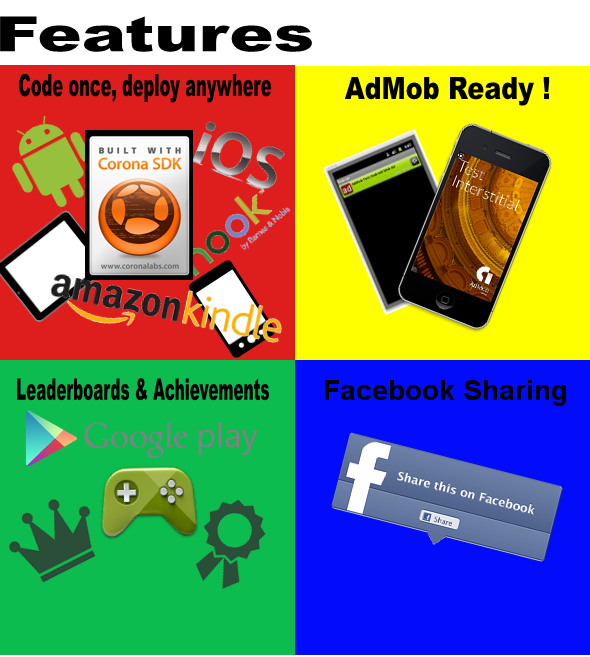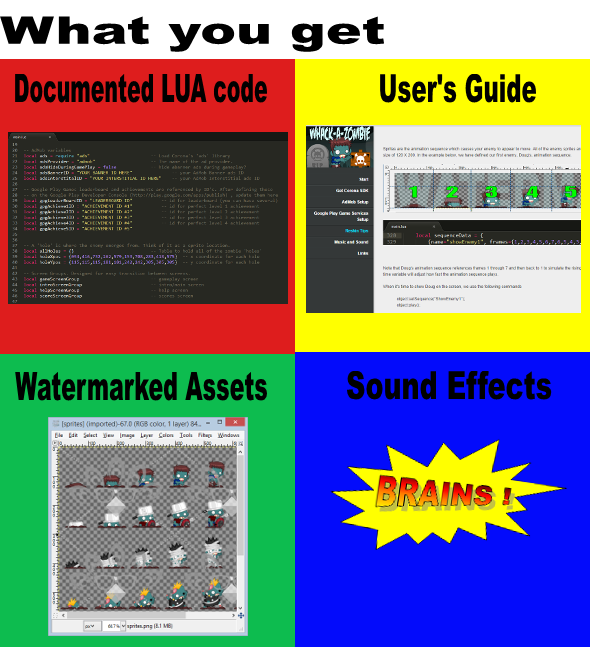 Important
This template includes features requiring Corona SDK Build 2014.2381 or higher. Please download the latest FREE SDK from Corona Labs.
Enhanced Features
AdMob-ready: Banners and interstitials supported
Google Play Games Services: Leaderboard and achievement processing
Facebook Sharing: Post scores and achievements to user's news feed
Splash screen: show your logo on app startup
What you get
LUA code: all game logic in one clearly documented file
Sound-bytes.
Watermarked PNG's for all graphical assets.
Watermarked theme music.
User guide: AdMob and Google Services Setup. Reskinning tips.
An important note about this template's assets.
Most of the high-quality images and music used were purchased from the Envato marketplace. To keep the cost of the template as low as possible and to encourage reskinning, a regular license for these assets was purchased which prohibits redistribution. For this reason, the assets have been watermarked. If you would like to have these watermarks removed, simply purchase the assets from the Envanto marketplace and send me your e-mail purchase confirmation as your proof of purchase. I will provide the unwatermarked assets after receiving your proof of purchase.
Links to watermarked assets:
Updates
Version 1.1: AdMob problems resolved.
Version 1.2: Facebook capability added.