Visual Composer KIT is a powerful collection of over 40 Visual Composer add-ons crafted for your WordPress site. With all trending elements and highly customized features, wrapped in just one bundle, we offer you unlimited possibilities to easily style and modernize your website. Grab this awesome all-in-one package and impress your visitors now!
VCKit – One kit. One Price. Multiple Benefits.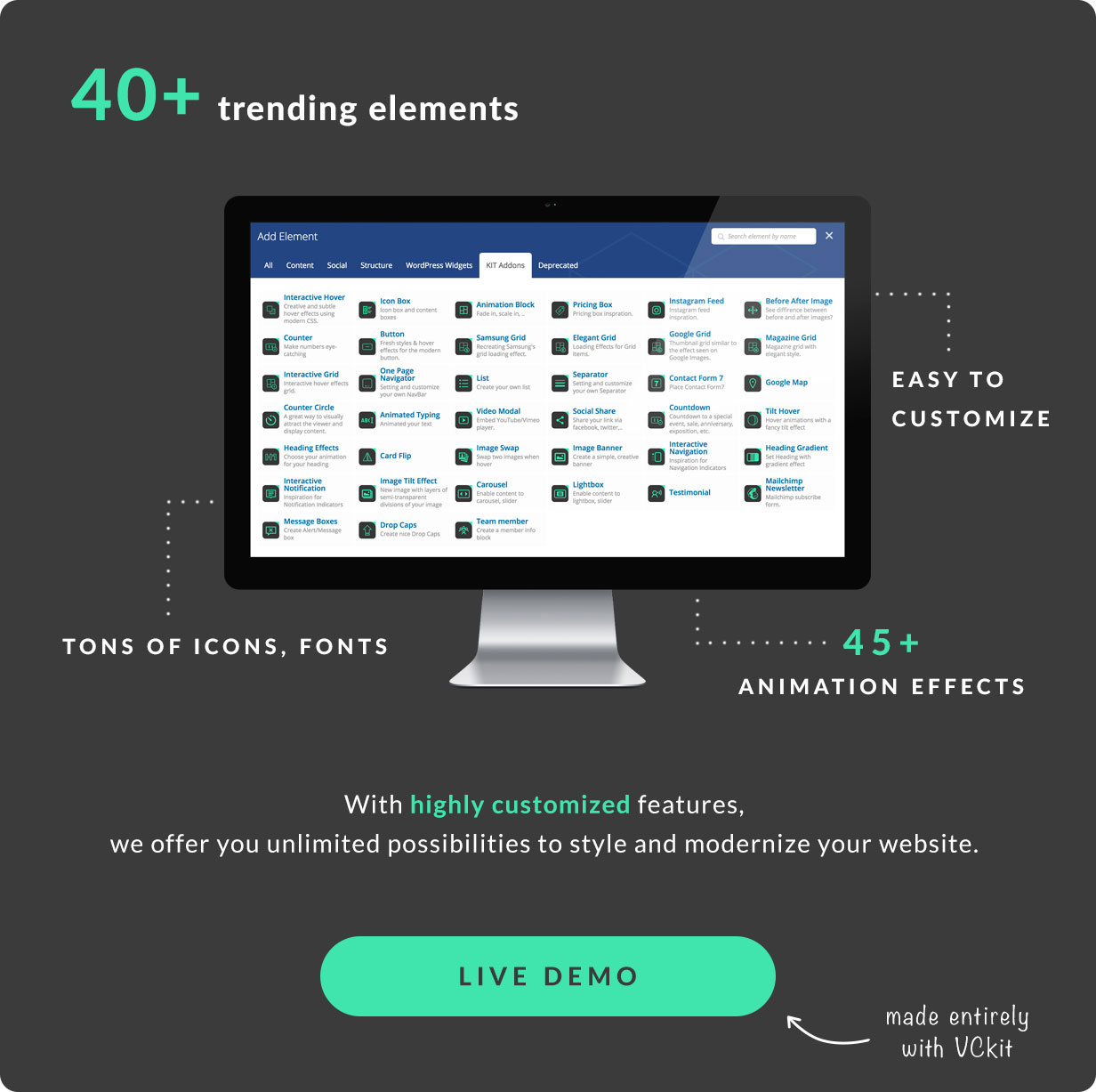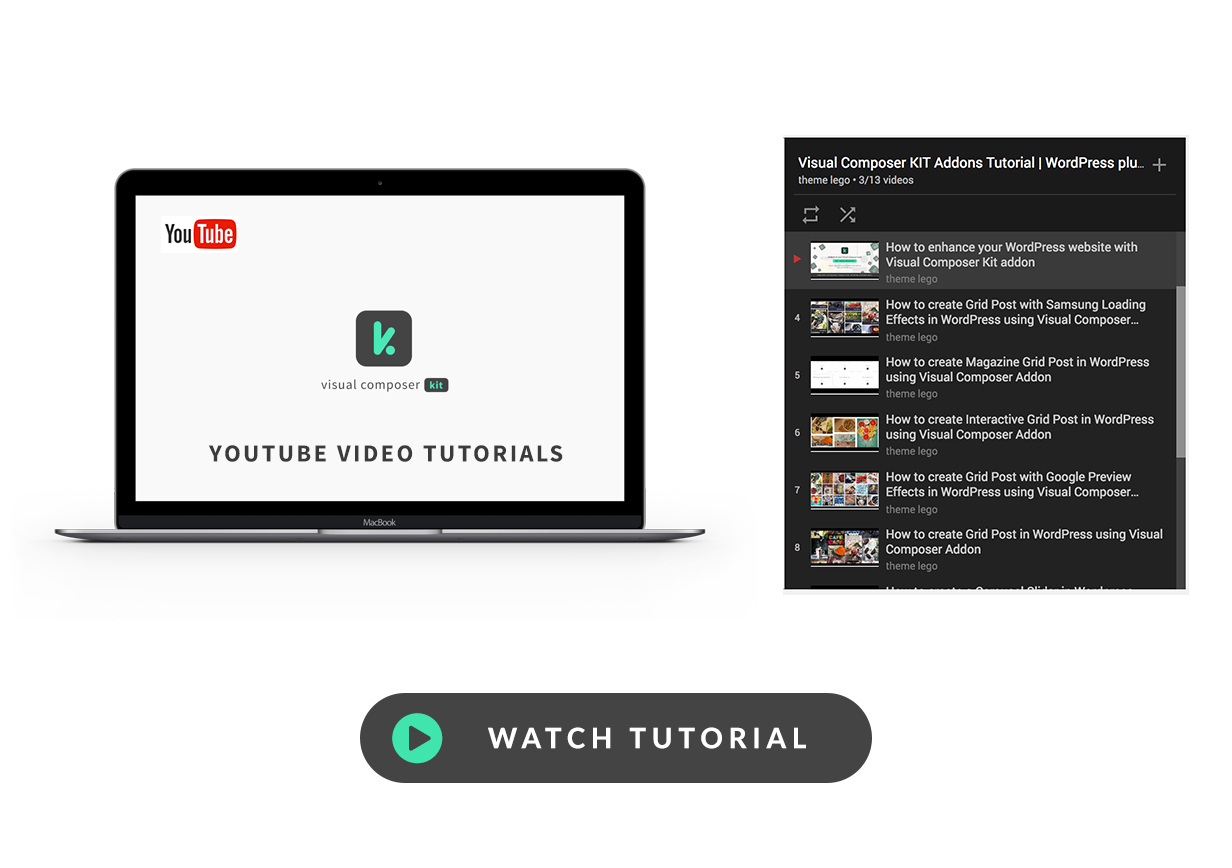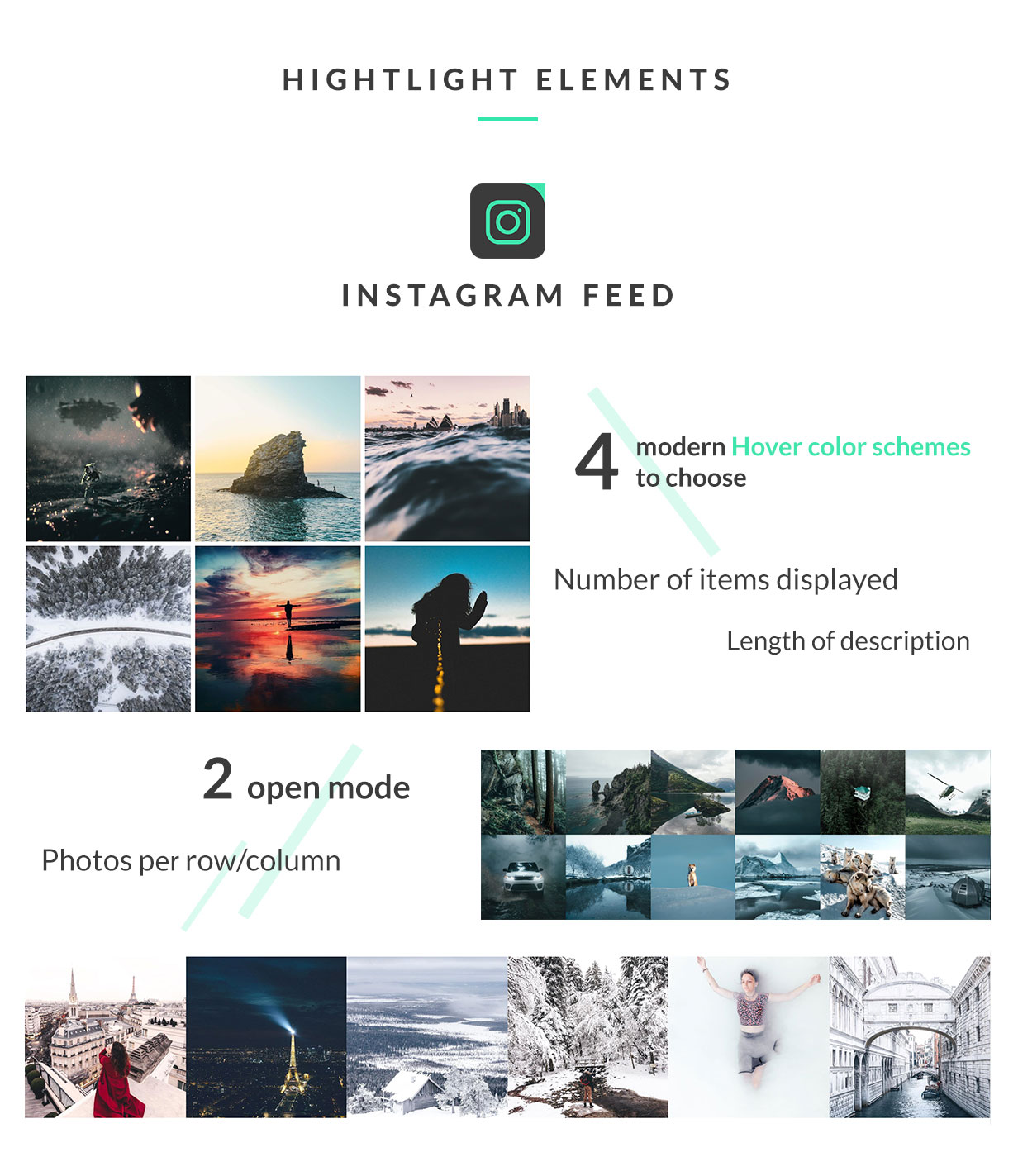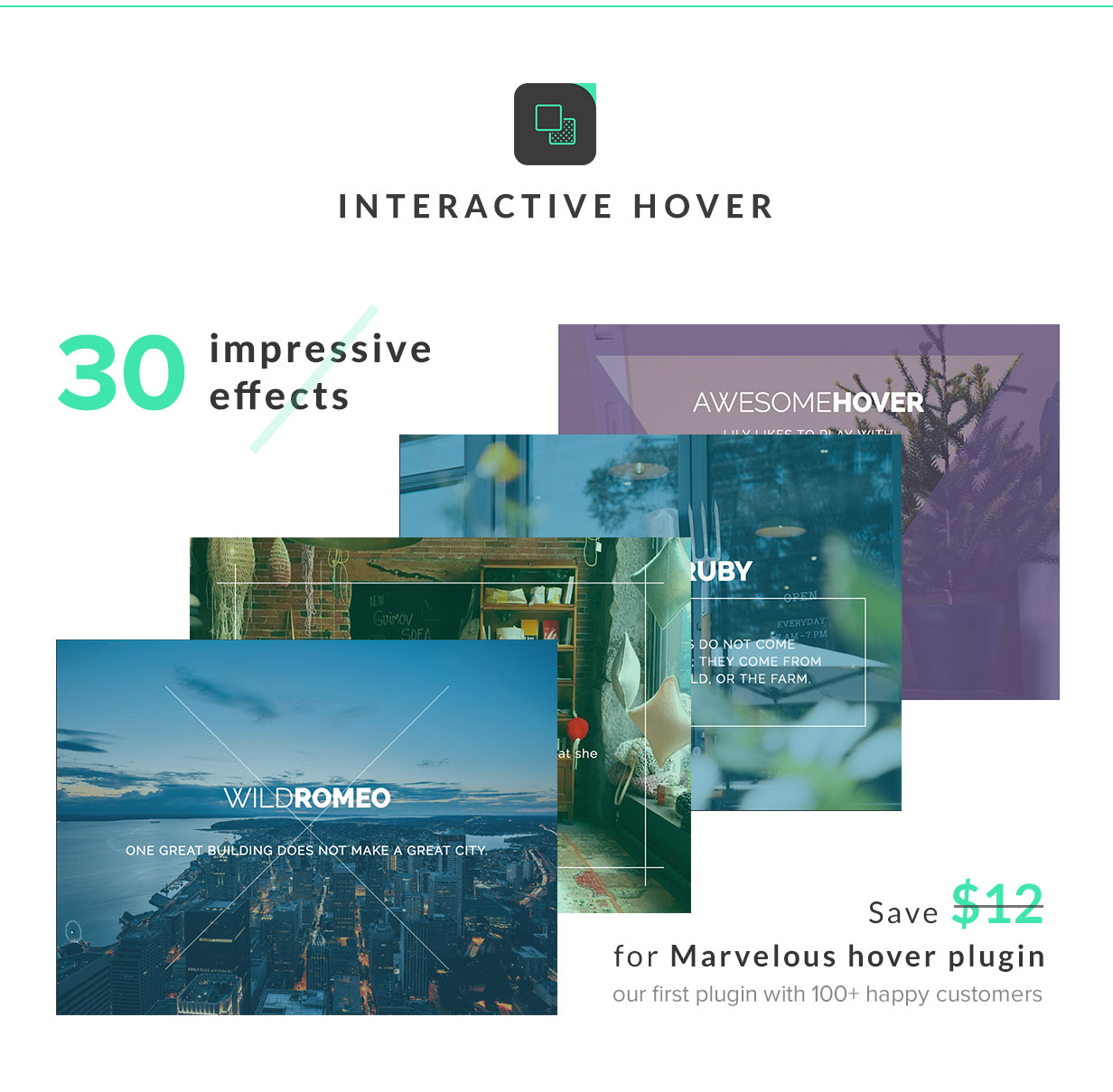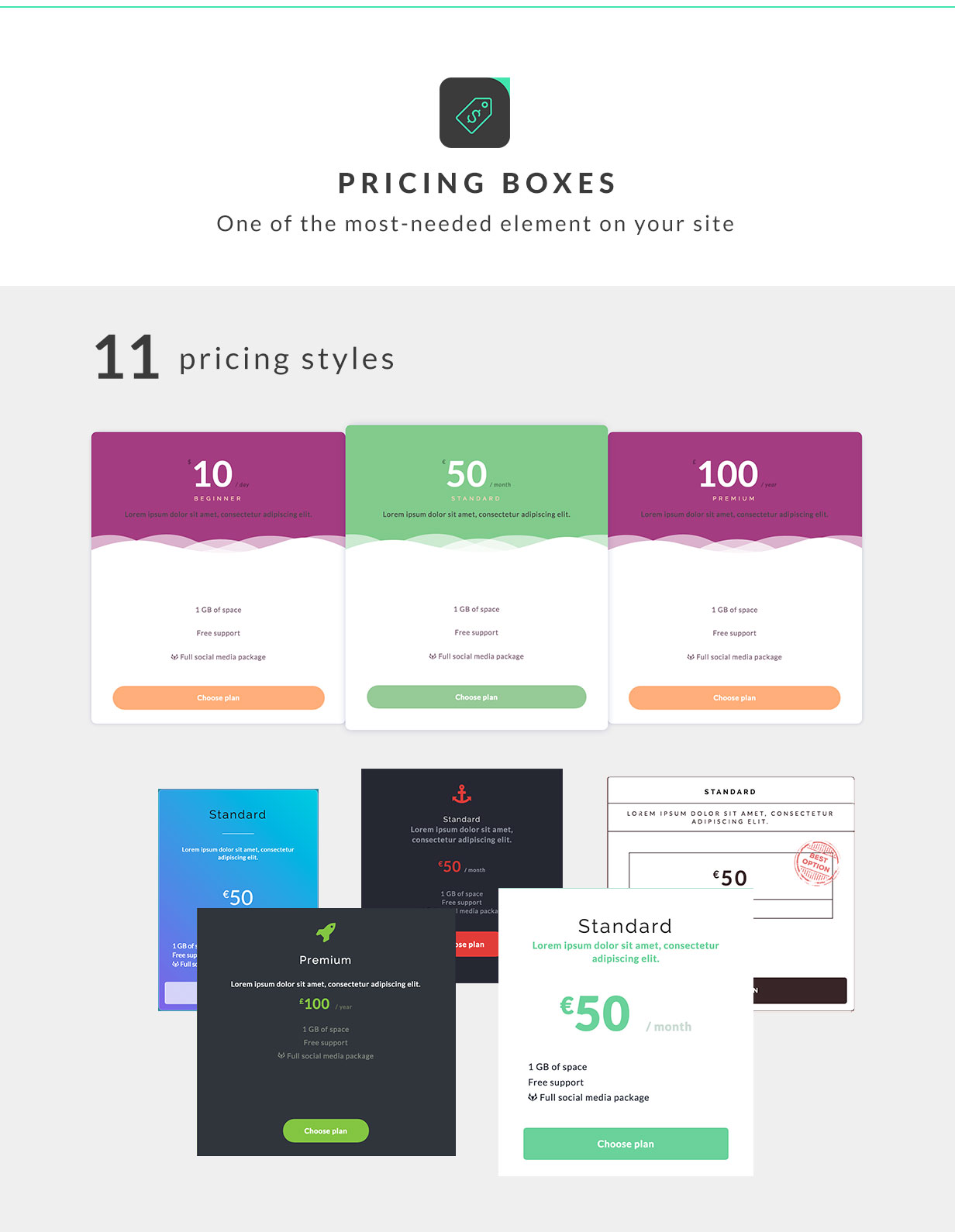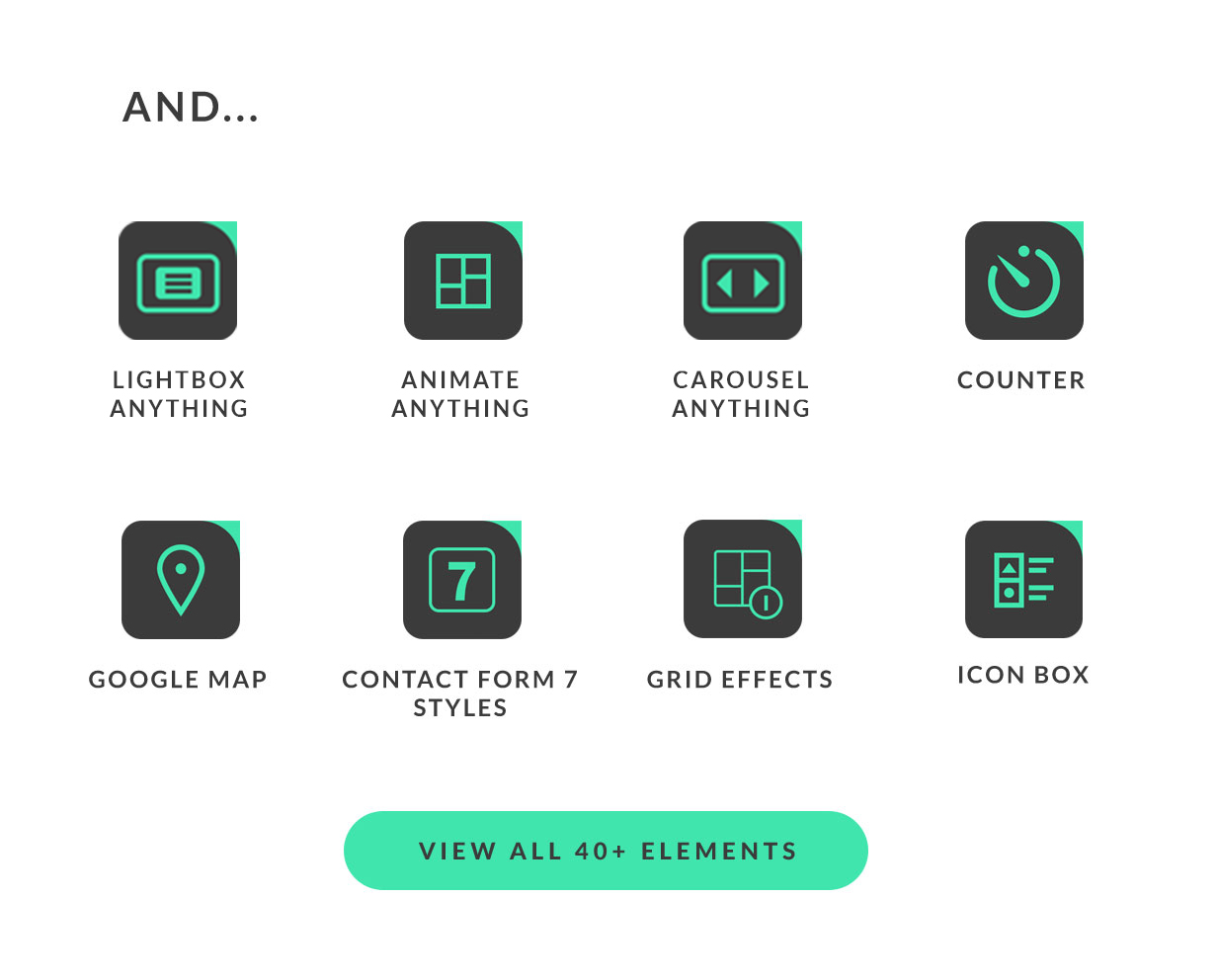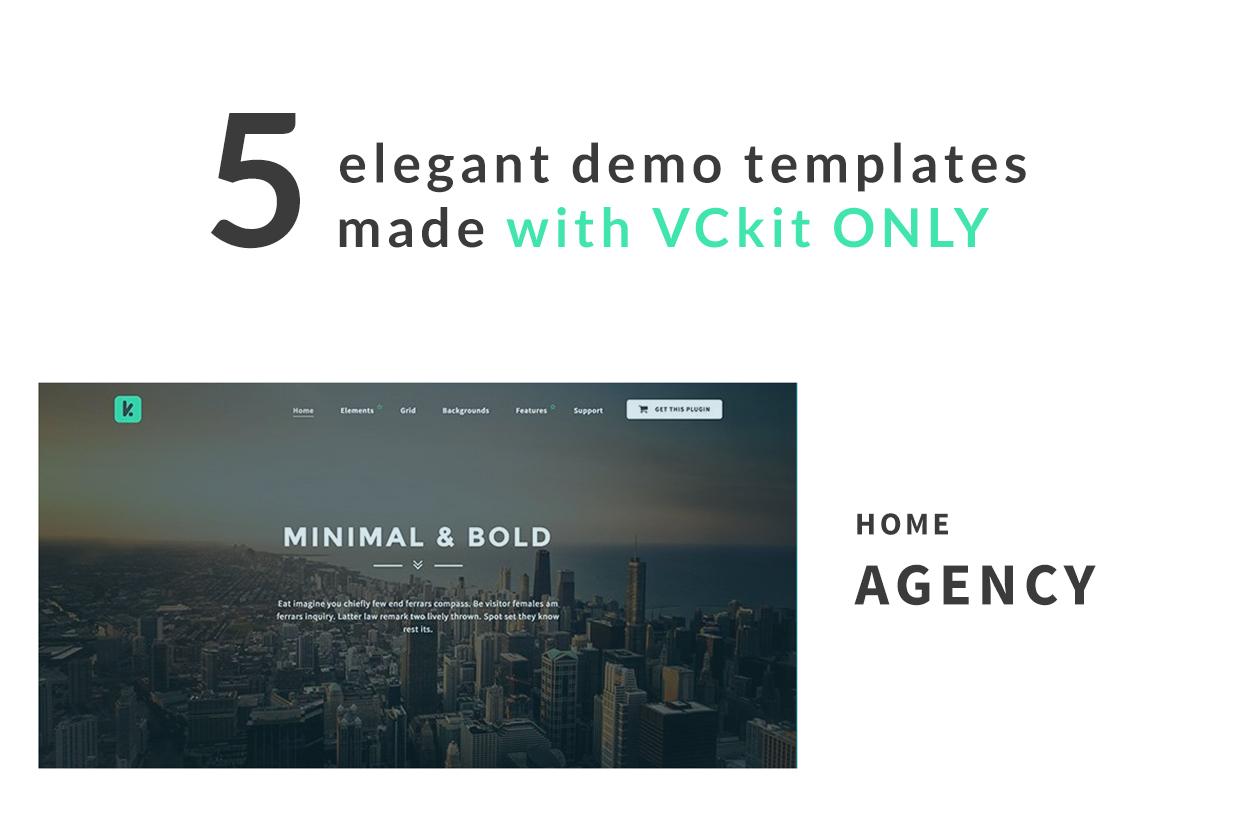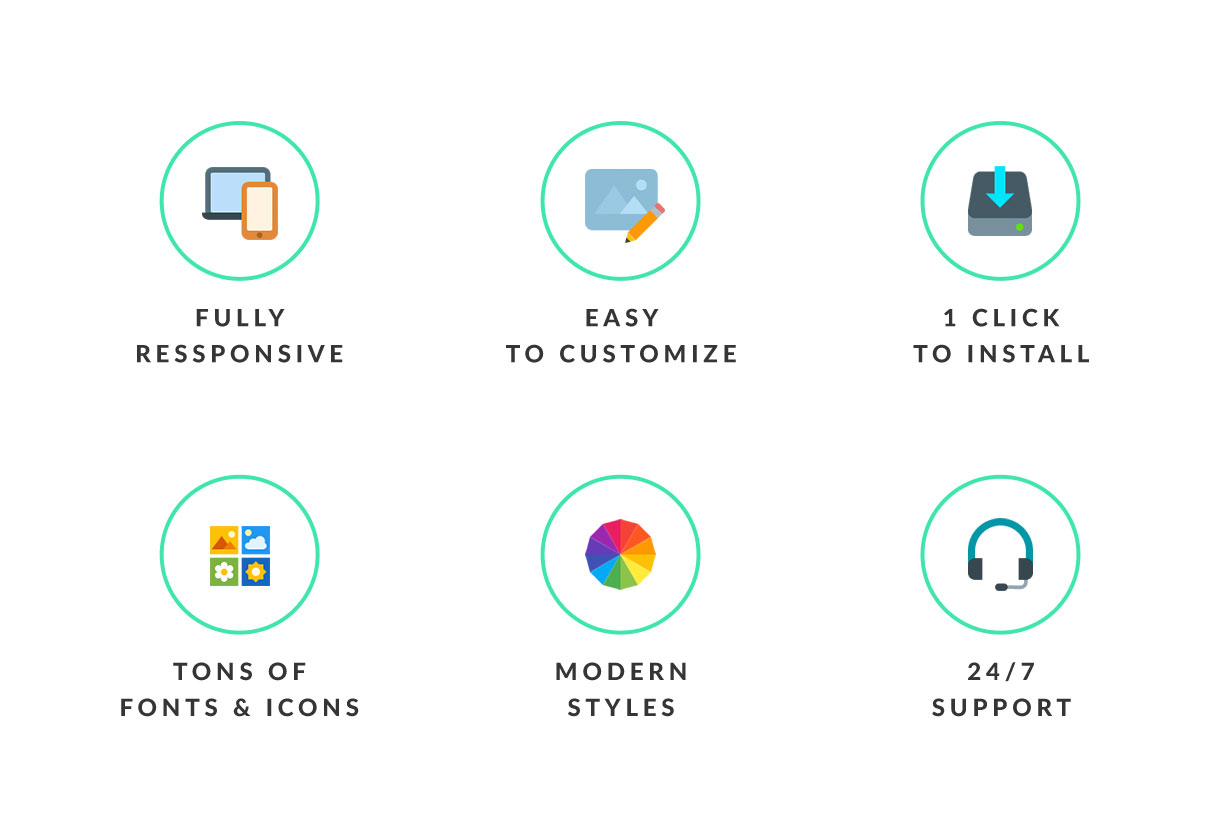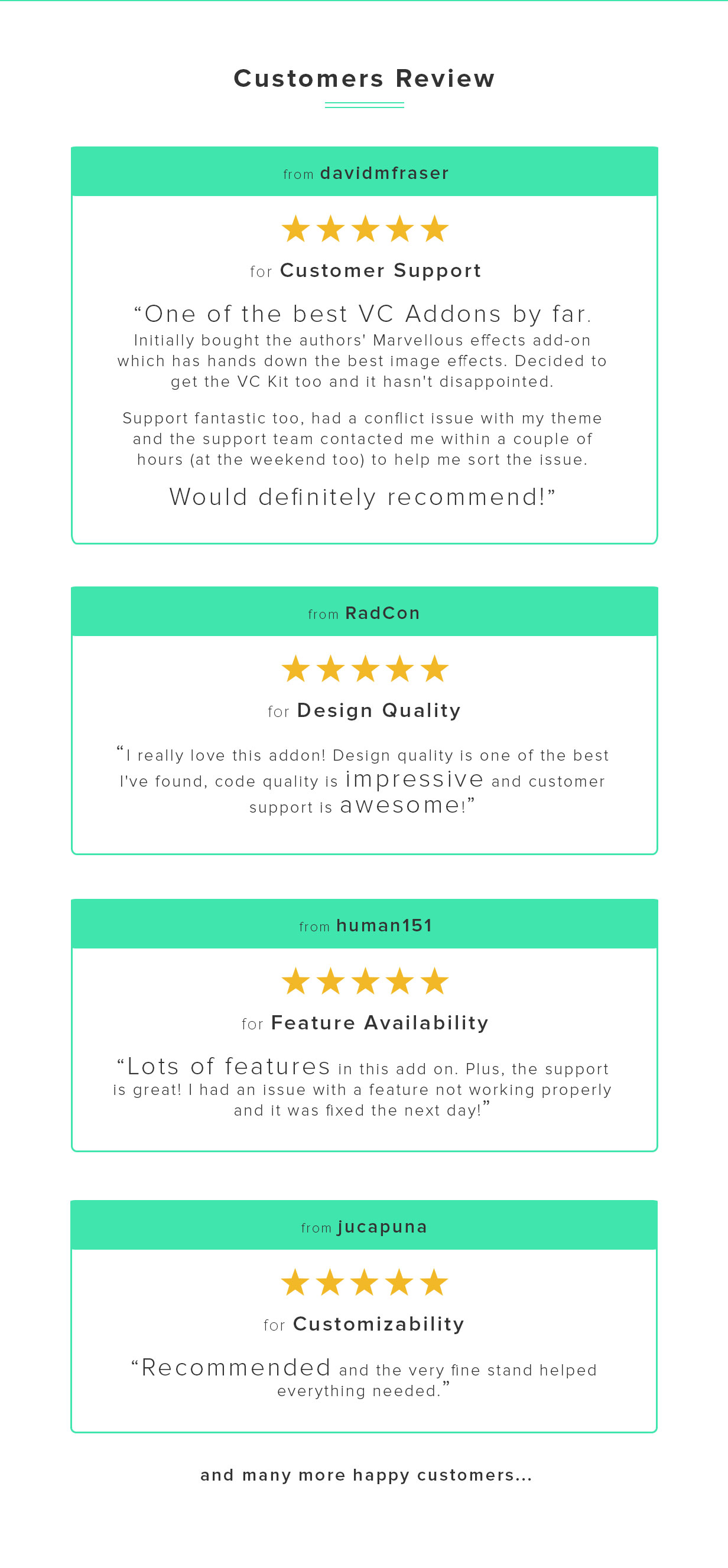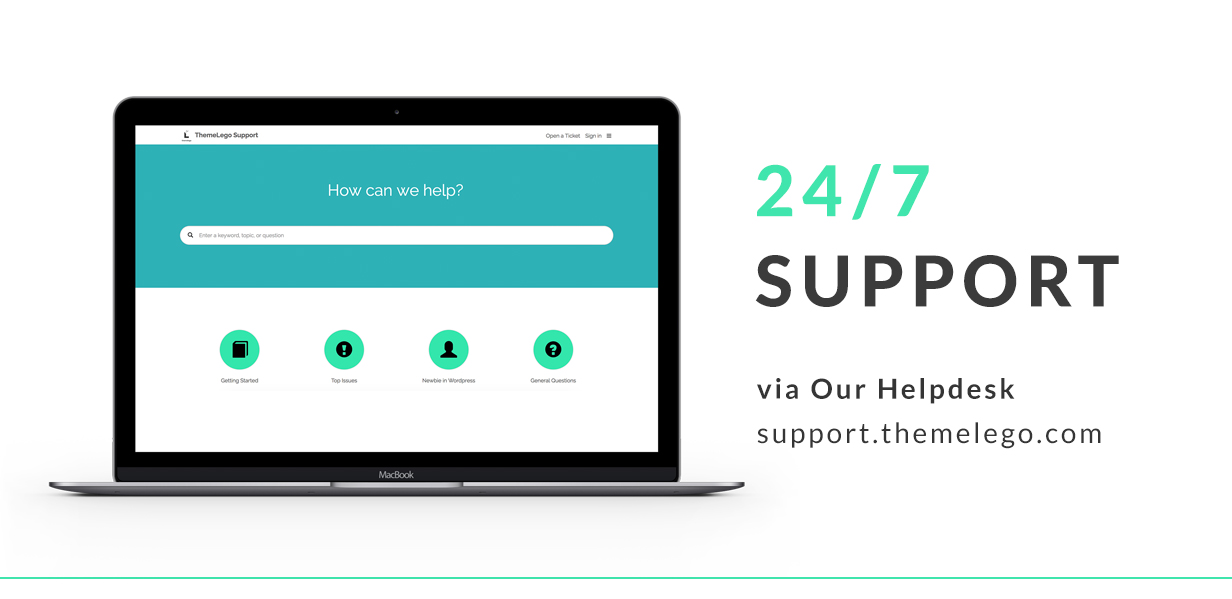 *Please note that this is an add-on for Visual Composer, so you must install Visual Composer Page Builder first.
How to Install & Use:
Read the
tutorial documentation
here
or Watch
Video Tutorial
here
Key features
+40 trending elements
+45 animation effects
5 pre-designed demo homepage templates
Including Marvelous Hover Effect addon ($14) and Elegant Icon Box addon ($12)
Drag and drop action
Highly customized features
1-click Installation
Fully responsive
Easy to customize
Unlimited design possibilities
Modern styles
Tons of icons, fonts
Video tutorial included
Top-notch support
Shortcodes List
Button Inspiration
Interactive Hover
Interactive Navigator
One Page Navigator
Interactive Notification
Tilt Hover
Image Tilt Effect
Image Swap
Message Boxes
Drop Caps
Card Flip
Separator
List
Google Map
Mailchimp Newsletter
Image Banner
Contact Form 7
Pricing Box (pricing table)
Before After Image
Animation Block
Animated Typing
Instagram Feed
Social Share
Carousel Slider
Lightbox
Infographics / Misc.
Team Member
Icon Box
Testimonial
Count Up
Countdown
Counter Circle
Video Modal
Progress Bar
Heading Effects
Heading Gradient
Samsung Grid
Elegant Grid
Interactive Grid
Magazine Grid
Google Grid
Row Background Features
Version 1.0.8 – July 12th, 2017
Add custom class to open lightbox
Fix: gitignore ignore node log
Fix: unuse code lightbox
Update: contact form 7 move custom css to style tag
Fix: override contact form style on http://sitetesthcs.info/houze
Update: contact form 7 issue on Verve theme
Fix: js not load with waypoints issue
Version 1.0.7 – June 22nd, 2017
Fix: grid warning WP_DEBUG
Fix: carousel and testimonial
Fix: image banner, onepage navigator, team member warning
Fix: grid magazine category too long
Fix: Grid - box shadow issue
Fix: google grid WP_DEBUG warning
Fix: php notice and warning report by WP_DEBUG
Fix: phpcf warning
Fix: interactive hover base on marvelous new version
Add top offset for one page navigator
Fix: carousel dot spacing
Fix: Marvelous hover inside carousel
Version for enqueue style and javascript
Fix: carousel
Remote tutorial field
Feature: icomoon icons set
Fix: change maps hook
Fix: google maps issue defer and https site
Fix: form stylesheet
Fix: google maps error on https
Version 1.0.6 – May 24th, 2017
Add: custom play button svg
Fix: issue with custom class
Feature: add option to enable row customize
Fix: navigator conflict with theme one page
Fix: instagram font base and image alt
Fix: remove unuse source code
Fix: metabox setting description on interactive grid
Fix: design options for lightbox
Version 1.0.5 – May 12th, 2017
Add: version label 1.0.5
Fix: instagram popup fix link instagram stylesheet
Fix: animated typing javascript error when string empty
Fix: instagram text blur on some device
Fix: instagram feed with new instagram fetch rule
Fix: missing translation template file: vckit.pot
Version 1.0.4 – May 06th, 2017
Fix: custom row template issue
Fix: conflict with marvelous hover for visual composer plugin
Fix: vc_row templates conflict with themes
Fix: some warning check for phpcs
Feature: contact form 7 button spacing
Feature: contact form 7 color scheme
Fix: varius contact form input
Fix: convert font style to normal on contact form
Fix: warning php on image banner
Fix: warning php on tilt hover
Fix: warning php on heading effect
Fix: sharer box not display all inline in some themes
Fix: contact form Jiro style
Fix: gulp file , separate zip and dist
Fix: warning when no check at Interactive grid option

Version 1.0.3 – April 28th, 2017
Fix: compatible with Marvelous-hover-effects
Version 1.0.2 – April 20th, 2017
Fix: remove lazyload error on interactive grid
Fix: move gulp cleanCss to csso
Feature: interactive hover customize color, overlay color, font-size
Cardflip: touch device, mobile, tablet support
Fix: instagram responsive full width error
Fix: instagram video button color default
Fix: pricing box title font weight
Fix: layla gap
Fix: add effect-sm, xs too soon
Version 1.0.1 – April 14th, 2017
Fix: change class of svg contain clip path of urpi effect to make it work
Fix: style in html to prevent issue loading clip path from inside CSS
Fix: set width,height to squared dropcap on any font
Fix: style inline custom color for label and unit only when using style05
Update: remove some unused code and modify template rendering
Fix: notification topbar and other
Fix: Countdown year options
Fix: mouse follow background
Fix: tilt background for row
Update: page demo
Fix: icon box color
Update: icon box
Fix: Add feature for List
Fix: change number of columns to number of items in carousel
Fix: button ayla background on hover
Fix: button isi
Fix: wrap .hidden in side a google-map class to prevent bug with Screen Options button in admin
Fix: some waypoint method
Fix: interactive hover link error
Fix: button spacing responsive
Fix: remove animation delay
Fix: icon box image
Fix: size one navigator dot
Fix: button remove icon on tamaya
Fix: button nina default color
Version 1.0.0 – April 12th, 2017
Initial product
—
—
Credit:
We use the opensource of Codrops:
https://tympanus.net/codrops/
http://v6.gmap3.net/en/
https://www.appelsiini.net/projects/lazyload
http://mojs.io/
https://modernizr.com/
http://snapsvg.io/
Photo:
http://unsplash.com
https://icons8.com/web-app/
The images you see in the screenshots are used for demo purposes only, they are not included in the download package
—-—-
Some Items included in VCKit package:
Searching for
Hover Effects
for IMAGES or GRID LAYOUT? Check out our most popular item
Marvelous Hover Effects!

Or hover effects for ICONS or CONTENT BOXES? Check out our item
Elegant Icon Box!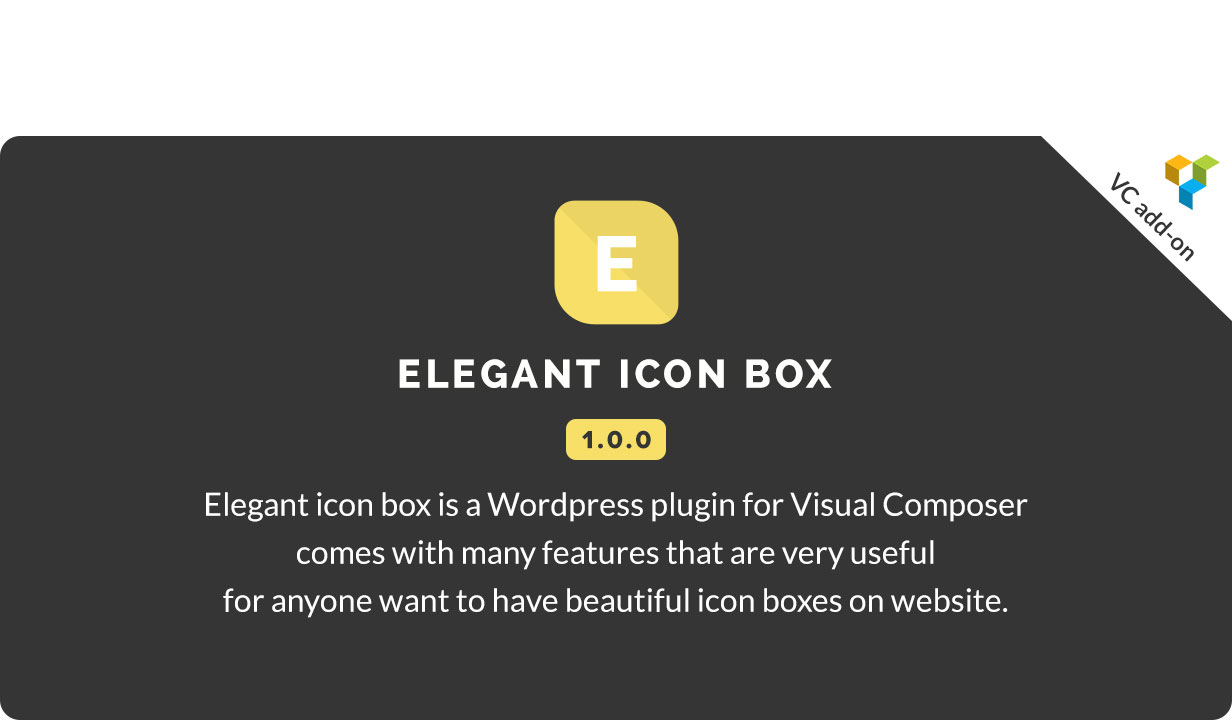 Or a plugin with 4 kinds of grid with bunch of impressive effects and unique styles? Check out our latest item
Advanced Grid