Qual Uptown is a premium wordpress plugin for real estate related projects. Plugin comes with a powerful admin panel, beautiful design, ajax based filter system and many useful UX features.
Awesome Features & Complete Solution
Visual composer is supported.
Add shortcode from editor You don't have to know shortcode, select options and insert.
Powerful Admin Settings, styles and many more options in settings panel
Custom Fields You can add custom fields for properties, you're not limited to the default options
Different Template Options Search, map, property style and many other options are configurable
Translate Static Texts Translate directly from settings panel, you don't have to use .po, .mo
Currency Support All world currencies are available
Clean, flat, responsive Uptown comes with clean, flat, responsive, modern design.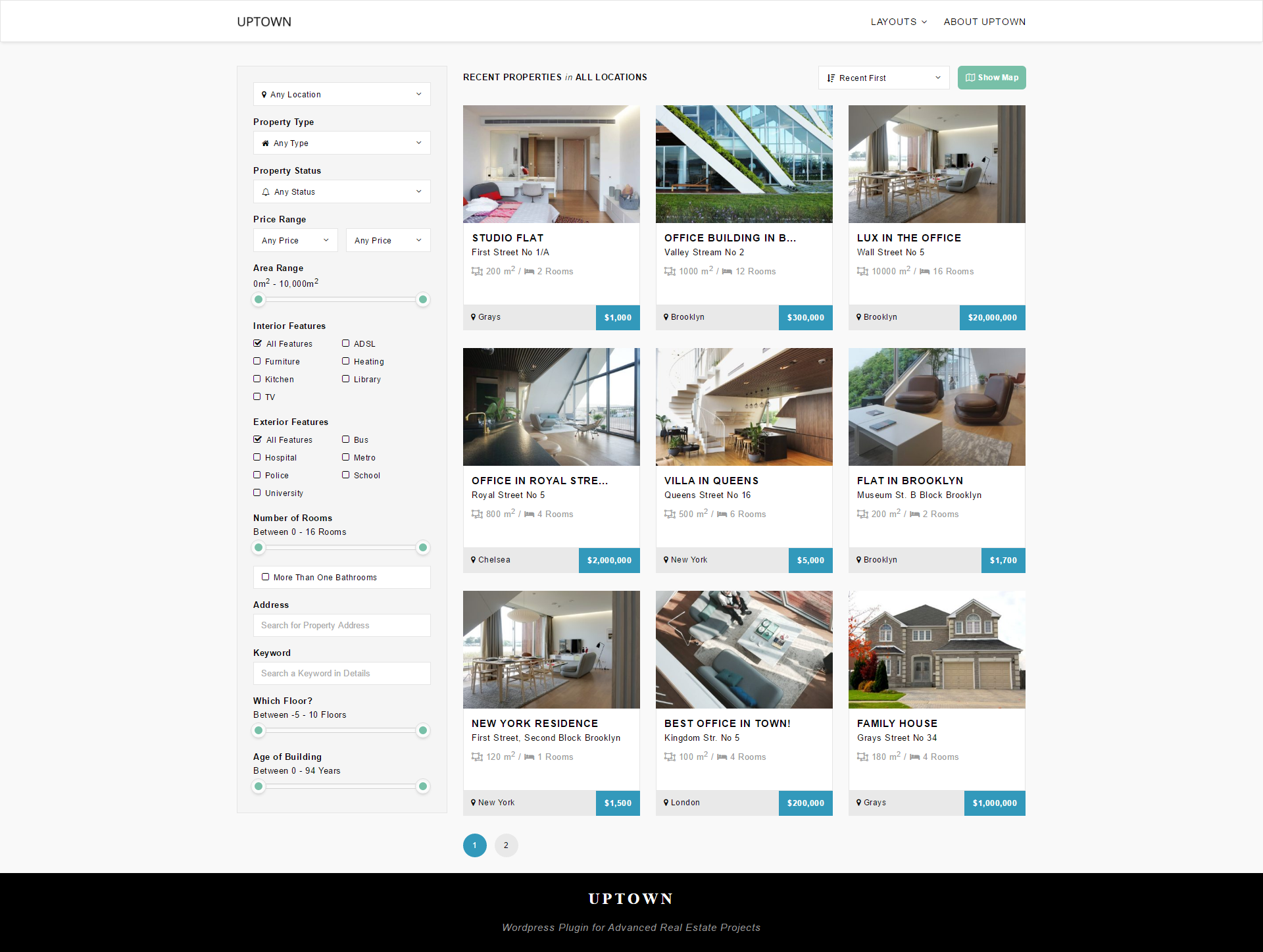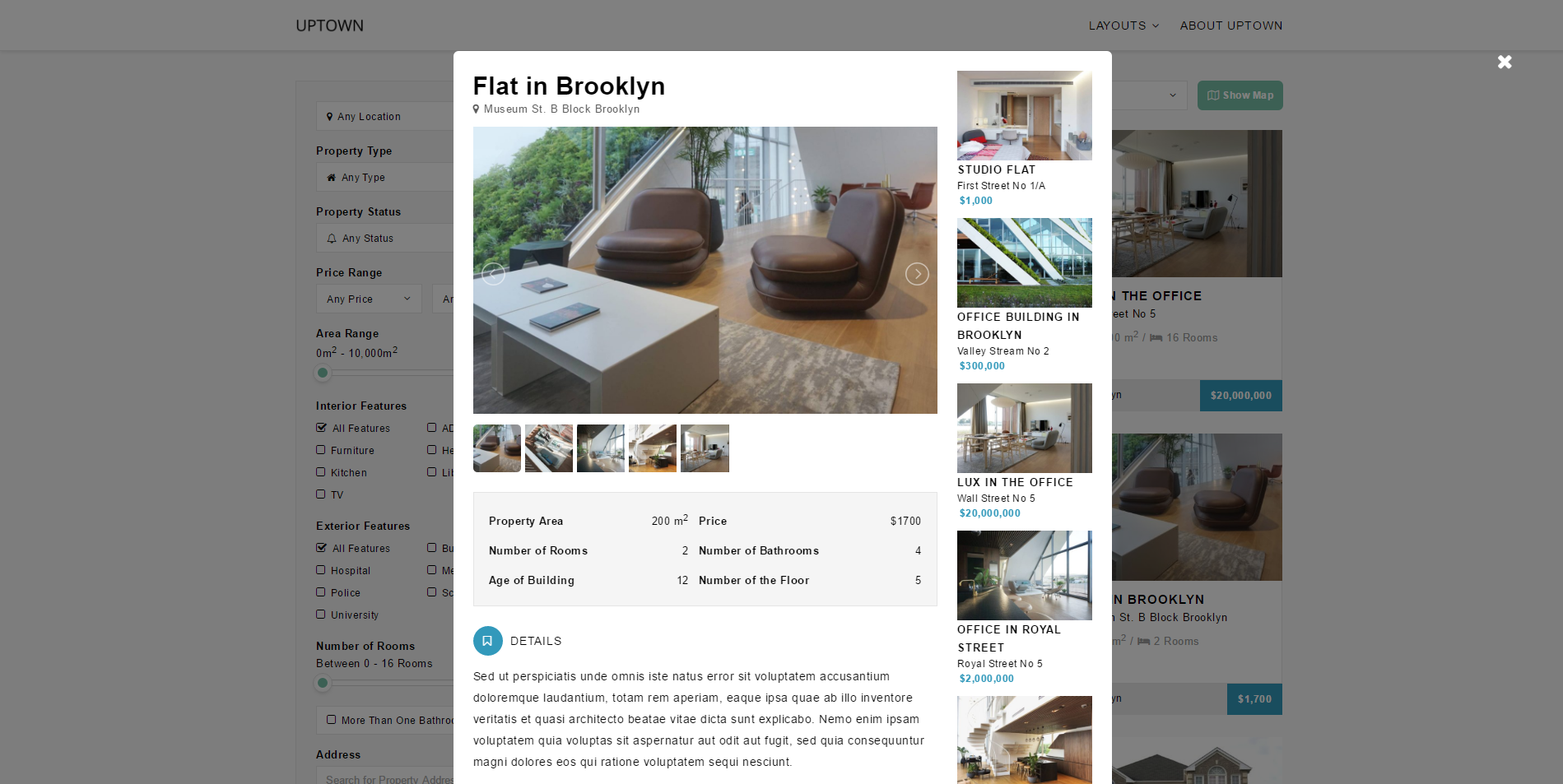 1. Overall System Settings
2. Filter Panel Settings
3. Overall System Sytles
Post Types
Uptown plugin supports on 2 post types, 'property' and 'agent'. Property plugin comes with many useful metaboxes to provide information about your real estate. Agent post type includes information related with the agent.
AJAX Filter System
Uptown provides a useful AJAX based filter system. All the filter items in the filter are related with a different metabox of the property post type. If you want, you can switch off automatic ajax filter system off and tie everything to a single button. AJAX filter system can be opened with a button in the mobile view.
Special Templates & Shortcode Usage
Uptown comes with special post-type template (which is located in /property url). Property list template is also visible when you add qual_uptown shortcode. Once you add a new page, you will see the editor-shortcode-button to help you to add shortcode with different options to specify pagination, showing single view in popup or how sidebar will be visible. Note that you can directly specify default for these properties and use qual_uptown shortcode.
Uptown supports special single template for property showcase. Once you define property link to open popup, uptown opens single property template within popup. Please note that the properties in sidebar of the single template view are the other results of the current ajax search.
Uptown also supports widgets. You can add filter as a widget to your sidebar but please beware that filter-widget will not be useful if you'll not use a shortcode in that page.
Show map button in property template will show a popup of the map for your results which comes from the ajax search.
Advance Admin Management System
Uptown comes with Redux based admin management panel which includes options to customize system-wide features, filter related settings and sytling options for colors of the design elements.
Installing Redux
Redux plugin is required for using Uptown management system. To install redux properly, please go to the plugins section in your theme. Once you install Redux, you will see the
Uptown Settings
section.
Uptown Settings
Uptown settings section has 3 sub-setting panel:
Overall System Settings
You can define following system settings:
Select the default currency for the plugin among hundreds of currencies with their symbols.
Define the default unit (meter, foot)
Google Maps API Key (optional). – Don?t forget to define allowed domains.
Map settings for admin-metabox-map and front-page maps.
Define if the system will open single template view in popup or the link will act as a normal link.
Pagination limit for property list page.
Default style of the property list view and single template view (boxed or full page)
Scroll Type (Infinite or classic pagination)
Number of properties in a row (3,4,5)
Default marker icon
...and many other system settings.
Filter Settings
You can show or hide all the filter elements in the sidebar filter panel.
AJAX call method. You can define if search starts automatically when your visitor changes an input or clicks a filter button.
Style Management
You can define following styles: Filter panel background color, filter panel border color, show map background color, show map color, price tag background color, price tag color.
Adding a new Property
A property has following features: Location: Please note that, even locations are show in hierarchical order, filter will not search for child locations. So if your property is in Chelsea district of London, we suggest you to add both Chelsea and London as location. Interior Features and Exterior Features are the features of the property. These features can also be filtered by ajax search.
Property Types will define what kind of a property it is. (Villa, residence, office, etc.)
Property Status will define how you market this property. (Rentable, For Sale, etc.)
Agent: To define the agent of the property, you first need to add an agent in agent-post type section.
Address of the property is optional. This is for open address of the property.
Price is in terms of your default currency. Please note that if you decide to change your default currency, you will need to update this feature.
Area is in terms of your default unit (meter square, foot square).
Number of rooms and number of bathrooms are searchable by ajax based filter.
Age of building may provide usefull information to the visitors as well as floor count.
You can set the location of the property with a built-in map
You can insert image-gallery for your property which will be shown as a beatiful gallery. Please note that we suggest you to use images larger than 1200×742. You can set a featured image for each property, we suggest you to use images larger than 400×266.
Adding an agent
You can add a property agent adding the following information: Personal information (phone, mail, fax, website) Social channels (facebook, twitter, youtube, instagram) Featured image of the agent.
Credits
Images from Kibisi has been used in this project under their permission:
http://kibisi.com
Other images were purchased from Photodune.
Marker image is not distributed with the package, you can install your own marker image. It was created by Paomedia from Icon-Finder and used under Creative Commons 3.0 license: https://www.iconfinder.com/icons/299087/map_marker_icon#size=64