TokenLite – ICO / STO Token Sale Management Dashboard for ICO Startup / ICO Agencies or Cryptocurrency Based Company.
Softnio introducing full functional dashboard for managing your ICO / STO token sale. TokenLite – ICO Script brings all kind of components, functional features that helps to Cryptocurrency Agencies / Startup to Lunching their ICO, sale their token, and get contribution from investor.
If you going to start your new business with crypto/blockchain then you might need to run ICO to sale your token and raising funds or get investment and make your project/product success. You are in right place because TokenLite helps you to do everything very easily.
Our ICO Admin Scripts helps your contributor to purchase your token easily. You can manage your token price, bonus, payment wallet address that automatically apply on purchase process.
Backbone of TokenLite is Laravel v5.7 – the most popular and secure PHP web framework. It also used jQuery, Bootstrap v4 and Back-end UI of TokenWiz. You can easily customize everything, add your own functionality, other php-library, add-on or module, if you familiar with PHP/Laravel.

Please contact us via support tab, if you need any help or adding feature that helps you to your token sales.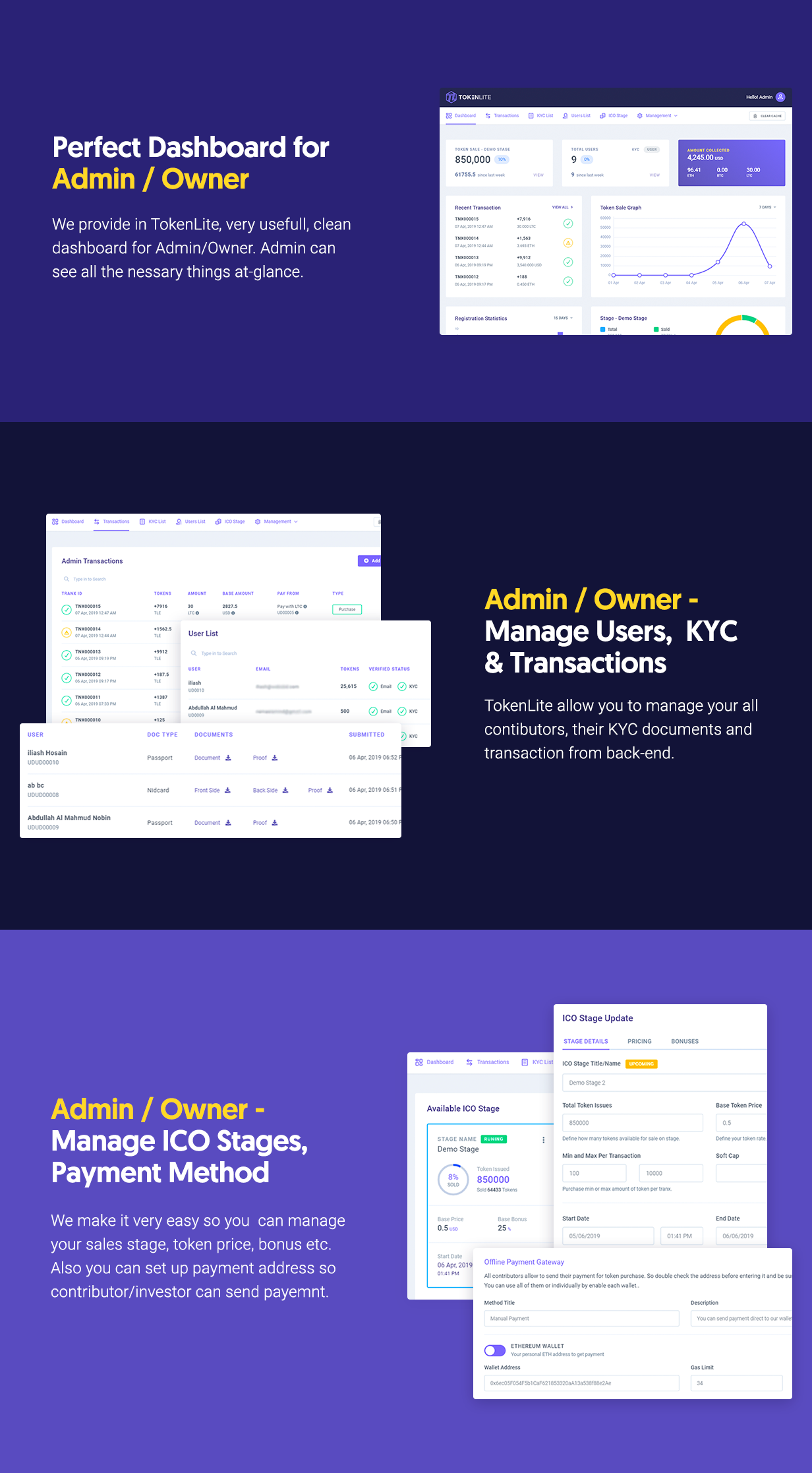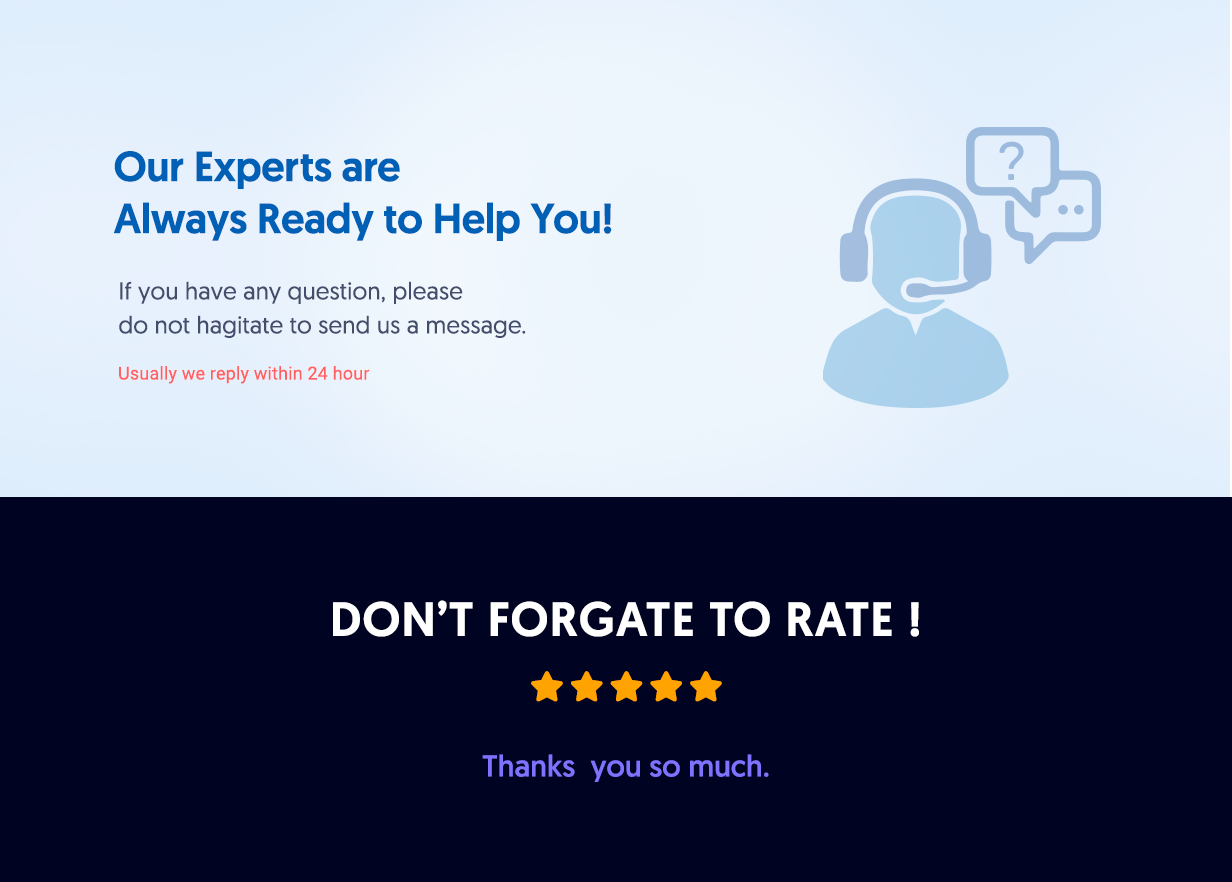 TokenLite – ICO / STO Token Sale Dashboard Features
A complete solutions ICO / STO token sales
Clean, modern, great looking UI interface.
Build-in color scheme for User Area.
Sale your Token and manage theme easily.
User Verification system.
KYC/AML system for Identify users.
Control KYC From Fields to show/hide and required or not.
Set KYC verification is required for purchase token.
Payment Gateway – (Offline Cryoto & Bank Payment)
PayPal Online Payment Gateway - v1.0.2
Referral Bonus Program Supported - v1.0.3
6 Currency supports (USD, GBP, EUR, BTC, ETH, LTC)
ICO Stage update and settings
Multiple Tier base price control
Fixed & Tier base amount bonus.
Automatic and manual exchange rate.
Manually Add token or bonus token to User account.
Manually review transaction and approve payment.
Transaction List & Details.
Website settings, Pages management.
Email template management.
Fully responsive Layout.
Cross browser compatibility.
Free quick support.
Demo Access
Demo URL: https://app.tokenwiz.xyz
Admin Demo Access: info(at)softnio.com || demo11
User / Contributor Access: Register with your email address and see demo (email verification required to active account).
Documentation: https://docs.tokenwiz.xyz
Personal Demo Access Before Purchase
If you want to try our script functionality before final purchase, then you can email us at info(at)softnio.com. We will setup a separate demo and provide to you. Feel free to ask us if you have any question before purchase.
What do you get?
Tokenlite Scripts Files
Documentation File
Caution:
System does not automatically actual token (smart contract) to your contributor wallet. You have to send actual token after or during your sales.
Supports
We give support for all our items. We try to answer all questions within 24 hours in weekdays. Support requests receive during weekends or public holidays will be processed on next Monday or the next business day.
Sources and Credits
Exchange Rate
Cryptocompare API.
UI Interface
TokenWiz – ICO User & ICO Admin Dashboard.
Fonts and Icons
Roboto, FontAwesome, CryptoIcon, Themify Icon, Custom icons by Softnio Team
jQuery Plugins (Javascript)
jQuery, jQuery easing, BootStrap, Final CountDown, DropZone, Select 2, DataTable, DatePicker, TimePicker, Magnific Popup, Chart JS
Changes log
23 May, 2019 – v1.0.5

+ 2 New Pre-build color preset added for dashbaord (Red, Gold).
+ Option added in ICO/Stage Settings to control decimal display for dashboard.
!+ User contributed 1k+ amount number issues fixed.
!+ KYC Settings all option data saving issues.
!+ Custom Stylesheet saving issues in admin panel.
!+ Sales Countdown hide after token sale expried or completed.
!+ Unable to add token manually in fiat currency issues.
!+ Received amount fixed when add token manually.
!+ Separated transaction details for bonus type transaction if admin added.
!! Branding related files (logo, favicon, social) move to '/public/images' (Old path - '/public/assets/images').
Caution: In this version we moved all the branding files (eg. logo, favicon, social) to public/images folder. So you need to move your current logo, favicon etc, otherwise branding file will be missing.

16 May, 2019 – v1.0.4

+ Two New Fiat Currency added into application (Euro & Pound)
!+ User contributed amount issues fixed & now only show what user contributed.
!+ Admin dashboard contributed amount fixed.
!+ Since last week data fixed in Admin dashboard.
!+ Referral/Bonus transaction wrong amount calculation.
!+ Login/2FA page updated footer & copyright info.
!! Some blade file updated for remove html comment.
Caution: To active new currency first from token purchase settings then you must update Payment Methods>Manage Currency settings to update exchange rate. 

11 May, 2019 – v1.0.3

+ Integrate full Referral tracking and Referral bonus system.
+ Search option enable for Country selection in KYC application & profile page.
+ View all transaction list from Users List in Admin panel.
+ View last login activities by user from Users List in Admin panel.
+ Filter by Payment Gateway in Transaction list page.
+ Filter by Transaction Type in Transaction list page.
+ Filter Option added in User Transaction list page.
+ User search option add for manually add transaction.
+ Account Holder Address add into Bank Payment Method.
!+ 2FA content added in language file for translate.
!! Admin navigation update for Transactions menu.
!! All list pages (transaction/users etc) show 10 items per page.
Caution: This version required database migration for referral system work.

29 Apr, 2019 – v1.0.2

+ 2FA Security Option for User/Admin via Google Athenticator.
+ 2FA Reset Option from Admin panel for if a user lost their phone.
+ New filter option added in User List (Has Token).
+ Header/Footer Code option in Website Settings > Advanced tab.
+ Admin Theme Option in Website Settings > Genaral Settings tab.
+ Custom Stylesheet option for your personalize style.
+ Separate the Manual Wallet and Bank Transfer in Payment Setting.
+ PayPal Payment gateway added in Payment Method.
+ Bank address field added in Bank Transfer payment method.
+ More social link added in Website Settings > Social Links.
+ New option to Control Social link to show/hide in user area.
!+ Fixed KYC form validation issue when user try to upload document.
!+ Fixed KYC form supported wallet issues.
!+ Fixed language switcher issues on login/register pages.
!+ Fixed some styling issues for new payment option.
!+ Fixed Sales Start/End In countdown option issue in user area.
!! Purchase Token process improve for user/contributor.
!! Payment system changed to Module based for add more payment option in future.
- Unrelated payment controller files from script.
Caution: Please review and re-save website settings and payment method after update

14 Apr, 2019 – v1.0.1

+ Added multi-language switcher in configure file (only supported on investor panel).
+ Added confirmation for active/inactive in stage.
!+ Fixed whitepaper upload issues in admin panel.
!+ Fixed public KYC form and Admin Setting.
!+ Fixed stage price & bonus validation.
!+ Fixed responsive issues in Admin panel.
- Remove Unwanted email template.

11 Apr, 2019 – v1.0

+ Initial Released