Theia Smart Thumbnails for WordPress lets you customize the thumbnails for each of your images. Gone are the days when you had to manually crop or upload separate versions of your thumbnails. Now you can simply choose a point of interest for your image - e.g. a person's face, an object, etc. – and all the thumbnails will be automatically updated to include them. Your pages will be much more aesthetically pleasing and your visitors will thank you for it.
Sample Thumbnails
Features
Gain full control over your thumbnails
Save time instead of manually adjusting each image
Effortlessly customize the cropping zone by choosing a focus point (i.e. a point of interest), such as a person's face, an object, etc.
Extremely easy-to-use with an intuitive and native admin interface.
Works with your existing images.
The admin panel comes with a Live Preview to easily customize your thumbnails.
Preview your theme's exact thumbnail sizes.
Works with virtually any WordPress theme.
Receive support and free upgrades.
Crop Modes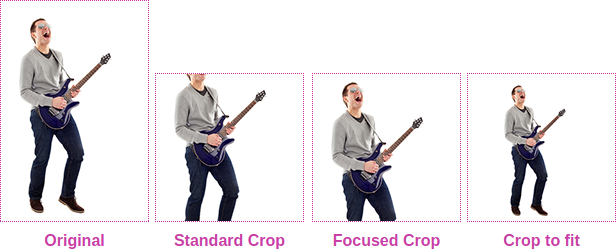 Includes
High-quality code complete with comments.
Complete documentation for installing and using the plugin.
Changelog
1.7.0 – 2017-03-29

Greatly improved compatibility with the Enfold theme, Masonry grids, Avia Layout Builder, and virtually any other content builder and layout that uses 'background-size: cover'.
Minor fixes.

1.6.4 – 2016-06-07

Improved wording and styling for admin pages.
Cleaned up code.

1.6.3 – 2015-12-03

Fixed issue on PHP setups with short_open_tag off.

1.6.2 – 2015-11-18

1.6.1 – 2015-10-30

Fixed bug with crop-to-fit for landscape images (and portrait in some cases).

1.6.0 – 2015-10-05

Added compatibility for Aqua Resizer.
Greatly increased compatibility with other themes.
Fixed reset-to-defaults button.

1.5.3 – 2015-08-14

Fixed a bug that caused the options from the Thumbnail Sizes tab to not save properly

1.5.2 – 2015-08-06

Added two new options for integrating Theia Smart Thumbnails with other plugins
Added compatibility with Meta Slider by Matcha Labs

1.5.1 – 2015-07-22

Improved compatibility with other plugins and themes

1.5.0 – 2015-07-21

Added auto-update functionality
Added global focus point option

1.4.4 – 2015-03-16

Fixed reset-to-defaults in certain situations.
Fixed for non-image attachments.

1.4.3 – 2015-02-24

Improved compatibility with plugins that use non-standard image resizing methods
Various fixes and improvements.

1.4.2 – 2015-01-18

New feature: Enable focus points by thumbnail type.
Various fixes and improvements.

1.4.1 – 2015-01-16

New feature: Cache-busting for both visitors and CDNs.

1.4.0 – 2015-01-11

New feature: Crop-to-fit for user-selected thumbnail sizes.

1.3.1 – 2014-12-11

Bugfix: Picker was misbehaving in certain cases.
Bugfix: Thumbnail previews were not showing in certain cases.

1.3.0 – 2014-10-07

Improved focal point selector.
Reformatted the entire codebase using the official WordPress guidelines.
Various fixes and improvements.
Now compatible with WordPress 4.0.

1.2.4 – 2014-04-28

Now compatible with WordPress 3.9.

1.2.3 – 2014-03-24

1.2.2 – 2014-02-28

Improved browser compatibility.

1.2.1 – 2014-01-31

You can now manually specify the thumbnail sizes used for previews.
You can choose to whether show or hide the previews by default.

1.2.0 – 2014-01-30

Plugin now uses the theme's thumbnail sizes for previews.

1.1.3 – 2014-01-21

Plugin is now compatible with WordPress 3.8.
Added option for portait images: By default, crop thumbnails by keeping the upper part of the image. Useful for people portraits, fashion photography, etc. so the heads aren't cut off.
Added option to enlarge small thumbnails.
Improved plugin compatibility.

1.1.1 – 2013-02-12

Plugin is now compatible with WordPress 3.5.1.

1.1.0 – 2012-12-16

Plugin is now compatible with WordPress 3.5.

1.0.0 – 2012-10-05