November 2018: VERSION 1.7 NOW RELEASED!
The latest edition of the Wunderbar is tested and compatible with Wordpress 5 and it plays well with the Gutenberg editor. You can use Gutenberg when back-end editing, and you can simultaneously use the Wunderbar for WYSIWYG editing from the front-end of your website, retaining Gutenberg's block structure and tagging.
The Wunderbar is a WYSIWYG front-end editor for virtually any WordPress site and theme. Wunderbar puts full-featured visual editing on every page. You make your changes right on the page itself – not from the back end admin – so you can see exactly what your fonts, colors, styles, links, tables, and images will look like. No guessing, no wasted time.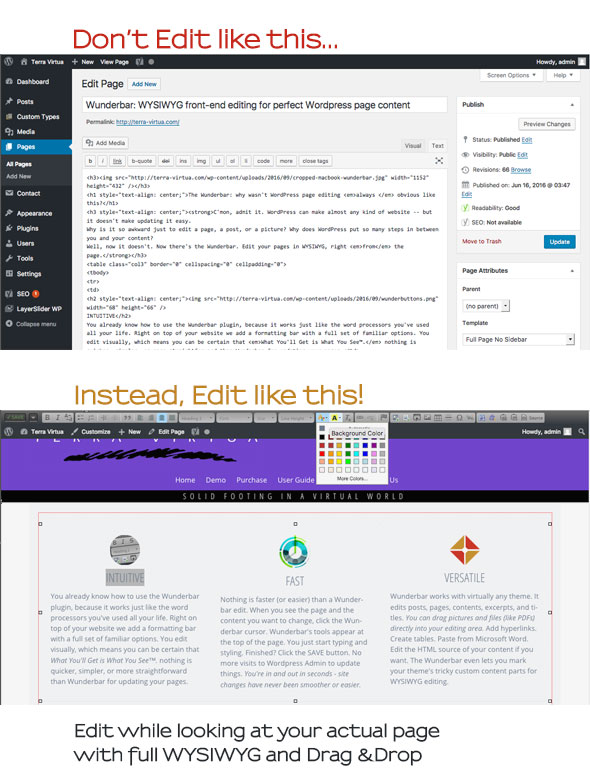 Our formatting toolbar looks and works like a familiar word processor, making editing intuitive and fast. Drag and drop images or files, create hyperlinks, and more. Wherever the Wunderbar cursor appears – posts, pages, content, titles, excerpts – you can edit it quickly and with unlimited undo in case you make an error. Wunderbar will change the way you think about editing in WordPress!
FEATURES
Change your content as you navigate your site
100% in-context WYSIWYG for
Compatible with virtually any theme
Edit both posts and pages
Edit contents, and most excerpts and titles
Full support for fonts, styling, tables, hyperlinks, media & more
Drag and drop images and files directly onto your page
Undo current edits or revert to previous versions
No Setup required – works immediately upon installation
Doesn't require modifying themes in any way
Content remains editable through existing back end admin
Source code editing available
July 22, 2018: NEW IN VERSION 1.6.1/h2>
More customization than ever! The Wunderbar already edits custom post types, which is great for things like Woocommerce products. But sometimes you won't want it to, so you can now specify custom post types you DON'T want edited. You can also set you own custom HTML to surround any image or file you drop onto your page content. (Of course that's also editable after you drop in the picture or file.)
January 29, 2018: NEW IN VERSION 1.5
The Wunderbar now gives you the option to create new pages or post when they don't exist. If you visit a URL that results in a 404 error page, Wunderbar will pop up a dialog box that offers to create that page for you. This way you can, for instance, invent a hyperlink on one page, then click it , and you'll be asked if you want to create the new page.
November 15, 2017: NEW IN VERSION 1.4.1
The Wunderbar has always had a Styles drop-down menu. Now you can  configure it from Admin/Setup with a list of context-sensitive elements and custom styles to be applied. The Wunderbar also will no longer activate if an admin user doesn't have editing privileges.
July 25, 2017: NEW IN VERSION 1.4.0
The Wunderbar now integrates seamlessly with the popular, awesome Advanced Custom Fields plugin. The free ACF plugin lets you add additional fields to posts for display on your pages—and the Wunderbar will let you edit those new textareas, WYSIWYG, & text fields just like you now edit the rest of your content.
Plus, we squashed a few bugs and seriously improved compatibility with Internet Explorer.
July 7, 2017: NEW IN VERSION 1.3.0
We've updated the Visual Editor with many improvements that make editing easier, faster, and give you more options.
Plus, now you can simply double-click begin editing an area! New hover indicators will show you what's editable in advance.
Better, more visual editing with more control over the design
New controls for line height and character spacing
Style and format dropdown menus are combined into one simpler element
Your website's fonts appear in the font dropdown
Insert HTML code without going into source mode view
New ways to insert youtube/vimeo videos
Advanced paste from Microsoft Word
Improved Paste as plain text
"Copy Formatting" button
More and better keyboard shortcuts
You can force links (like PDFs) to be downloads
Support for captions attached to images
A cleaner look to the editor and all dialog boxes
February 28, 2017: NEW IN VERSION 1.2.0
Some really important bug fixes deliver more compatibility
Editing is now better on small mobile phone screens: the Wunderbar displays subset of editing buttons for you to work with
Comments can now be deleted, not just edited
Wunderbar now autochecks for new versions in the standard plugin fashion.
February 9, 2017: NEW IN VERSION 1.1
Wordpress Comments are now editable. Just like pages and posts, administrators can now edit the comments made by website visitors, right from the page they appear on.
New Wunderbar Widget. Works just like Wordpress' built-in Text widget, but adds full front-end WYSIWYG editing. Drop a Wunderbar Widget into any widgetized area. Whenever you visit a page displaying that widget, you can also edit it without leaving the page. A huge time-saver!