Overview
Update March 05, 2015 – Added AdMob support for banner and interstitial ads.
StoryBook Template is a template built using Corona SDK 2014.2511 and takes full advantage of composer and graphics 2.0. This template was built for non-coders and coders alike and is perfect for picture books, children books, learning books, or any type of book with photos.

This template features:
Page Transitions – a reader can go to the next page by swiping across the screen or pressing the left or right button.
Page Skip – a reader can skip to any page at any time by using the bookmark symbol on every page.
Unlimited Pages – you tell the template how many pages you want whether it's 5 or 105.
Read to me – Does your story book have narration? Just set one variable to true, load in your audio files, and you're all set! Don't have audio files? No Problem! This template will convert (English only) your story to audio files. If your story is not in English, the documentation will walk you through on how to grab audio files from other services.
Language Support – Is your book in multiple languages? Just add the language to the template, and the reader will be shown a flag of their country of choice. Please note, this app will not auto translate your book for you.
Easy to Publish – If you're not a coder, then this template is for you. At a minimum, you'll need to change 1 line and that's the number of pages your book has. If you are a code, the code comes well commented so you can make as many adjustments as you need.
Code – Clean and very well commented code.
Interface – Easy to use interface with big bold buttons and easy to swipe through pages This template is available for any pricing plan of Corona: Starter and Up. Languages Supported are Chinese, English, Spanish, Arabic, Russian, French, Japanese, Korean, German, Turkish, Vietnamese, Italian, Polish, Dutch, Bengali. More available upon request.
2 Examples Ready
Learn by doing! This template offers 2 ready to publish templates that show you the full power of this app. The built-in stories of Pat the Cat and Amanda the Panda will show you how to utilize this app.
Both examples include the original PSD files so you can add on to the existing stories.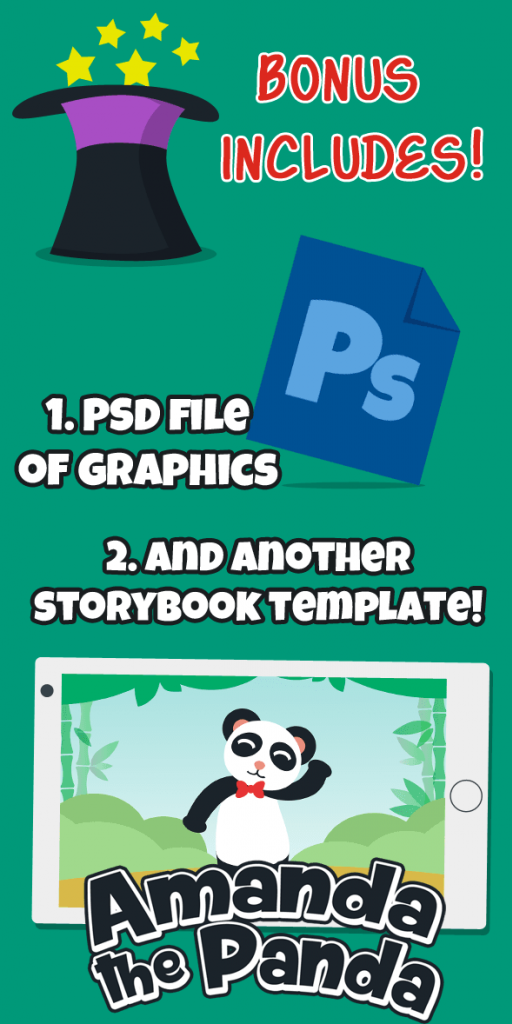 Download on Google Play – https://play.google.com/store/apps/details?id=com.thatssopanda.patthecat