Smart Timesheet is a user-friendly, intuitive system that provides smoothly integrated essential HR Time and Attendance functionality, Employee management, Leave management, Scheduling, Time tracking, Reporting and more.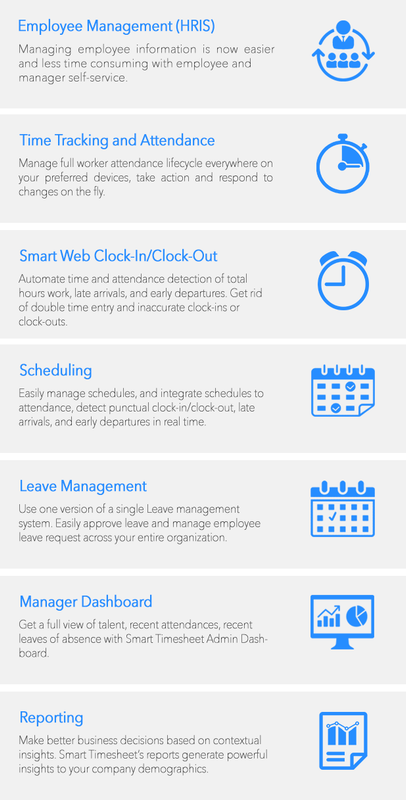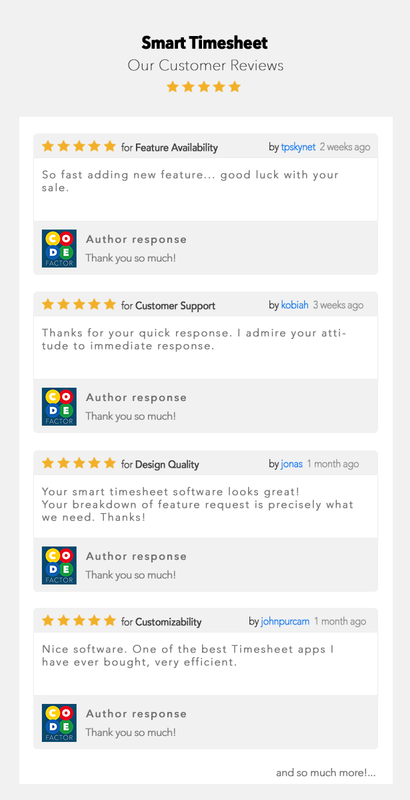 Features
Manage the full worker attendance lifecycle from time tracking to scheduling using a single intuitive time and attendance management system.
Employee Management (HRIS)
Time and Attendance Management
Real-time Attendance Monitoring
Scheduling
Leave Management
Reporting and Analytics
Multi-company
Manager and Employee self-service
Unlimited Employees and Accounts
User role and User permission system
Download ready, Import/Export Companies, Departments, Job Titles etc…
Desktop, Tablet, and Mobile responsive interface support.
Well documented and structured code
Open codebase
Full customization support
Free lifetime updates
Getting Started
If you have any question about Smart Timesheet please feel free to contact with us. If you need support, customization or feature request, you may email us at official.smarttimesheet@gmail.com
Support
Support request and queries will be responded within 1 business day. Get started contact support.
Need Help!
Read our documentation online http://documentation.smarttimesheet.site
Get involved!
Is there a feature you would like to see? We will go through all your feedback weekly and pick the most requested features to be included in a future update! Get started contact support.
Demo
Live Demo: http://demo.smarttimesheet.site
Demo Manager
Username: manager@example.com
Password: demo12345
Demo Employee
Username: employee@example.com
Password: demo12345
Updates
We are updating Smart Timesheet in every 5 weeks, updates includes: Requested and New features, Bug fixes, Performance improvements, User Interface improvements, Application security improvements.

version 3.3 - February 28, 2019
  - Improved terminology of labels.
  - Improved Error detection and Interface for Web Clock In/Out.
  - Improved form validations.
  - Better User Role permission system, now more secure.
  - New App activation validates application files and database integrity.
  - Settings page updates.
  - Bug fixes.

version 3.2 - February 6, 2019
  - Improved terminology of labels.
  - Added Leave groups feature, you can now assign leave types per employee or designation.
  - Added National ID, and Leave group fields in employee profile.
  - Added optional Clock-In comment feature.
  - Added IP restriction in Web Clock-In/Clock-Out. You can now limit where and who can Clock-In/Out.

version 3.1 - January 24, 2019
  - Improved User Interface.
  - Improved code execution performance.
  - Bug fixes.

version 3.0 - January 9, 2019
  - Initial release.