City Ride is an open source Self Drive Car Rental Service Script built on Php with Codeigniter framework. This is a complete end-to-end car rental system which offers an intuitive front-counter capability as well as comprehensive back-office reporting and management. The system is designed specifically for large, medium and small car rentals with many features. By offering highly customizable Auto Rental booking system, your customers will be able to find a car and book it ahead of time with just a few clicks.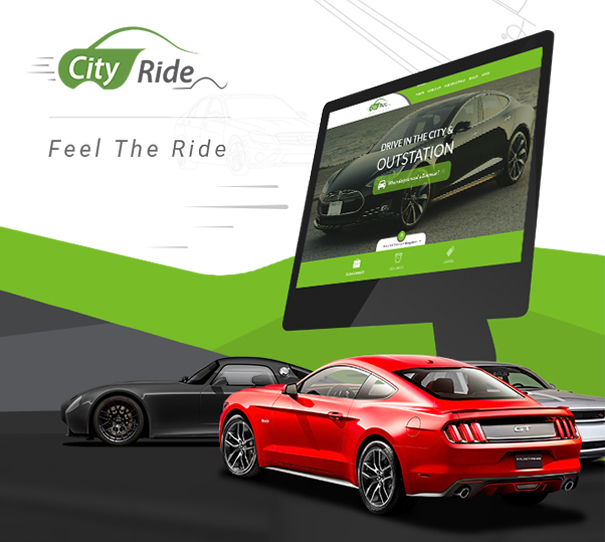 Highlighted Features 
Fully Responsive.
Real time availability.
Quick login system.
User permissions.
Hourly, daily, weekly, or monthly rental option.
View car statistics.
Tariff Calculator.
Multiple car deals.
Multiple offers.
Multiple dealerships locations.
Multilingual feature for front-end.
Notification after each successful booking.
Over 1000 cars and model database included.
Long tour self-drive cars are listed under commute page.
Maintains all bookings from backend and user can see the status of the car bookings. 
Advanced Features of City Ride
Easily Manage Multiple Tasks
Flexible Payment option
User Management

Easy booking and payment.
Extensive ride details

Driver Management

Manage trip requests
Daily expedition reports

Admin management        

Efficient monitoring
Role management
Reports and analytic
Demo Site URL:
Login details: 
Username: renter@gmail.com
Password: 123456
Admin Login:
URL: http://demo.city-ride.in/admin/
Username: admin
Password: admin
Possible additional enhancement of CITY RIDE from CodeInfoTec 
Customization for creating City Ride mobile app
Customization for Payment method
Customization for Real time online LIVE tracking of Driver
Customization for Push notification
Customization for SMS integration
Customization for Social Login
Customization for Integrate with Hotel Booking System
Customization to add different mode of vehicle like Bicycle, Motor Bike etc.
If  your car rental business require customization for the current software or need new car rental website, Streamline your car rental business with our  convenient-to-use  software system City Ride. Please do not hesitate to contact us at support@codeinfotec.com We will be very happy to assist you any way we can.
Who we are? 
We are expert in delivering full cycle Vehicle Rental software development services to the Travel Industry. If you want a car rental Php script that has all the features or need something unique? Get in touch with our City Ride Car Rental Software Development Team to discuss your queries about starting an online self drive car rental portal.
FOR PRODUCT ENQUIRIES OR PRE-PURCHASE QUERIES
Mail to support@codeinfotec.com with your enquiry details
Our agent will reply back you in 24 hours or
For live chat support, visit https://demo.techlabz.in/support and chat to our agent. Ticket id is mandatory to chat with our agent.