The Reviewer Plugin allows you to insert reviews and comparison tables inside your WordPress blog posts, pages, and custom post types quickly and easily. If you need to create a gorgeous recap box for your full review post or just a simple but powerful user reviews system, this is the plugin you are looking for.

The plugin flexible structure allows you to create any review type: no limits, just create a template and insert your personal review inside your posts or pages. Users and visitors can leave theirs reviews on the review box you have created.

The plugin offers different customizable themes so that you can adapt your reviews and comparison tables to your need. Each theme has a responsive layout to adapt to any devices.
Video Preview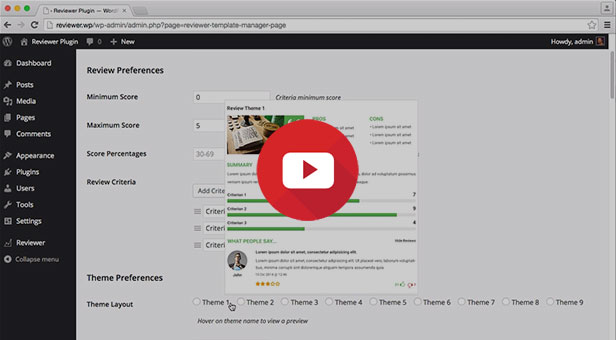 Core Features
Review Boxes & Comparison Tables

Create powerful and gorgeous review boxes or comparison tables limitless.
Just fill the information you need to display and place the related shortcode in any custom post type or page.

Gorgeous Customizable Themes

Each theme can be customized. You can set the criteria for your review, score range, colors, labels, font sizes, add custom tabs and links, change star icon, add pros, cons, summary and much more.

User Reviews

The plugin offers an advanced user review system:

Different rating modes: 5 Stars, Bars, Single Criteria
Collect visitor name, email
Users can upload their images
Google ReCaptcha for preventing spamming
Google Rich Snippets
Administrators can manage the user reviews completely
Moderation for user review

Review Box and User Reviews Widgets

Display reviews boxes and user reviews sorted in different ways inside your theme sidebars. Both widgets are customizable to satisfy on your needs.

Great back end features

All admin features have been designed and built for simplifying the Blog Authors work. You can manage user review privileges, moderations; manage reviews, tables and much more in a quick and easy way.
Do you need help or just have some questions?
The Reviewer Plugin takes care of its customers, and their satisfaction is one of the primary goals. Before contacting the Support Team, please read the FAQs section inside the Support tab of this page.
If you already purchased the plugin you need to register your license – inside the Reviewer > License page of your admin area – before contacting the Support Team.
You can contact Support Team via the following methods.
Please do not post comments on plugin page for support request the Support Team does not manage the comments section.
You can follow the plugin author @Michele_Ivani on Twitter for news and updates about Reviewer Plugin.
NOTE: The plugin needs WordPress >= 4.2 and PHP >= 5.3 to work. Please read the documentation before installing or updating the plugin.
Gorgeous Themes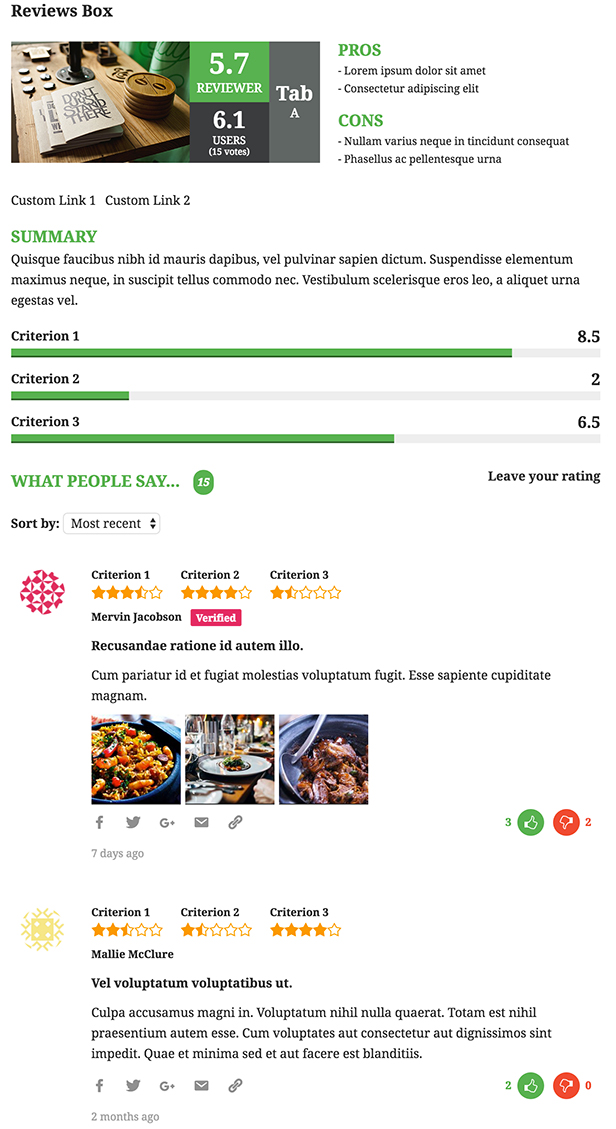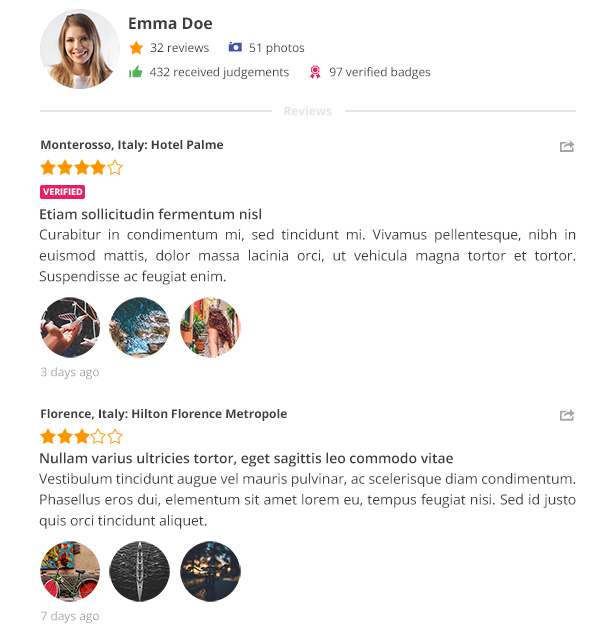 Feature List
Make gorgeous Review Boxes and Comparison Tables in few easy steps
Unlimited Templates
Unlimited Review Boxes per post
Unlimited Criteria per review
Unlimited Comparison Tables
Works with regular post, pages, and any custom post types
Possibility to sort Comparison Tables
Advanced User Review system
Users can upload images inside reviews
Administrators can apply a Verified badge to a user review
Share user reviews on socials media
3 types of rating mode: five stars rating and full rating with sliders and stars
Manage User Review Authorization NEW
Manage and edit user reviews
Administrator can decide which WordPress roles can manage user reviews
Receive email notifications about new user reviews NEW
Templates Manager
Plugin Preferences page
WordPress Meta Boxes for review boxes and comparison tables
Gorgeous and customizable themes
Color, labels and messages customization
Affiliate links (Custom Tabs and Custom links features)
Possibility to replace star icon with a custom one
Shortcodes for review boxes, tables, and lists of boxes
Shortocode for getting reviews of single user NEW
Post Editor Button with shortcodes list of tables and reviews boxes
Reviewer API to integrate the plugin with the plugin with your theme
Custom WordPress hooks NEW
Migration page (Plugin backup manager) NEW
Migration tool for move your existing user reviews to Reviewer plugin NEW
Review Boxes Widget (sorting modes)

Latest Reviews
Top Score Reviews
Top Rated Reviews
Top Users Score Reviews
Combo 1 | Avg of Author Score + User Score

User Reviews Widget (sorting modes)

Latest Ratings
Top Score Ratings
Top Rated Reviews

Support for Google Rich Snippet
Support for Google ReCaptcha
WordPress Translation ready
The plugin is fully integrated with the new WordPress 4.3+
Retina Support
Responsive Layout
Reviewer API
Are you a WordPress theme developer? Do you want to integrate the Reviewer plugin with your theme?
The Reviewer offers its API and custom WordPress hooks so you can integrate the plugin functionalities easily inside your theme. For more information, please read the plugin documentation or write a message to the Support Team.
If you are a WordPress theme developer and you'd like to add the Reviewer Plugin to your amazing WordPress theme you need to purchase the Extended License. Please read more about Envato Market Standard License at this link
ChangeLog
Version 3.17.0 - 06 December 2017
- Add setting for excluding Google reCaptcha from specific post IDs 
- Fix an issue that did not save custom links correctly 
- Fix minor issues

Version 3.16.0 - 22 October 2017
- Add possibility to open custom links in a new browser tab/window
- Fix an issue about avatars of user reviews
- Fix an issue in Reviewer > Preferences page
- Fix minor issues

Version 3.15.0 - 10 August 2017
- Add WP custom filter before saving a new review and add WP custom action after saving a review
- Add a new user review authorization mode based on user role
- Add new shortcode that gets reviews of single user
- Add maximum score in overall score and users score
- Add numeric rating above score in user review (enable it in Preferences page)
- Add a new design of custom links
- Improve email notice about new user reviews
- Edit plugin menu icon
- Edit all existing shortcode names (details inside doc)
- Merge all front-end js files in a single one
- Fix floating issue of pros and cons
- Fix sorting issue in Review Boxes widget and Review Boxes List shortcode
- Fix responsive issue in theme 4
- Fix rendering problem in theme 3 for some users
- Fix minor issues

Version 3.14.2 - 17 April 2017
- Add custom URL setting in User Reviews Widget
- Fix error for some users about the importing of backup or migration file
- Fix minor issues
- Prepare the plugin for the next major release

Version 3.14.1 - 14 November 2016
- Fix error during license registration

Version 3.14.0 - 13 November 2016
- Add possibility to set user review images required during review process
- Update some labels in back-end components
- Fix minor issues

Version 3.13.0 - 01 September 2016
- Add support for image URL inside Comparison Table
- Add possibility to change review box type after its creation
- Fix license activation issue for some users
- Fix some text labels
- Fix minor issues

Version 3.12.0 - 05 August 2016
- Add possibility to choose which WordPress roles can manage user reviews
- Add possibility to apply a verified badge to a user review
- Add possibility to attach images inside user reviews 
- Add possibility to manage user review image attachments
- Add a new plugin license system (read the documentation for all details)
- Fix compatibility with PHP 5.3
- Fix minor issues
- New notes are described inside documentation for Extended License buyers

Version 3.11.0 - 12 July 2016
- Add the new Migration admin page
- Add possibility to users to leave an unlimited number of reviews per Box
- Update Review Box status. Now it is synced with post/page status
- Update [rwp-users-rating-star] shortcode. Now it supports Auto Box type
- Update javascript dependences
- Update language files
- Fix Review Box Widget functionality
- Fix issue that does not display user avatar in user reviews
- Fix deprecated function in Reviewer > Support page
- Fix minor issues

Version 3.10.0 - 07 February 2016
- Move Reviewer API manual from Admin Area to plugin's documentation
- Rename all existing API (check out the new documentation )
- Add 2 new API: get_reviews_box_users_reviews, get_users_reviews

Version 3.9.0 - 05 February 2016
- Add the possibility to show Post's Feature Image for Auto Boxes
- Add the possibility to show reviews box image inside Comparison Tables
- Add possibility to show users reviews date as human readable format: "1 hour ago", "5 mins ago", "2 days ago".
- Add possibility to enable/disable "sameAs" property for Google Rich Snippets
- Add the possibility to set a custom url for "sameAs" attribute of Google Rich Snippets
- Fix an issue that loads ReCaptcha's lib even if it was disabled
- Fix warning for Auto Boxes
- Fix minor issues

Version 3.8.2 - 06 January 2016
- Fix issue about IE10 compatibility
- Fix special characters issue inside users review and widget
- Fix issue about the parsing of user review date
- Fix CSS issue about criteria scores inside users reviews
- Fix CSS issue about centering the username to the avatar image
- Improve Google rich snippets with "sameAs" property
- Update documentation. Check it out!

Version 3.8.1 - 24 November 2015
- Fix an issue that does not allow to use multiple reviewer shortcodes on the same page
- Fix CSS issue about criteria scores inside users reviews
- Add possibility to hide criteria scores inside the [rwp-review-recap] shortcode

Version 3.8.0 - 19 November 2015
- Increase plugin performance
- Add new users reviews GUI
- Add possibility to sort users reviews (Most recent, Top score, Most helpful, Worst score)
- Add more Schema.org types in template manager page
- Add the possibility to change the default login URL for reviews boxes in Preferences page
- Add the possibility to choose the source (Reviewer or Users) for single criteria inside the Reviews Box
- Add the possibility to set title and comment fields as "not required" (default setting) inside user review
- Update get_review_users_rating API and related doc. Now it works with auto boxes!
- Update languages files and some labels
- Fix minor issues

Version 3.7.0 - 19 October 2015
- Add the possibility to add no follow attribute to reviews box image and custom
- Add the possibility to sort comparison tables
- Replace default Captcha with Google ReCaptcha
- Fix CSS issue about user display name inside user review and review form
- Fix Google Rich Snippets
- Fix minor issues

Version 3.6.1 - 08 August 2015
- Fix issue that does not import users reviews correctly inside the Import/Export page
- Fix Google Rich Snippets issue
- Fix issue that does not submit the user review title field if the reviews box is inside a tab component of some themes
- Fix issue that does not display correctly the user's reviews in reviews boxes
- Add the Schema.org type selection in Reviewer template
- Add localization support for email notification about new users reviews

Version 3.6.0 - 29 July 2015
- Implement user review sharing
- Add possibility to choose the number of users reviews per page in Preferences page
- Fix issue that added extra br tags in pros, cons and summary sections
- Fix minor issues

Version 3.5.0 - 26 July 2015
- Enable user to rate again after its reviews were deleted
- Add two new shortcodes for reviews box
- Fix timestamp for new user review
- Add possibility to edit user review date in backend page
- Update support page - Update Google Rich Snippets
- Update admin notices for activation and support
- Fix extra slashes issue in user review editing
- Prevent to exclude auto reviews from all available terms in template manager page
- Fix issue that displays invalid email when notifications are disabled about new ratings
- Fix issue that shows unapproved user reviews inside widget
- Add possibility to show post title inside Ratings Widget
- Enable featured image inside Reviews Widget
- Enable featured image inside Reviews List Shortcode
- Set correct post date for reviews boxes
- Edit Reviewer backend menu
- Add possibility to disable plugin support features for Extended License
- Enable reviews box shortcodes to be shown in any post or pages
- Add possibility to change count label of users ratings inside template manager
- Add the possibility to edit user scores in users reviews page
- Update languages files
- Fix minor issues

Version 3.4.1 - 14 March 2015
- Added a new shortcode for review that shows scores only
- Fixed the issue that caused an error with Google Rich Snippet
- Fixed minor issues

Version 3.4.0 - 11 March 2015
- Added the option for sending email notification when new ratings have been submitted
- Added the possibility to show scores as stars inside Reviews List shortcode
- Added the possibility to choose if a score with zero value is allowed or not
- Added the possibility to define custom CSS rules inside Preferences page
- Added the possibility to choose the theme for Comparison Table
- Added support for custom tabs inside Reviews List shortcode
- Added a new theme for Comparison Tables, "Theme 5" 
- Added a new theme for Reviews Widget, "Theme 3" 
- Improved back-end UI
- Fixed minor issues

Version 3.3.0 - 17 February 15
- Added the possibility to set the minimum and maximum number of characters for user review title and user review comment
- Added the possibility to exclude categories/custom taxonomies from auto reviews
- Added three new shortcodes that split the review in three section: recap, ratings, form
- Added the possibility to hide review title or show the post title for reviews
- Added the possibility to edit users ratings inside Rating Manager page
- Added the possibility to use "Featured Image" as Review Image
- Fixed some CSS issues
- Fixed minor issues

Version 3.2.0 - 06 February 15
- Added custom tabs inside overalls section for reviews - example: price tab...
- Added new rating mode: full rating with stars
- Added new Reviewer Widget for displaying latest or top score users ratings
- Added email field and Gravatar support for users rating
- Fixed minor issues

Version 3.1.0 - 21 January 15
- Added Captcha field for user rating
- Added rating moderation
- Improved user rating: it can be completely customized
- Add new back-end page for Rating Manager
- Added possibility to delete reviews inside Reviews page
- Rating form options were moved from review box to reviewer template. (Please update your Reviewer Templates!)
- Fixed minor bugs

Version 3.0.0 - 16 January 15
- New users rating
- New gorgeous themes
- Improved reviews customization
- Improved Reviewer Widget
- Added two review types: "Post Author Review with Users Ratings" and "Users Reviews Only." 
- Added the possibility to duplicate reviews templates.
- Added the possibility to reorder review criteria.
- Added decimal precision to scores values
- Added the possibility to insert a specific review or table in any post
- New gorgeous and responsive themes for your reviews
- Added colors palettes for reviews themes
- Added summary field for reviews
- Added auto users reviews box for custom post type
- Added the possibility to insert custom links inside reviews
- Added custom link for review image
- Updated Reviewer API
- Fixed minor bugs

Version 2.5.0 - 04 November 14
- Added Status field for reviews
- Added the possibility to disable users rating on a single review
- Enhanced Reviewer API v.1.1
- Enhanced Reviews List Shortcode
- Enhanced Reviewer Widget
- Fixed minor bugs

Version 2.4.0 - 30 October 14
- Added Reviewer API to integrate the plugin functionalities inside themes.
- Added the possibility to Import / Export plugin data.
- Fixed Google Rich Snippet issue.
- Fixed "Slashes" issue.
- Fixed minor bugs.

Version 2.3.0 - 05 September 14
- Added the new Reviews List Shortcode for display a custom table of reviews.
- Added custom overall score for reviews.
- Added support for the new WordPress Media Uploader.
- Added two new sorting modes inside Reviewer Widget.
- Improved Pros and Cons fields.
- Added a new post editor button for the Reviews List Shortcode.
- Updated Google Rich Snippets tags.
- Added ranking number to inside Reviewer Widget.
- Improved widget UI.
- Improved Comparison Tables UI.
- Added the new Theme 9 (Shows Overall Scores, Pros and Cons).
- Fixed Theme 4 Issue.
- Added custom overall score.
- Added Support page.
- Fixed minor bugs.

Version 2.2.0 - 10 July 14
- Added Review Image support
- Enhanced Reviewer Widget
    - Add category filter
    - UI improved
- Bugs fixed

Version 2.1.1 - 09 June 14
- Fixed WordPress 3.9.x compatibility
    - Post editor button for inserting reviews and tables works correctly
- Fixed Pros and Cons issue

Version 2.0.1 - 11 March 14
- Fixed an issue for users that have PHP 5.4

Version 2.0.0 - 08 March 14
- Added users rating support
    - Rating with classic five stars ( the star image can be replaced with a custom one )
    - Full rating ( users can express a vote for each criterion of review )
- Comparison tables: create comparison tables with reviews of the same template
- Add Reviews back-end page: view all your review in a single view
- Add Preferences back-end page: manage Reviewer Plugin settings
- Improved back-end user interface and user experience
- The plugin is now integrated with the new UI of WordPress 3.8
- Two new gorgeous themes for reviews
- Previous themes are restyled
- Localization support ( available languages: English, Italian ) - You can translate the plugin in your language in few minutes
- Add support for Google Rich Snippet
- Bug fixed

Version 1.1 - 17 September 13
- Added the possibility to customize each theme:
   - Text Color
   - Total Score Label
   - Total Score Box Color
   - Different colors for High, Medium and Low Scores
   - Pros and Cons Section completely customizable (label, color, font size...)
- Improved 'Add Review Box':
   - Add slider for setting scores (a quicker way to add reviews)
   - Reviews Tabs: now all post reviews are displayed in a tab mode for a better user
experience.
- Minor bugs fixed

Version 1.0 - 9 September 13
Initial version