Prestashop Module Navigation Previous and Next Category Product – Display Right Column Product Live demo Right Column Product
Prestashop Module Navigation Previous and Next Category Product – Display Left Column Product Live demo Left Column Product
Description
"Navigation Previous and Next Product" Module adds buttons "Previous" and "Next" on the Product page. It shows all products of the same category. After hover on button you can see popup with product image, name and price. If you click on the button, it will redirect you on previous or next product. When, users became interested one of your product, they visit product page. You can easy show them other products from same category with help of this module. This module will help you increase the number of sales also it helps make product page more usability.
Features
Set your module position: Product footer.
Configuration – Name product size(px).
Configuration – Price product size(px).
Select image type.
Quick integration.
HTML5 markup: scrubbed clean of bulk and infused with semantic power.
CSS3 galore: progressively enhanced styles reward modern browsers while staying lean.
Fully responsive 100%.
Multi-language ready.
Mobile compatible.
Full documentation.
Technical Support.
View "Module Prestashop Navigation Previous and Next product" demo on your mobile device
Support
This plugin is supported. All you need to do is contact the developer through the
Webtet e-mail
or
Webtet profile page
.
Changelog
02/10/2014 – v. 1.0.0
- Release module
18/12/2014 – v. 1.0.1
- Fix prev button visible product. Fix product with quantity = 0 or disable product
01/03/2015 – v. 1.0.2
- Added new configuration tax price and display module left or right product hook.
BESTSELLER MODULE:
Responsive Brand Logos Carousel for Prestashop       Purchase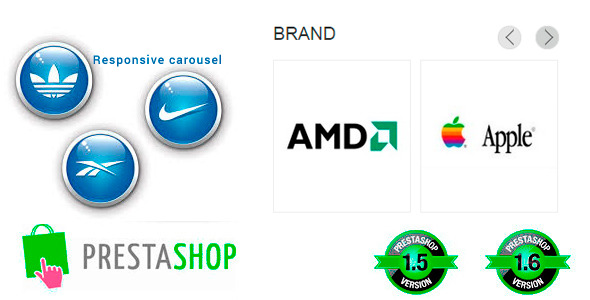 Live Preview
Screenshots
Follow Me