This module greatly enhances the way that Prestashop processes top selling products.
By defeault, best sellers in Prestashop are global and not limited in time.
This module allows you to change this functionality:
select products from only a specific period (number of days back from the current moment)
select products from specific categories
select products with specific minimum price
Above all that, this module allows you to turn on context aware best sellers:
display best sellers from current category on category pages [example]
display best sellers from current product's default category on product page
display best sellers for current manufacturer on manufacturer's page [example]
This module works on the data layer, so it should be compatible with any theme. This module replaces products displayed as bestsellers, so if you're using the default Prestashop Block Bestsellers module, it will still work, just displaying different products.
Besides that, this module allows you to insert a slider with best sellers anywhere in your template (for example on top of category or manufacturer pages).
Check out some reviews from our happy users!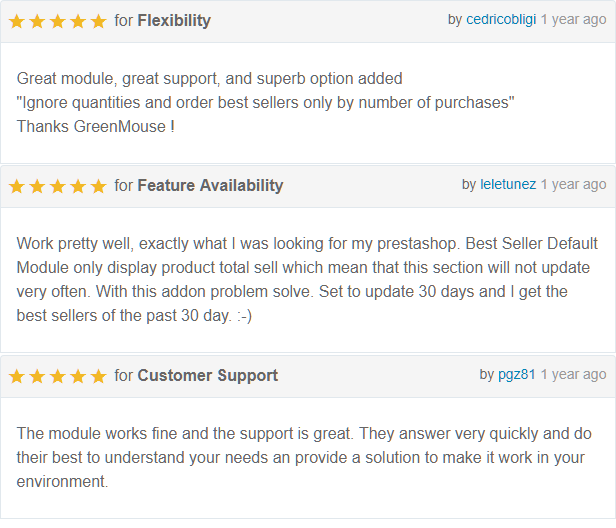 Premium support for every purchase
No matter which module you buy from us, we're always happy to give you any support you need to make it running on your shop.
Tired of waitnig days for your tickets to get a response? Not with us. Within our working hours (9 – 17 Central Europe) you'll get an immediate help.
Check out some of the reviews from our many satisfied customers:







(supported versions of Prestashop 1.6: 1.6.0.5 – 1.6.1.x)
(supported versions of Prestashop 1.5: 1.5.6.2, 1.5.6.3)
(ThirtyBees is also supported)