Customers support:-
http://softprodigy.com/store/support
Front End DEMO

Back End DEMO

Username: admin
Password: admin123
Premium Prescription Lens Configuration Magento 2 Extension
Online shopping is fast becoming the most preferred shopping trend among modern youth. They prefer not to get out of their comfortable home or busy office to buy anything. Instead, they want to get everything delivered at their doorstep. This includes buying prescription lenses or eyewear also.
Setting up an online prescription store lens is a challenge for the admin in itself. Most importantly, the bigger challenge is to maintain it. This is why it is important for the admin to set a lot of things on his/her store. Such as:
# Lens types
# Lens options
# Create attributes for both eyes (right and left)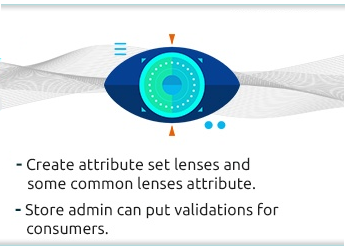 The list of these to-dos for admin doesn't end here only. He/she has to do many more things. The purpose is to help customers get exactly what they need or are looking for.
SoftProdigy, recognized by Clutch as the best e-commerce solution providers in India, has designed Advanced/Premium Prescription Lens Configuration Magento 2 Extension to help you set up an online store to sell/add lenses and do a lot more without hassles.
Well, what makes this Magento 2 extension a solution you need for your online store is its ability to let your customers' details of the prescription lenses they are looking for. It makes it possible for them in just a few steps to help them get to the product view page.
At this stage, it makes life easier for the store owner as it helps put validations to makes all required fields are filled by the customers.
It helps customers provide details about the lenses they need. These details include information about the usage of lenses, lenses prescription, lens type, lens option at frontend and much more.  
Features of Advanced/Premium Prescription Lens Configuration Magento 2 Extension:
> Customers can tell about they use glass for:
This is one of the key features of this Magento 2 extension. They get to choose from multiple options to tell you about their objective of using the lenses they want to purchase from your store. The list of those options includes the following:
>  SVD (Single Vision Distance)
>  NVR (Near Vision Distance)
>  PDR (Progressive Distance Reading)
>  NPF (Non-Prescription Fashion)
> BDR (Bifocal Distance and Reading)
Your customers can provide you with their own idea about the lens also through "Use My Prescription" option. They can also choose the reader/magnification according to their need using "Reader/Magnification Option".
In simple words, customers can customize the lenses to be able to buy the lens they need.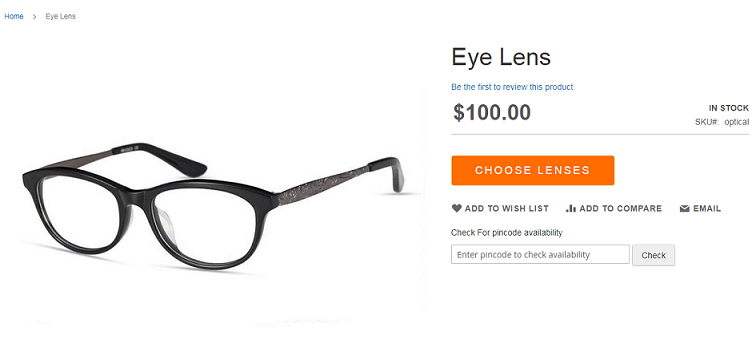 Customers can enter their own prescription:
This can also be called as the custom lens prescription in detail. Your customers get this luxury to be able to help you deliver exactly the lens they are looking for on your store. This could be possible for them using three options for sending your lens prescription details. These options are as mentioned below:
Fill it out online:
Here, customers can enter their prescription details and save it for future use also. This option allows customers to enter details related to the Sphere, Cylinder, Axis, Add (Near addition) for the right as well as the left lenses. They can add details related to the PD, Near PD ad Add Prison also.
Upload or send later:
This option allows your customer to upload details of prescription lenses and send it to the store owner later. They can upload details of Prism Horizontal, Base Direction, Prism Vertical and Base Direction related to the right as well as the left lens. They can upload the file of prescription details related to lenses and e-mail or fax it later.
Use my saved prescription:
This is actually for repeat customers who have saved their lens's prescriptions on your store in the past and they have come back to your store for purchasing exactly the same lens again. They just have to login to be able to access their saved lens prescription.
Customers can choose lens packages easily:
Your customers can choose a lens package that they think is suitable for them. The can choose from the four different lens packages called Silver, Gold, Platinum, and Diamond. All of these packages charge some amount by default. The fee of these packages decreases or increases according to the type of prescription lenses your customers choose to buy from your lens store.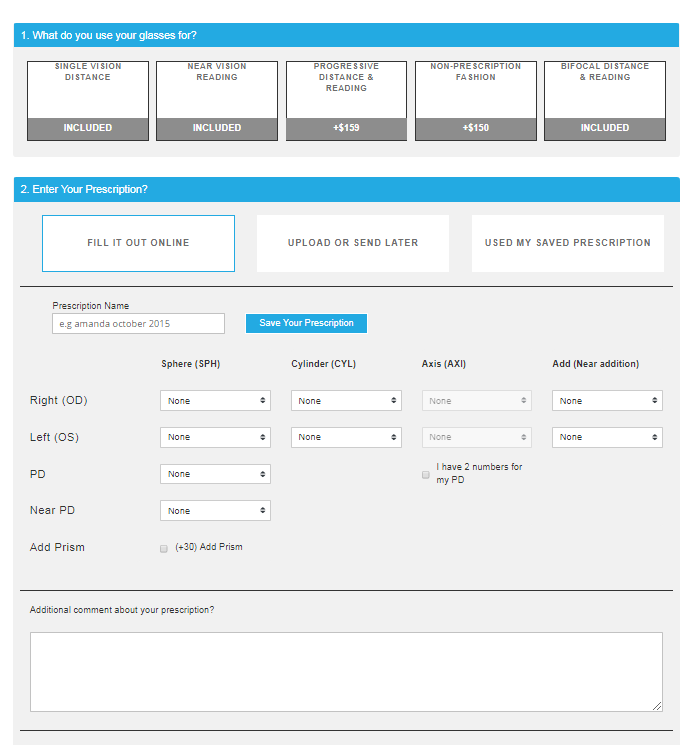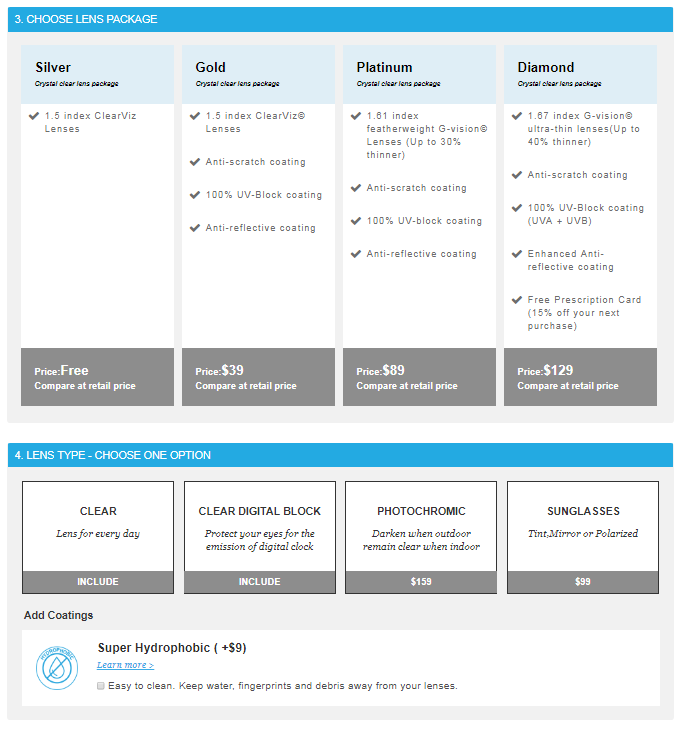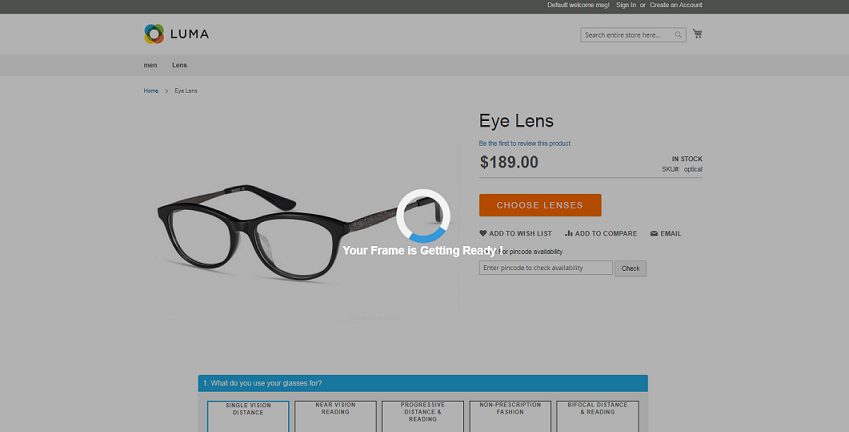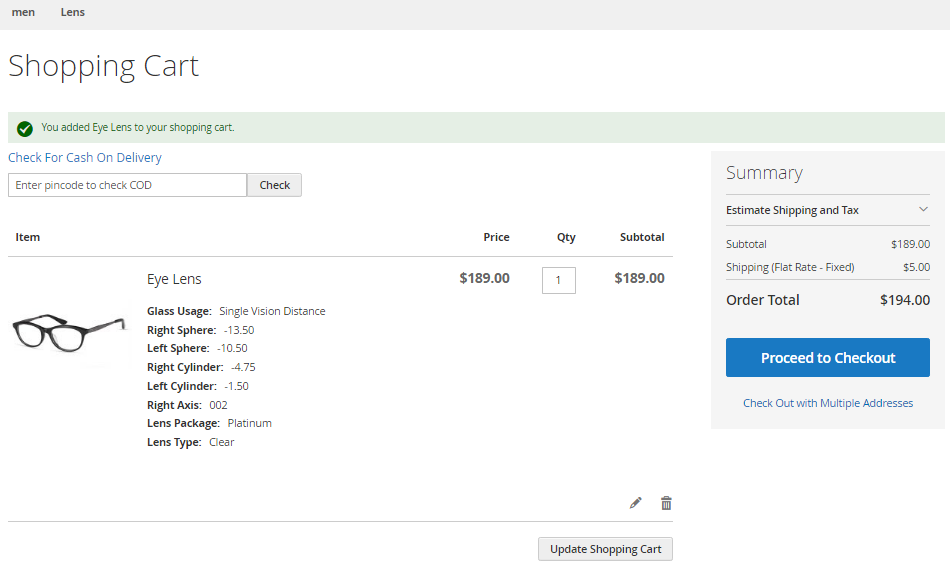 Customers can choose the lens type they want:
This extension for Magento 2 helps your customers choose lenses as per their need from the variety of options available from them. The list of lens type options for your customers includes the following types of lenses they can order from your store:
> Clear Lens
> CDB (Clear Digital Block)
> Photochromic lens
> Sunglasses
It also helps them add details related to the transitions and color of lens they want to purchase. If needed, the addition of SHC (Super Hydrophobic Coating) and DBC (Digital Block Coating) is also possible for your customers.

Enhanced coverage plan:
This feature is very much like some kind of insurance plan. Your customers can easily get access to the enhanced coverage plans you can offer them to get cover for the damages to the lenses they buy from your Estore.
Hassle-free backend management process for Admin
Advanced/Premium Prescription Lens Configuration Magento 2 Extension comes equipped with this special feature for Admins. You can manage the orders and store easily using the backend login details provided above. This is to help you satisfy your customers and cater to their Lens needs without hassles. In this way, this feature offers everything you need to grow your business.