Photica – photo social network like as Instagram
The application uses its own backend for running. NO PARSE OR BACKENDLESS!!
Features
Registration user
Post image
Image editor
Delete image
User profile
Comment photo
Photo complaint
Like / Dislike photo
Follow/Unfollow users
Ban/ Unban users
Activity page
Search users
Share pictures
Who liked / disliked my photos
Who follow / unfollow from me
Unlimited push notification
Edit user profile
Application Features
Android studio
Android 5.x – 7.0
Clean design
Easy setup and customization
Backend Features
User control
List of photo
Delete / Unpublish image
List of complaints
List of users app
Technical requirements
PHP min 5.6 – max 7.X
MySql min 5
Apache server
mod_rewrite ON
upload_max_filesize and post_max_filesize > 50Mb
Updates
14.04.2018 – Upgrading libraries and dependencies to the current version
14.03.2019 – Upgrading libraries and dependencies to the current version // add installer to backend // support php 7.X
Demo apk
Download
Photica for iOS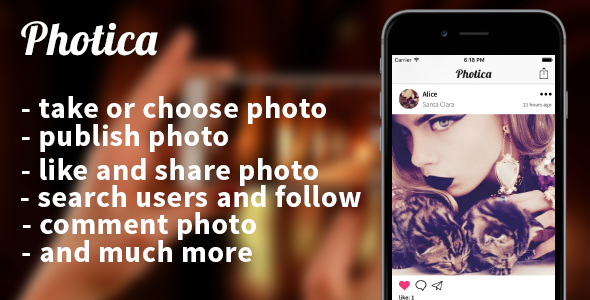 Support
Support for our products, we provide only on our support site. https://dev.appteve.pro
We do not provide support in the comments and via email.
Envato does not oblige us to provide support for application source code, but we do our best to make you comfortable to work with our products.
Item Support Policy Envato: https://codecanyon.net/page/item_support_policy
Item Support Policy Appteve: https://appteve.pro/terms-of-purchase/
Speed of response to your ticket may vary from 20 minutes to 5 business days
Customization is not included in the extended and regular license
We do not teach programming languages (Swift, Java, Obj-c) and the use of mobile development tools (Android studio, Xcode)
We do not give tips on how to add, delete, modify features of the application and design.
The studio is open from 10 am to 5 pm, except Saturdays and Sundays.GMT +1
Disclaimer
We are not responsible for any changes in the source code that you do.
We are not responsible for all the decisions of Apple or Google, on the approval of your application to be placed in the digital stores. We are in no way affiliated with Apple and Google, and can not influence the decision of the moderators of these companies.
We not responsible for all your actions on your hosting and have questions about your actions on the part of the hosting company.
All changes, additions to the application you are doing only at your own risk.
We are not responsible for third-party frameworks, third-party platform, which can be used in the application. For support, please contact the authors of third-party services / frameworks
We are not responsible for the proper and correct operation of the application development environment installed on your computer.
License
All additional libraries that we use when writing code in our programs meet the MIT license and Creative Commons CC0 1.0 Universal, correspond to the free dissemination, modification and commercial sale