PeerUp – Peer-to-Peer Donation System (Web Ponzi) with Referral, Wallet System and Bitcoin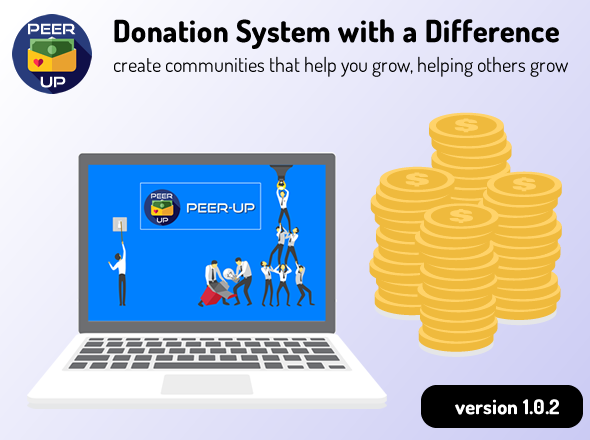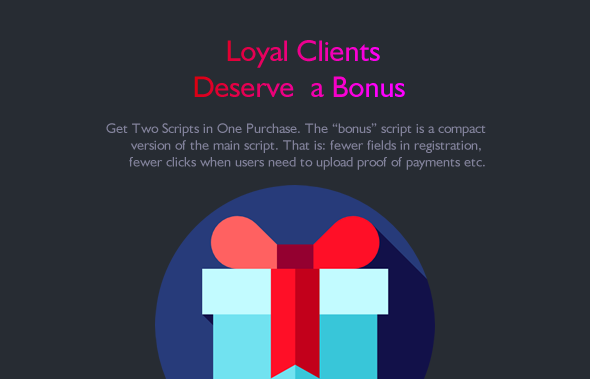 FEATURE REQUEST:
https://peerup.canny.io/feature-requests
Features
Easy Registration and Login for users
God Mode: Simplified and appealing dashboard
Reset/Change user password from Admin Dashboard
Change user password from Admin Dashboard
Block user from Admin Dashboard
Credit user wallet from Admin Dashboard
Change Admin password
Create Multiple Admins
In-built Ticket/Support System
In-built Testimonial submission and approval system
Settle issues between users (Court Cases)
Switch between manual and automatic merging of pledges
Notice Board to all users
Wallet System with Credits transfer between users
MATCHING MODE: Multiples of number of feeders for each package. In other words if a package has 2 feeders and requires users to donate 1000 then they get 2000 in return from two feeders. The admin determines if users get 2x or 3x or 4x etc of whatever they donated when creating the packages.
When a user selects a package determined by the admin, the user is given a time limit to donate to a user who previously has donated in the same subscription package.
SUPPORT CHANNELS
PROJECT UPDATES
UPDATE 1.0.3 – 31 October 2017
Alternate Bank Account for Users and Admin
Settings Page for better management.
UPDATE 1.0.2 – 18 October 2017
Resolved several reported bugs
Admin can now confirm payments to him in dashboard
Admin can now view all User Subscriptions
Admin can now credit users wallet from God-mode
Added Slider in Homepage
Online doc Now available
Compact Bonus Script – 1
One-time Membership Fee Bonus Script – 2 (coming soon)
UPDATE 1.0.1
Made Country Field Searchable
States and Bank names fields now in text format so users can enter what they deem fit
Corrected bug in registration (bitcoin wallet)
UPDATE 1.0.0
Removed restriction on 5000 Package Amount
Added Bitcoin Payment Option
Added Country Option
Now the Currency can be set in Parameters
Exchange rate can be set in Parameters
DEMO DETAILS
User Panel:
https://www.peerup.life/
Admin Panel:
https://www.peerup.life

demo admin user details
Username: admin
Password: password

demo user details
Username: testuser
Password: password

HOW IT WORKS
Admin creates packages via https://www.peerup.life/god-mode/create-pack. Here, feeders is the number of people that will pay back anyone that picks (when registering usually) that package being created. Note that users can subscribe to more than one package at once.
A package of 5000 having 2 feeders returns 1000, while a 1000 package with 3 feeders returns 30000.
You can view created packages through this link: https://www.peerup.life/god-mode/list-pack (Login as admin)
Once user is about to register they have to pick a package. Once they do, they are paired with another user usually after a short period depending on registrations and pledges on the websites. Hypothetically When a USER B signs up he/she is paired with a pre-existing USER A (admin is USER A if USER B is the first registrant on the site)
The User B pays admin and Admin Confirms that the payment was made, There are email notifications when the User B is paired and when The user B uploads Proof of Payment (usually called POP)
The User A is expected to check their bank account and confirm the deposit before approving or confirming on the website. Once they have confirmed USER B's transaction, USER B can now have users paired to pay him/her either 2x or 3x or 4x (depending on the package) the amount paid to USER A.
This continues limitlessly