=== DOWNLOAD APK TO TEST ===
==Admob==
http://www.mediafire.com/file/ebezfqgys2qmhgl/mp4downloader_appmobicreator.apk
yfHC45nodRpeFNxC8uJlmdHr6bm2Fw2HgRNwtxVH_D8" rel="nofollow">https://mega.nz/#yfHC45nodRpeFNxC8uJlmdHr6bm2Fw2HgRNwtxVH_D8
==Startapp==
http://www.mediafire.com/file/gc7b73no88f8gf1/mp4downloader_startapp_appmobicreator.apk
pJyZ63Gle6pI1kOz9VTfINbJsnHCjt4KdskWbu3Yjkk" rel="nofollow">https://mega.nz/#pJyZ63Gle6pI1kOz9VTfINbJsnHCjt4KdskWbu3Yjkk

=== Descriptions ===
One of the best tool to download any MP4 videos from any websites
MP4 video downloader is android application that let you to download any video from website while you watching it . once when you download all videos you can watch them without connection any time for free and also have more ability to share MP4 video with your friends or social network .
=== ADS Network ===
Admob
Startapp
Facebook audience network ADS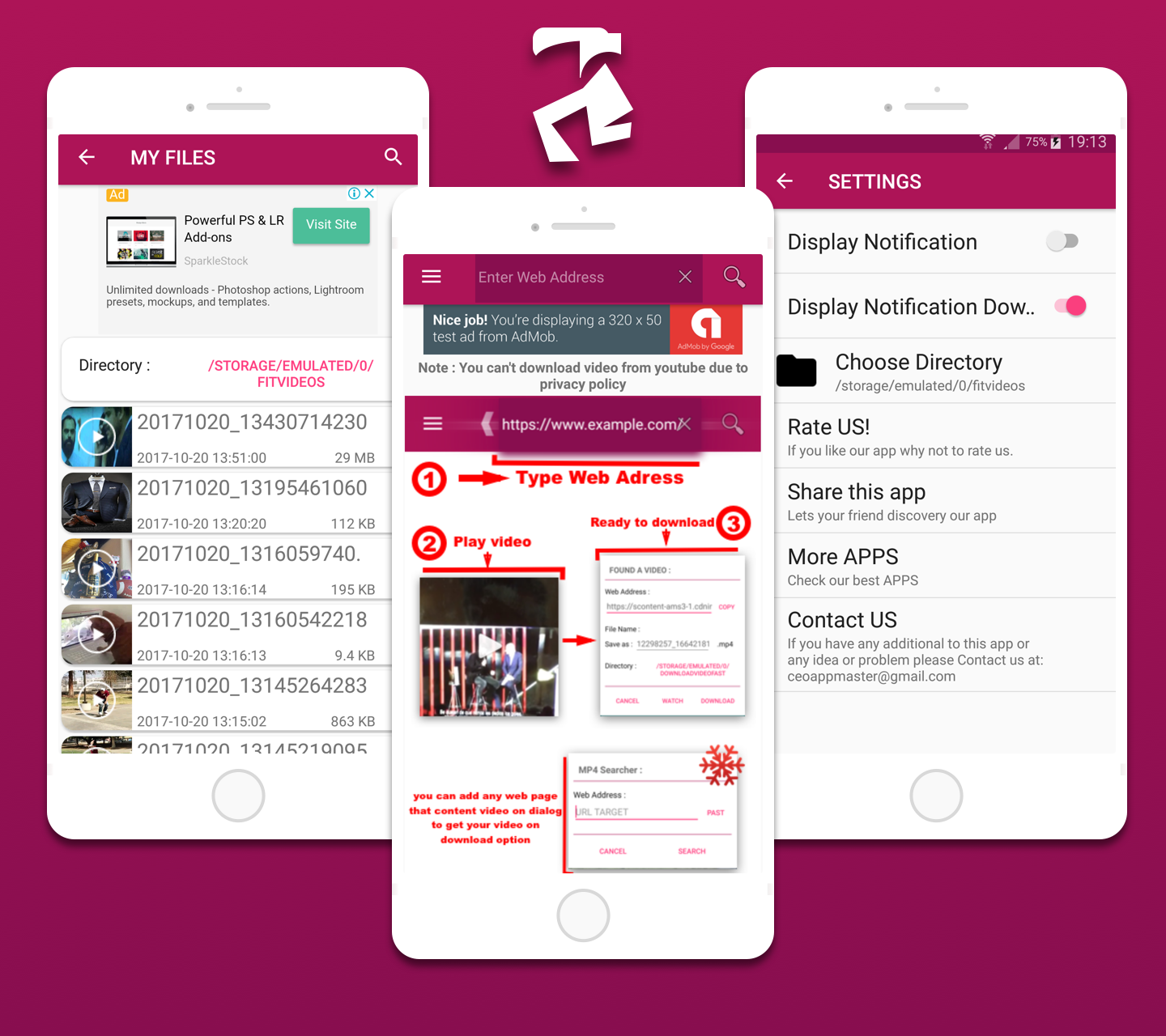 === Features :===
Android Studio 100% Easy to Reskin you ca upload to playstore directly
Simple Interface for app MP4 video downloader
Download video MP4 from Websites
Compatibility With Marshmallow android 6.+ & Nougat
Easily Download Image, GIF and Video From SOcial Network
Simple Interface for app MP4 video downloader
Admob Banner , Interstitial and Native ADS Integration
Facebook Audience Network SDK Banner & Interstitial
StartApp Banner & Interstitial
FireBase push notification & analytics
Download MP4 video from Direct Link
Search video MP4 from websites
Settings Activity
Quick and easy Manager video
Ability to share video to your friends or social network
watching movie video without connection after downloading for free 100%.