Create you Custom Millionaire Quiz. it's Too simple just re-screen it and publish that's it.
We as a Web Design & Development Company in Gujarat, have created an application of game with brain intelligence called-"MILLIONAIRE QUIZ". A quiz is a form of game or mind sport, in which the players attempt to answer the questions correctly. It is a game to test your knowledge about a certain subject. This game has its own features.
Millionaire quiz android quiz app have 15 levels and each level carry one question. Every question contains four options and from these four options there is an option with right answer. User have to click on the right answer for next level.
There are four help lines are available like- phone a friend,50-50, Audience poll, and the last one is swap the question. This help lines are available to help the player to solve the quiz.
A timer is set at each level, your timer will be stopped after 30 seconds, once the time is over then you can't answer the given question and your quiz will be over. Leader board will show the score of your quiz. Highest scorer will be displayed on top of the leader board. You can also post your score in your facebook account.
The resolution of the screen is good. Volume setting is available. you can set the volume of the sound according to your needs. Language selection is also given. you can select any language from the given list. Three languages are given i.e. English, Hindi and Gujarati.
For any query or help you can ask to our website. For rating this app you can do it by any browser. The template of this game is responsive in any device, so any device user can play this game easily without any problem. Now you can also build a Millionaire app just by adding question and all remaining task will be done by app.
Android Side:
Millionaire play with four option.
Four Lifeline.(Phone a friend, 50-50, swap question, audience poll).
Multiple Language Support for questions. (English,Hindi,Gujarati). You add as many language
Implement Leaderboard so user can know their position.
Google Log in
set One signal push notification.
Google Admob Integration.
Admin Side:
Easy and Attractive design.
Display total question
add unlimited level on database
Add/Update and Delete question in it is too simple.
Provide JSON service for get data from admin panel.
You Will Get:
Full Android source code
Full PHP Source Code for service side manage quiz.
All PSD Design that will help you to re-screen app
Full Document of project that explain step by step process.
App Demo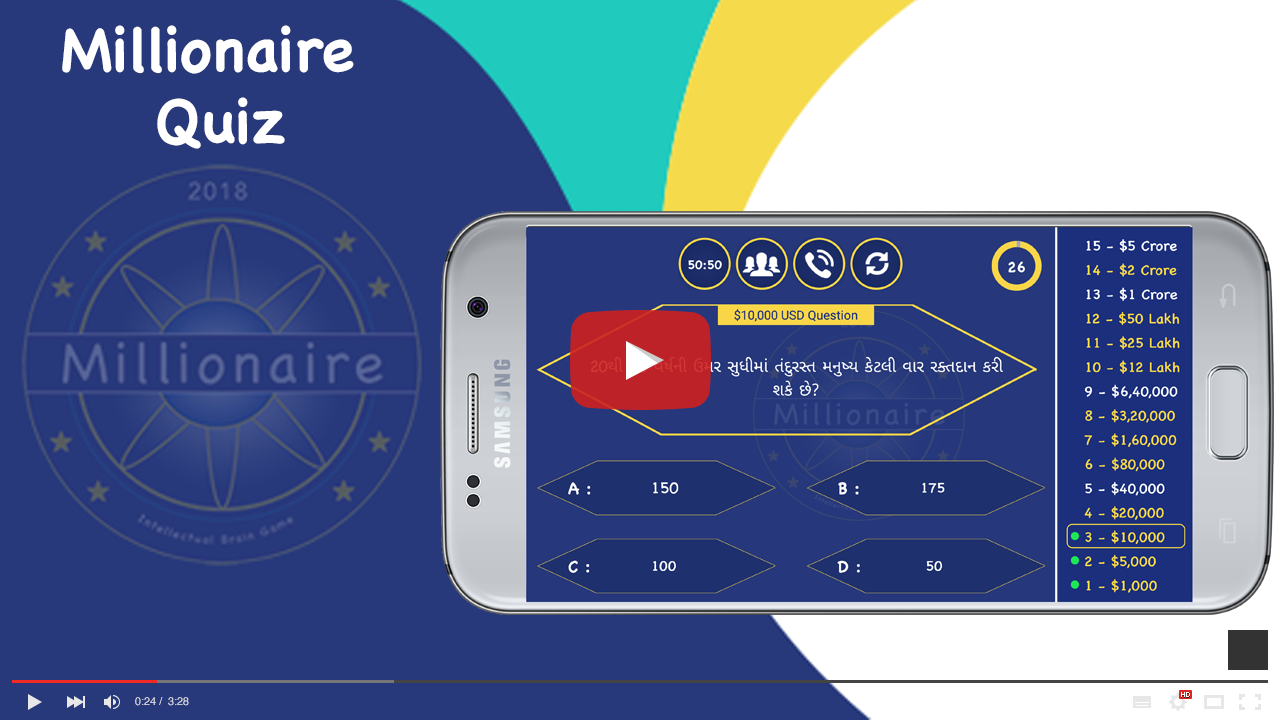 Full Source Code will be provide also written comment on all code for understand code
We will provide basic project setup process service but if you need additional help then that service will be chargeable.

Support: support@arkayapps.com