Keep update with our latest news and releases at:
JUX Metro Contents is a responsive joomla module which supports sliding image, display tiltle and short description in each tile. It supports retrieve content from Joomla, K2 or image folder.
Metro layout is designed to help you view multiple contents at once. This module also support 2 images for 1 item in each tile in order to animate images within the tile.
Fully responsive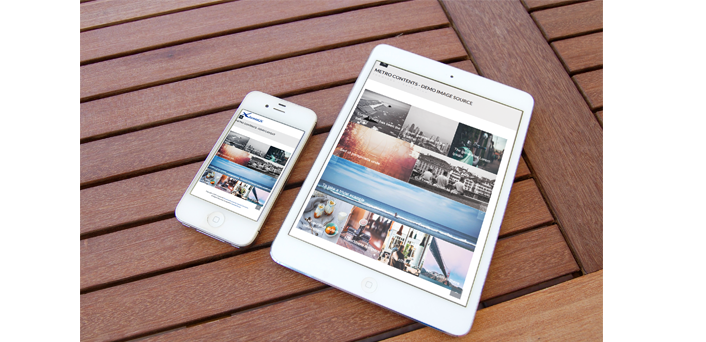 Easy reading and navigation with minimum of resizing, panning, across a wide range of device, are what Metro contents can do. No matter on big screen like desktop computer monitors or small mobile phone touch screen, it all displays nicely and easily control.
Retrieve content from different content sources

Jux Metro contents supports retrieve contents from different sources like Joomla, K2 or image folder.
With Joomla and K2 source, you can insert number of items you want to display in front-end and select order by date, hits, random, alphabet…etc.
Description is supported for all Joomla, K2, and image folder. You can set maximum number of characters for description and select title link target as well.
Various effects and layouts for Metro styles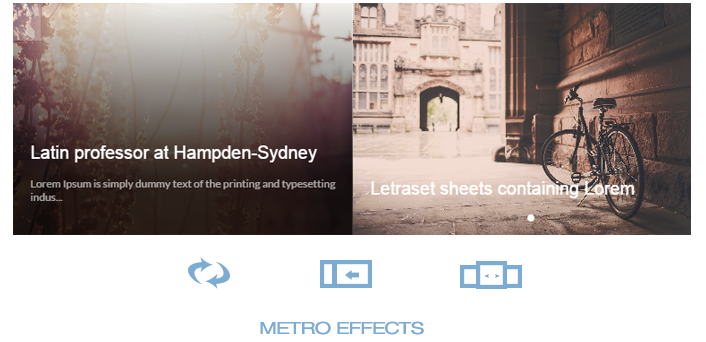 There are 5 effects suppport for each item such as flip, carousel, slide, static, random. With each effect, you can set start time and animation speed for it.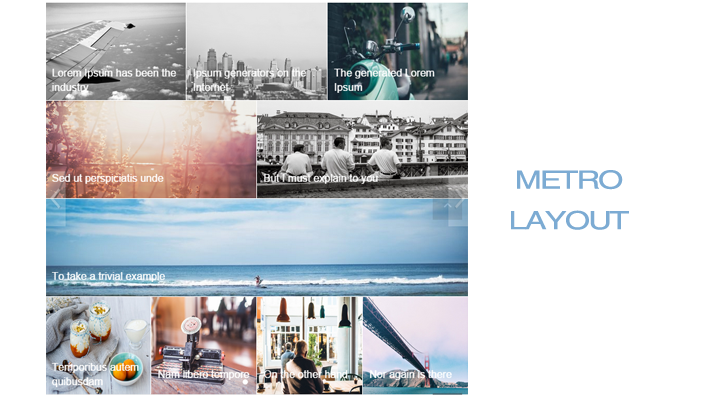 You also can easily style for your metro layout by choosing the number of rows, and columns (you can display maximum 4 rows and 4 columns).
It offers 3 effects for slider options which are slide, fade, and coverflow. Auto play, transition speed, keyboard control, loop, ...etc are other options for slider which you can freely control over the backend.
Backend with fully control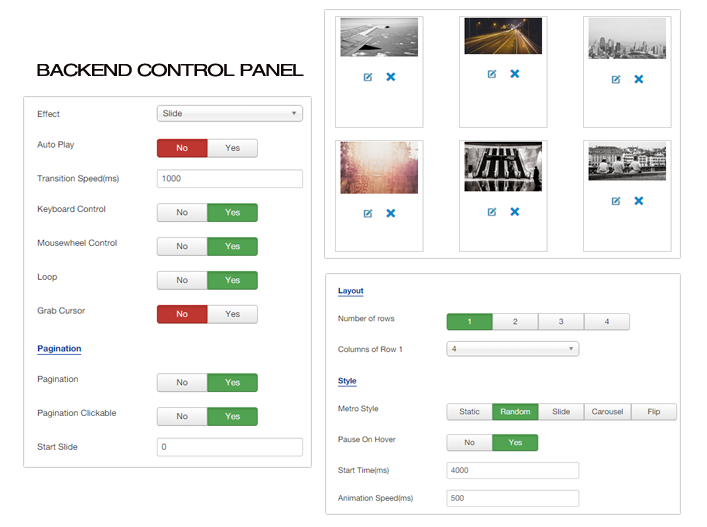 Drag and drop image, multiple options control by select show/hide, custom CSS, and many other advanced options – all are included in JUX metro content's backend.
Highlight features
Fully responsive
Retreive content from Joomla, K2, image folder
Order by date, hits, random, alphabet
Link target supported
5 effects supported: flip, carousel, slide, static, random
Maximum: 4 rows, 4 columns
3 Slider effects: slide, fade, cover flow
Support: auto play, transition speed, keyboard control, loop
Custom CSS supported
Quick and effective support
Support
All support is handled in our Community Support Forum. We encourage you to post all your questions concerning our extension there as your questions may have already been answered or may be of help to other people that have also purchased the extension.