Make your website funny today!
Support Contact:
onepunnchman@gmail.com
You have been searching a website do that you can create a meme simplest and fastest. This is yours!!! With Meme Captioner Script, user can easily have a caption for hundreds of existing meme template (uploaded by user and admin) in order to have your special meme then share these on social media such as Facebook, twitter, pinterest, reddit, etc).

Besides the main fuctions, we create some interesting functions such as a optional that help users can upload "meme template" by themselve for having caption or create meme caption fast without registration (using session storage) and or optionally choose the way to create (public or private like Facebook status) for more privacy.


About admin interface, you can easily add functions such as create ads, login social media (facebook, google plus, twitter), manage users and their memes.


Remember, this is not a meme generator script, this is a meme captioner script for anyone which help them to make a meme the most easiest than ever.
website: http://meme.hunterist.com
admin panel: http://meme.hunterist.com/admin (admin@example.com/12345)
document: http://meme.hunterist.com/document/documentation.html
Users:

1. More than 200 creative existing meme images.
2. Add caption easily from existing meme template repositories (add top text, bottom text and choose font type).
3. Support to set meme create by private/public and show/hide watermark.
4. Support 2 meme caption fonts: Impact (popular) and Open sans (utf8 support).
5. Support to upload meme template from local pc.
6. 2 modes includes: Guest (not login, can create memes fast but not permanent and User (login and stay their memes forever).
7. Full social login (Facebook, Twitter, Google) or register by yourself.
8. Full social share and download memes to your pc.
9. Search memes.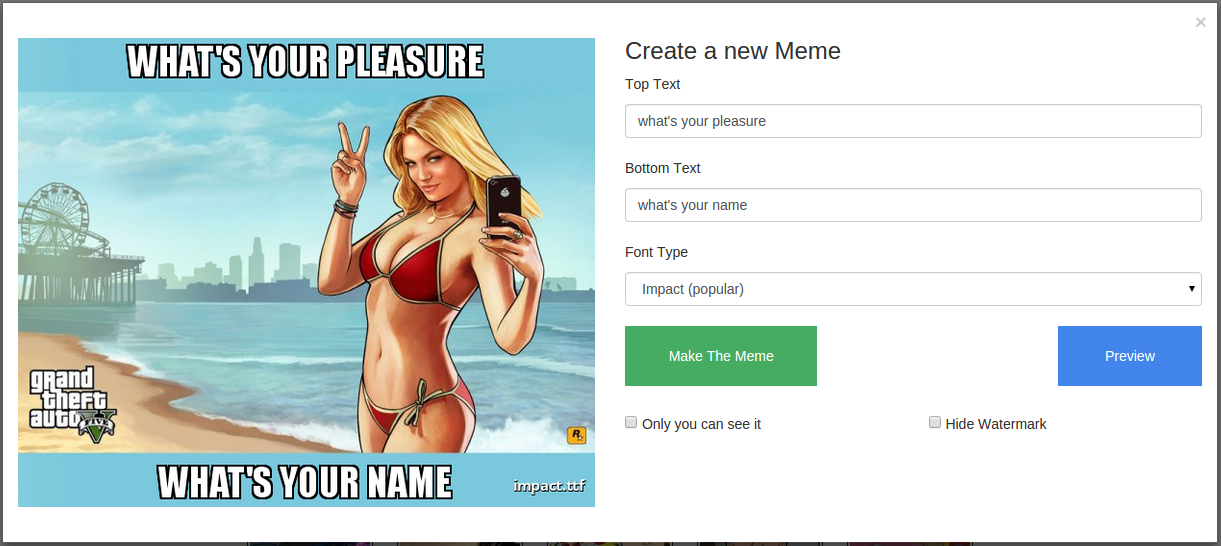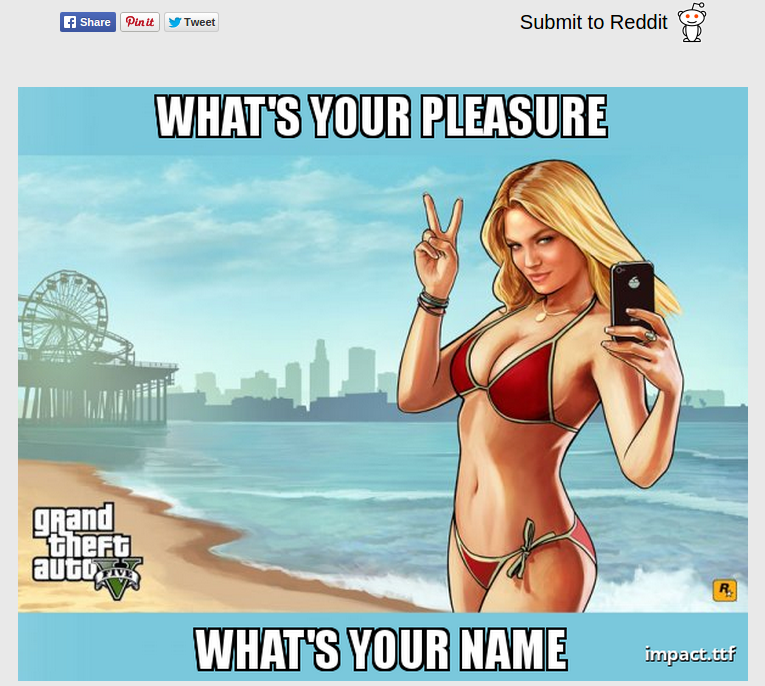 Admin:
2. Category management.
3. Image management. Also support multi-upload with resizing which help to reduce size.
4. Meme management.
5. User management.
6. Advertising management. Support 4 positions for advertising places.
7. Setting Site name, Logo, number images loaded per page on pc, number images loaded per page on mobile, Google analytic, Facebook app key, Google oath key, twitter id.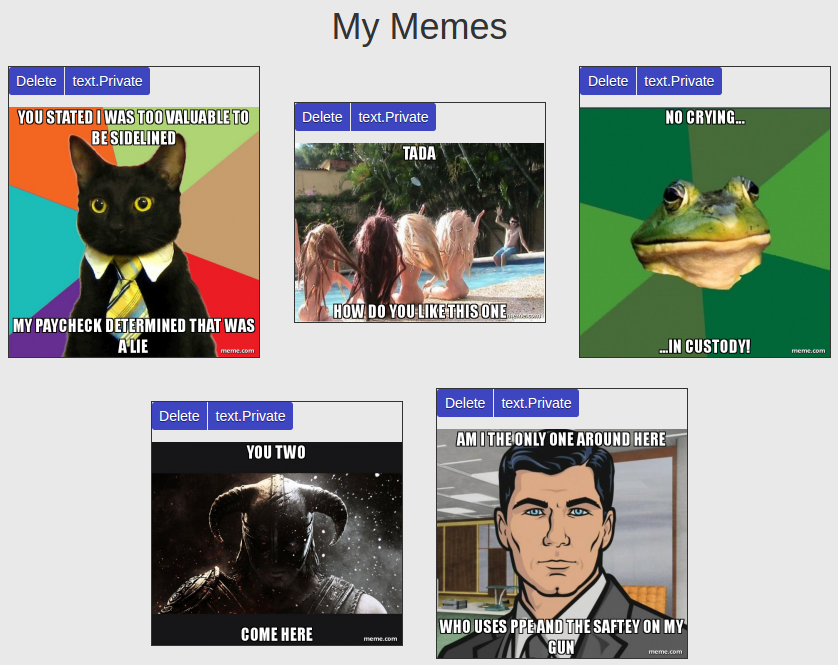 1. Statistic number Categories, Meme templates, Memes, Users.

Technical:
2. Run fast on mobile by clean code and setting.
3. Fast, secure and extendable with Laravel-modern framework http://laravel.com/docs/4.2
4. Support to multi-upload with resizing images by jquery upload https://github.com/blueimp/jQuery-File-Upload.
5. Using gd to create meme with text.
7. Multi language support.
8. Security by Hijacking (Laravel Auth), CSRF (Laravel Form) and SQL Injection (PDO).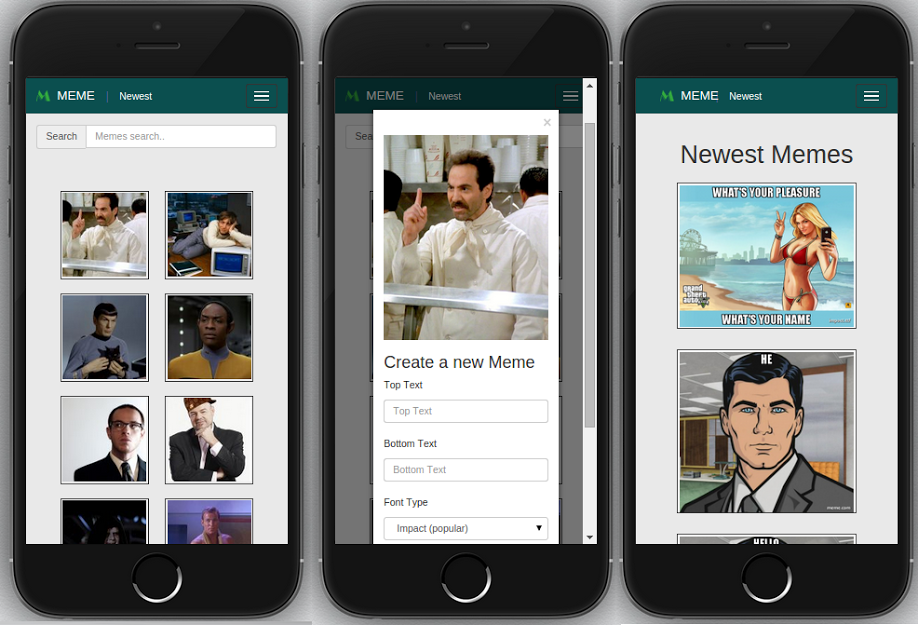 1. Full responsive with bootstrap.

Requirement:
2. Php-mcrypt extension.
3. PDO extension.
1. Php version 5.4 or 5.5.

1. If you got message "Whoops, looks like something went wrong.", please set APP_DEBUG=TRUE to debug the problem.
2. If you need more help from me, please add my email onepunnchman@gmail.com. I will help you resolve the problem step by step.


- Fix mcrypt_encrypt(): Key of size 10 not supported by this algorithm. Only keys of sizes 16, 24 or 32 supported.
- Add dummy data (193 meme images).
- Fix demo admin account.
- Fix setting ads.
- Fix some tiny bugs.


- Load images faster.
- Add categories filter in navbar.
- Load images by category.
- Auto add title of image from image name when uploading from admin panel.
- Make look better responsive
- Fix click top ad.
- Fix some tiny bugs.


- Show title of images
- Responsive Meme text.
- Url friendly for SEO.
- Add random page.
- Add jquery validate.


- Fixed login facebook version 2.4.
- Fixed share meme to facebook.
- Fixed "next" and "previous" buttons.
- Implemented lazy loading for Newest page.
- Added 404 page.
- Added random images for Homepage.


- Fixed any user can login to admin panel bug.
- Fixed make private when creating meme.
- Fixed active/unactive image in admin panel.
- Fixed my meme feature.
- Improved design.
- Implemented lazy loading to help website load faster.


- Fixed social login.
- Fixed upload meme from mobile (tested successfully in android 4.*).
- Add Name to meme templates when uploading form admin panel.
- Search meme templates by Name for user.
- Convert meme templates uploading and meme creating to JPG extension (to help save banwidth and loading more fastly).

NEW UPDATE IN VERSION 1.1: