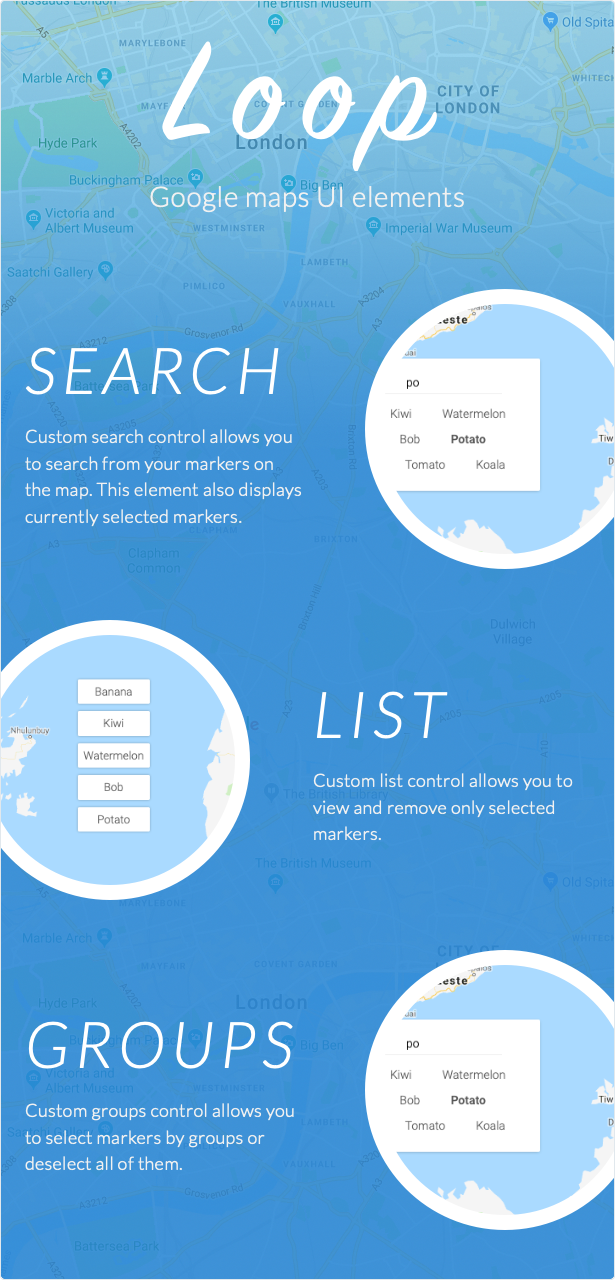 Support and documentation
Read a documentation to find additional information:
Contact me if you still have questions:
Loop – Google Maps UI Elements
Loop – additional UI elements for Google Maps service. Allows to use search through marked locations, select them from the map or from locations lists. Also, you can group locations and select locations by groups. It has simple locations controls and well-commented code, that allows you to easily use or modify functionality and styles.
Features:
Search
Custom search control allows you to search from your markers on the map. This element also displays currently selected markers.
List
Custom list control allows you to view and remove only selected markers.
Groups
Custom groups control allows you to select markers by groups or deselect all of them.
Module System
You can on and off any modules, change and customize the functionality of the map.
Module System
You can on and off any modules, change and customize functionality of the map.
JSON Upload
You can send markers data via JSON format. Upload it from your own server or from a remote.
Easy Modify
The code has good comments and logic structure, short notice, and contacts. This will allow your programmer easy to modify functionality. Please, fill free to mail me.
FREE GIFT
You can get a free gift if you will contact me and share your experience of using this item. Your story may help to improve item quality, and you will get these improvements for free with the next update. Dependently from the use of your experience, I will define "size" of the gift. I can send you any item from my library for free, give you free freelance hours or more.