Worldcodes is NO LONGER an exclusive seller of items to envato, contact us for better features of this app and better support.. Thank you
Click image below to watch a small Sample Game-Play by a customer who ordered customization from Africa outside envato .. Shooting down "The Grey Aliens UFOs" that popped up on his Google maps in a Real abandoned house in a strange location in his community like the Good soldier he is.. A typical candidate for Trump's Spaceforce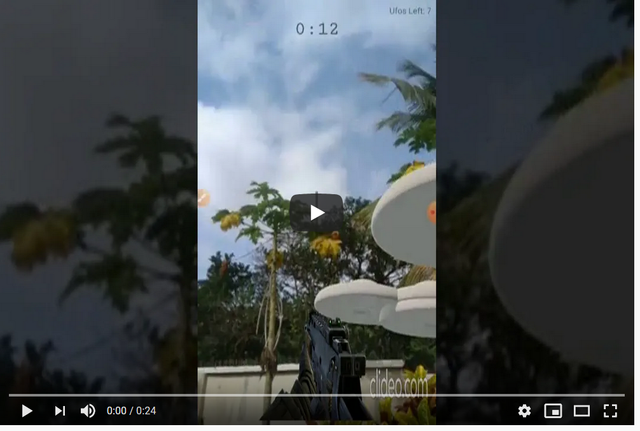 HOW TO TEST DEMO OF APP PROPERLY…
Due to corona and our need to encourage social distancing, we have decided this is How to Test Demo of this product on envato.. Failing to follow these simple instructions will not make you see the FULL app features and capabilities.. This can make you misunderstand what exactly it is and its uniqueness.., So kindly read the steps below
1. Go to the comment section of this product on envato codecanyon.
2. Tell us the gps point of your area where you can safely test this app,
3. We will then make an alien UFO fleet available in your area within 48hours,
4. You then walk to real life location you gave us in comments on your map like how you chase Pokemon on Pokemon-go,
5. The game will display the 3d model of the UFO aliens ships on your phones cameraview like Pokemon-Go. (This is what we call "Augmented-Reality" AR.)
6. Now at the location where you see the alien's UFO fleet, Try to shoot down at least 10 UFOs from the fleet before 20 seconds to Lead the SpaceForce League Table..!
Because this is a demo code, we have made it easy.. But once you buy, you can make it harder in terms of time..
Thank you.. Drop your comments and locations in comments section and lets have fun testing the demo!
Also read below for more Info

Source of SCIENTIFIC FACTS from PROFESSIONAL agencies that proves UFOs and Aliens out this world Exist and were recorded by the US NAVY in their Advanced Aerospace Threat Identification Program…
1. https://edition.cnn.com/2020/04/28/politics/harry-reid-ufos-pentagon/index.html
2. https://www.youtube.com/watch?v=-2b4qSoMnKE
3. https://www.youtube.com/watch?v=Z7-DhPCG_II
After Pentagon released this REAL footage and spent 20 million dollars investigating without releasing findings, You are rather a conspiracy theorist IF YOU SAY UFOs AND ALIENS DO NOT EXIST.. This is the new normal and reality about Alien and UFO Topics..