Josh Admin template is a bootstrap based admin template which comes in following versions
Laravel 4/5 Version: Is your next project on Laravel? Use this theme and save your valuable time.
HTML Version: This version can be used for working with any language like PHP, ASP, Ruby, JSP, Perl etc…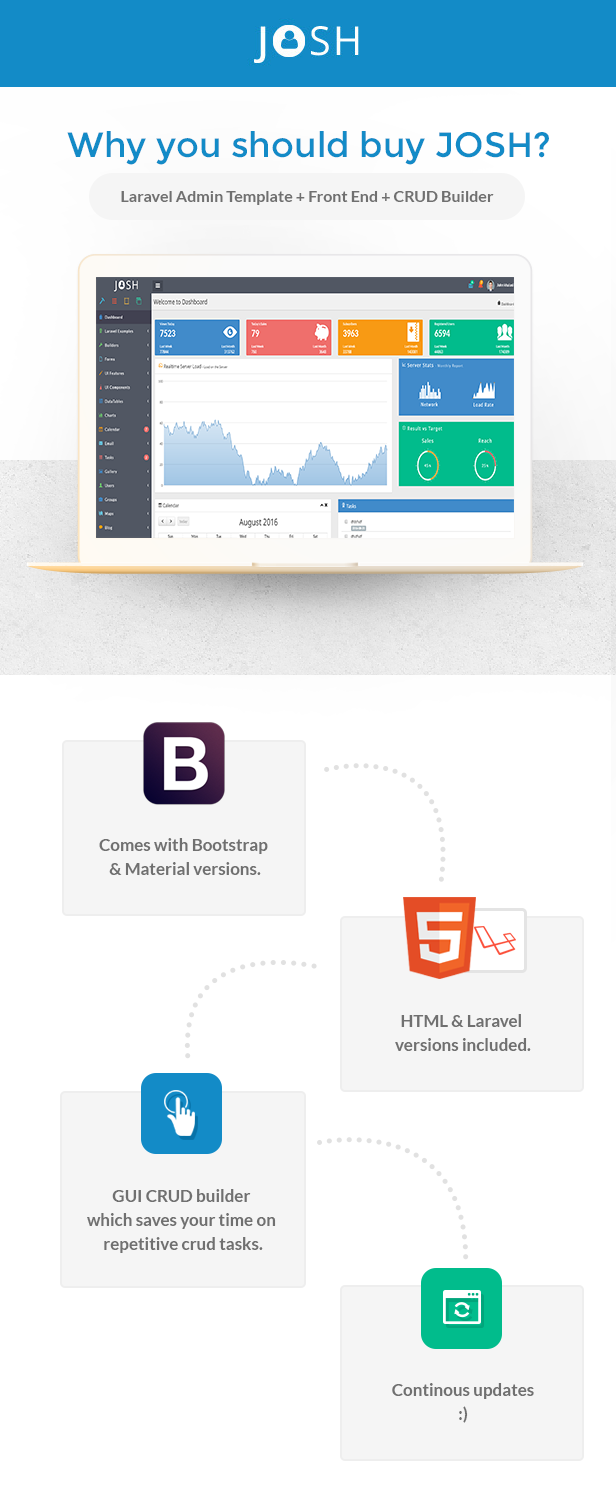 Laravel Features

Backend & Frontend pages in blade format with master layouts
Authentication and Authorization
Login, Register functionality
Add/edit/delete users from admin panel
Add/edit/delete user groups (roles) from admin panel
Blog module with comments – Backend & Frontend
Ajax DataTables example
HTML Features
70+ admin pages
More than 200 JQuery components to build your admin panel
20+ front end pages
Multiple color schemes for front end
Blog, news, shoppping cart UI
Components


Need any help customizing JOSH? we are available for custom work.
Since we know In & Out about JOSH, we can deliver quick results.
Please contact from profile page if you need any customization.


Do you know any language other than English? please help us providing more languages
Version 5.12.7 – 06 Jan 2019

laravel 5.7 version added
many package versions updated
Due to Envato file size limits, we had to remove material files from uploaded zip, so if you need them, please contact through support
ps: this will be temporary, once they fix upload issue, we will add all versions again.
Previous versions
changelog
Coming Soon
Another beautiful Frontend theme
Improvements to CRUD builder