jApCode CRM
jApCode CRM application is company management, It is usefull for every firm. Having a responsive layout, graphical interfaces etc.
Easy to manage every thing like project,Users,clients,Employee,notes,todo,files,accounts, support tickets,contracts,leads and blog etc


Video Demo
Click To See Demo
jApCode CRM Features
-Speed up web development by using ready modules
-Source code available in extended version for further modifications
-Easy to customize this project for developers on extended version
-Graphical Dashboard
-Role User Chart
-Last Registered User Chart
-Project Chart etc.
-Multiple Other Master Wizards
-Text Editor
-Stiky Notification
-Responsive Layout
-Export to pdf,excel etc.
-Insert Edit,delete Using Page Dialog Not need for refresh Page
-Jquery Datatable Grid, Search,Page Size,Paging Features Includes.
-Most Powerfull Features is You can easy to Customize It ,Will Extendable
Modules
-Company Management
-Client Management
-Project Management
-Files Management
-Accounts Sale and Purchase Management
-Support Task Management
-Contract Management
-Lead Management
-Company Blog Management
-Todo and Notes
-User Management
-Role Management
-RoleUser Multiple roles assign to each user.
-Menu Dynamic Menu Navbar
-Menu Permission and privileges assigned to someone
-Is Create, Is Read,Is Update or Is Delete
Master Utility
Language
Direction
Priority
Status
Country
AddressType
Currency
QuantityUnit
PaymentMode
Version: 2.0 Extendable, With Full Visual studio solution Source Code Database script.
After customize you may easy to connect with any database like MySql,Oracle db,MsSql Server
Video Demo
System Requirement.
Windows
IIS7 OR +
.Net framework 4.5
Sql Server 2008 OR +
Installation
:Unzip Solution
:Open in visual studio
:Change Connection string of database
:Take Database script from root and run in your mssql server
:Run It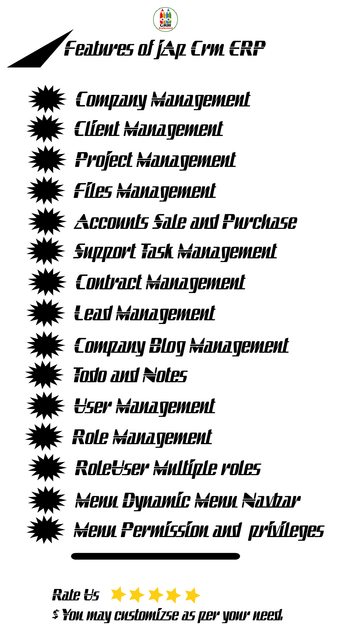 Review and Rating Us
After Purchase Email us if any query issue :
singh.mvc@gmail.com
, I will support you.
Rating Us Please.
Contact us for its advanced version with source code
____________
Update on 5 Apr 2018

User report (Date selector and per user selector)
  User Info, Uploaded files,Company clients, Todo ,notes,project members, leads
>Notes report (date selector)
>Client report company wise
>all project report 
>Single Project select and show below data of project
>project info,project tasks,project members,project files, project mile stones etc. project task complete chart or bars
>Ledger account, transaction report date selector
>invoice and invoice item print per invoice wise   
>File manager
>Project manager  


Note:Before purchase you need to check this software its fulfill with your requirements after purchase payment will not be revert.