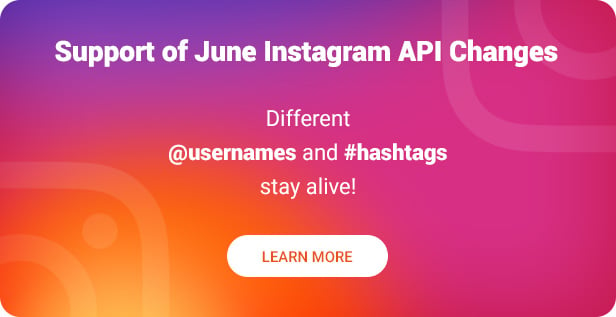 InstaLink is an Instagram widget, which allows you to display photos from an Instagram account or by tag on your website. It's a responsive, flexible, user-friendly plugin with most needed features.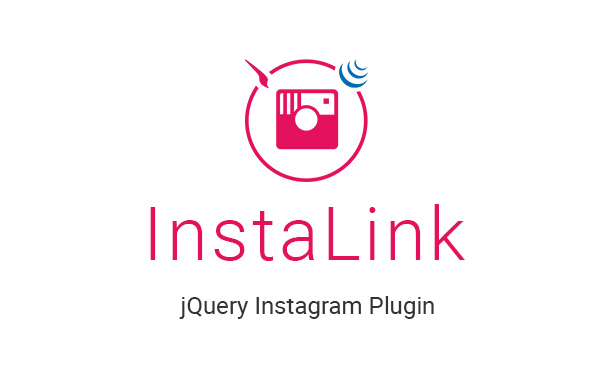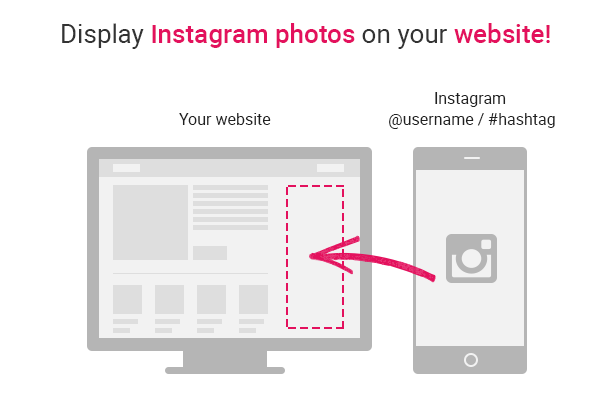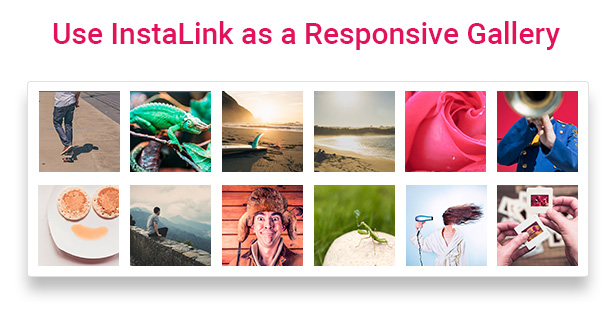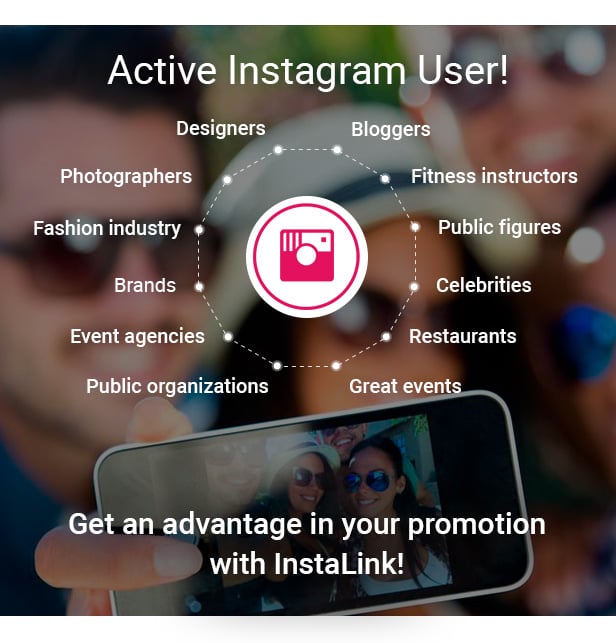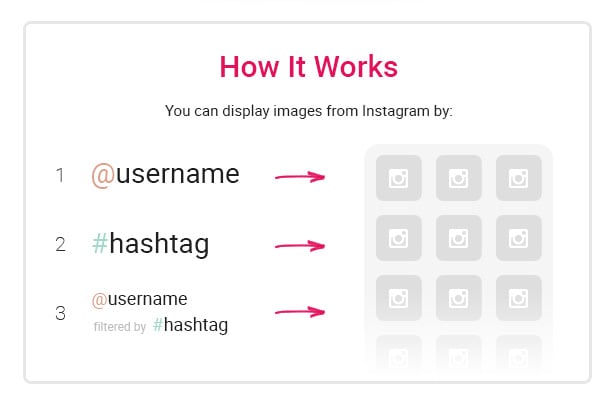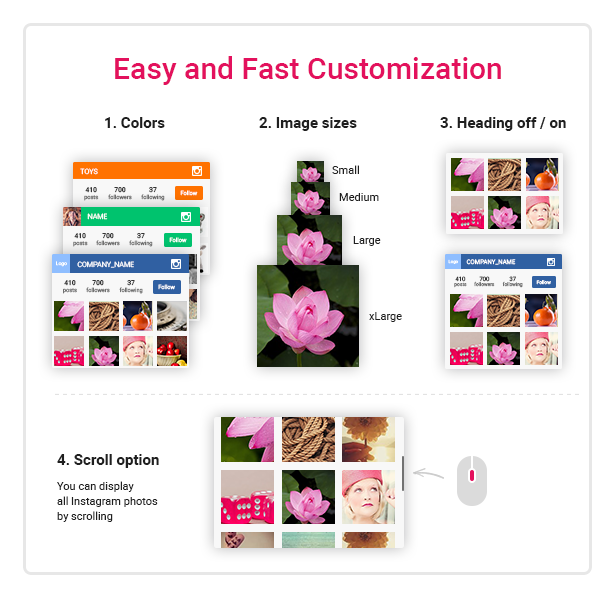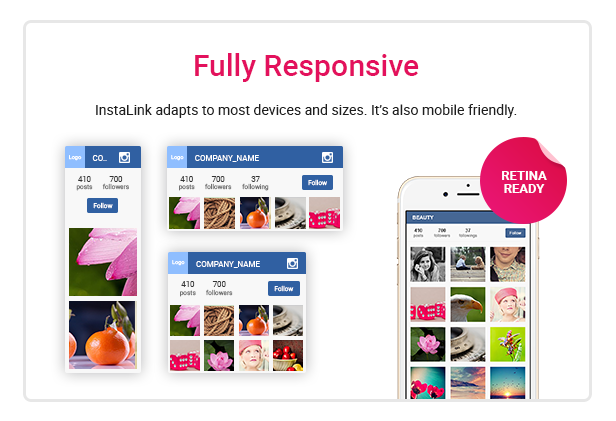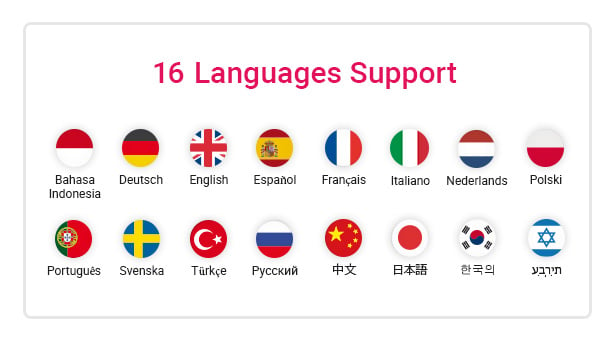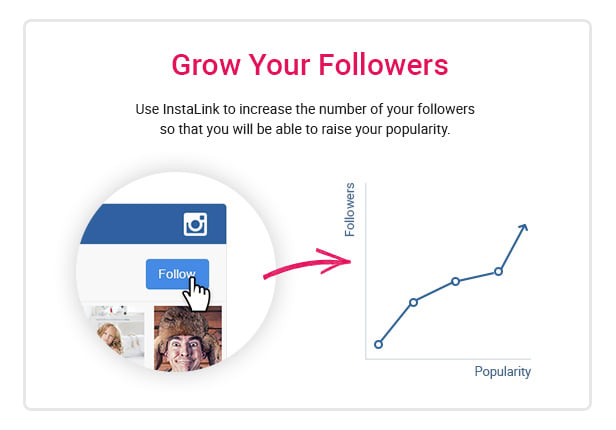 What our customers say about InstaLink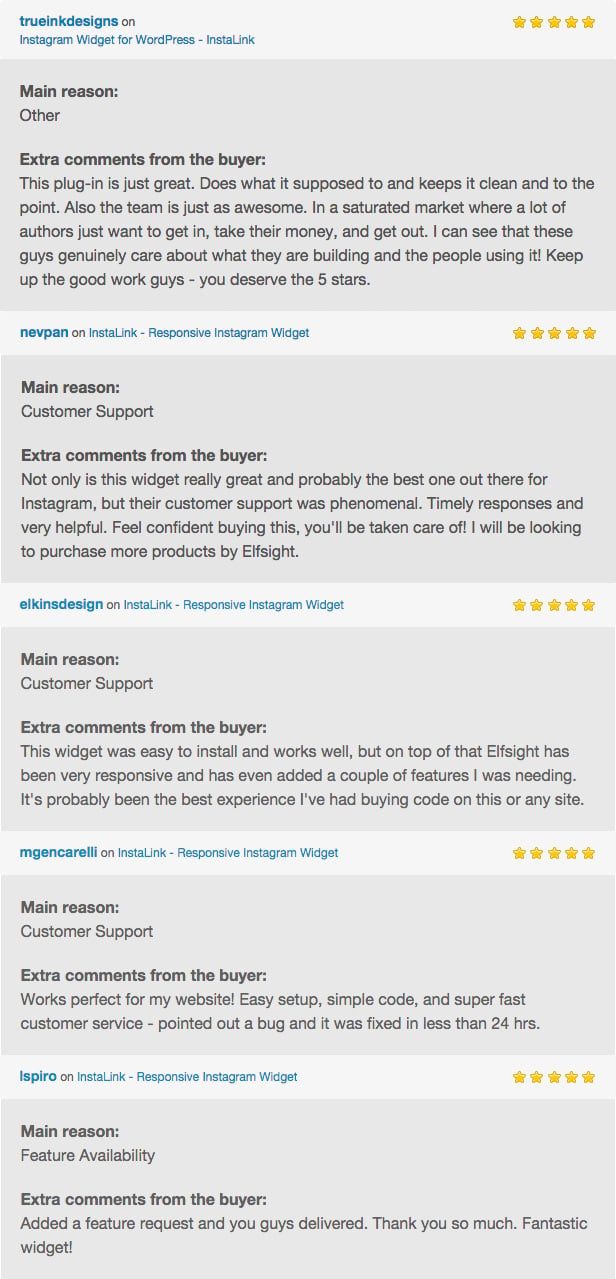 InstaLink Features
Widget includes
Images from Instagram username or hashtag or username filtered by hashtag
Ability to exclude images from specific usernames in your jQuery Instagram feed
Profile info (profile picture, images, followers and following number)
Button followed to your Instagram account page
Design & UI
Fully responsive and mobile friendly gallery
Support high-resolution displays (retina ready)
Smooth scroll for the best user experience of your responsive Instagram slider widget
Instagram images adapt to any size of your slider widget
Beautiful loading animations
Fast loading
Images cache
Customization
Capability to hide header of your grid
Use Instagram widget with or without scrolling
4 sizes of images (small, medium, large, xlarge)
16 languages included
Branding opportunity. Choose your own colors for background, panel, button and text
Fully customizable via HTML and CSS
Well documented JS code
Install & Support
Html code generator helps you to get your Instagram feed shortcode and install it on your website in seconds. Try it here
Very detailed documentation with examples
Free and fast support via email or comments
Supported CMS: Joomla, OpenCart, Magento, Drupal, ModX, HTML, etc.
Try widget on mobile device

Showcases
We've prepared several examples which you can use in order to get the most effective usage of our Instagram plugin. Embed html code for Instagram like experience on your site. However, note that the final configuration of the plugin depends on you and your imagination.
Basic usage – turn on the header, set the required username or hashtag and display entertaining photos on your website in order to gain more followers to your Instagram account or just attract more audience to the site.
Without heading – show only Instagram photos and nothing else. Turn off the header, specify sources, set sizes and choose the area of your website where your feed code will be set. Show your portfolio in all its beauty, link a responsive gallery to the thematic website and be sure to gain additional traffic.
With scroll – don't restrict the number of images shown in your slider plugin. Show all content of your jQuery Instagram widget by photo scrolling. InstaLink will help you to be always top.
Username and different color – select colors of panel and Instagram button, change it in content background and text. Moreover, use your social account as a source to show everyone on the website that you have a profile in one of the biggest social networks in the world.
Hashtag and different color – you don't have your own Instagram account? Don't feel upset! Select the object of your jQuery website and use appropriate hashtags to create a unique Instagram grid widget. For more effect color your plugin's background and panel.
Username and hashtag – our Instagram scroll plugin allows combining 2 sources. You can use some username and any hashtag to filter the feed. Simply set the required profile and hashtags, which all Instagram photos include.
Still haven't checked our plugin live? Do it right now on jQuery Instagram Feed plugin page!
  Support, Questions and Offers
Our support team is ready to answer on any kind of questions about our Instagram widget.
Do not hesitate to ask – we will figure out how to help you!
  More plugins by Elfsight

  Change Log – new version 2.1.12 is available for download
August 30, 2019 – Version 2.1.12
### Fixed
 * API issue
August 23, 2019 – Version 2.1.11
### Fixed
 * The issue with username as the source, related to the latest changes on Instagram has been fixed
November 12, 2018 – Version 2.1.10
### Fixed
 * HTTP2 compatibility
April 19, 2018 – Version 2.1.9
### Fixed
 * Fixed the issue with limited images display, caused by the latest changes in Instagram
April 11, 2018 – Version 2.1.8
### Fixed
 * Fixed the issue with limited images display, caused by the latest changes in Instagram
April 07, 2018 – Version 2.1.7
### Fixed
 * Hotfix for Instagram changes
March 24, 2018 – Version 2.1.6
### Fixed
 * Thumbnail loading issue
March 14, 2018 – Version 2.1.5
### Fixed
 * Hotfix for Instagram changes
January 13, 2018 – Version 2.1.4
### Fixed
 * Hotfix for Instagram changes
August 04, 2017 – Version 2.1.3
### Fixed
 * Cache issue fixed
June 14, 2017 – Version 2.1.2
### Fixed
 * Quick fix for Instagram update
April 12, 2017 – Version 2.1.1
### Fixed
 * Widget freezing after resize
February 17, 2017 – Version 2.1.0
### Fixed
 * Images loading issue

### Added
 * Event when the widget is loaded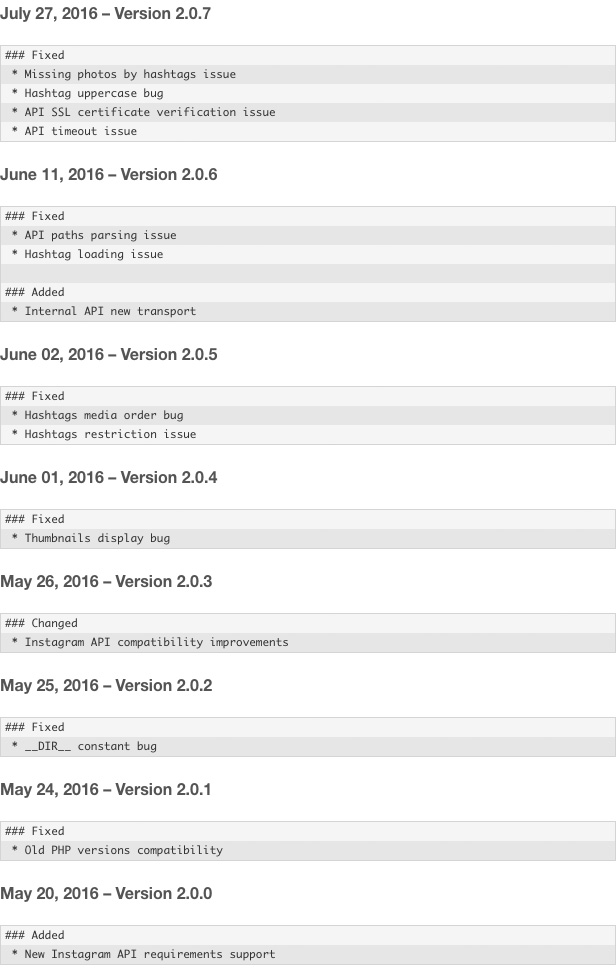 Attention! Important update to fit Instagram API Changes. Learn more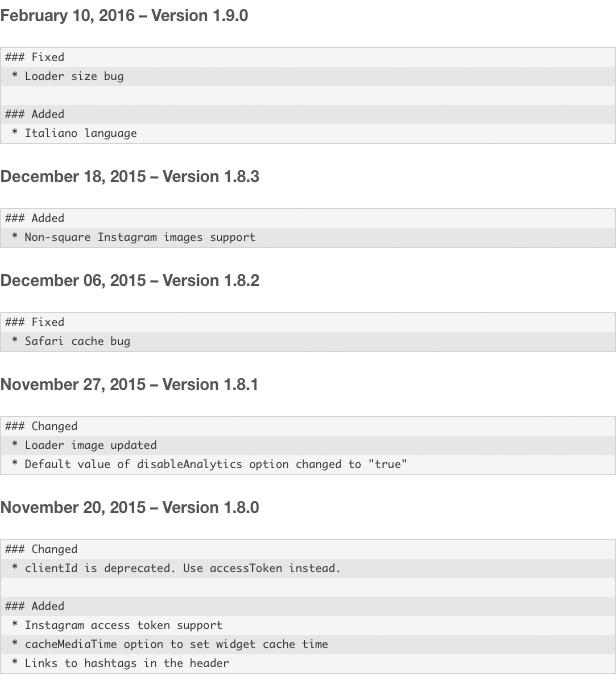 More info about client id deprecation