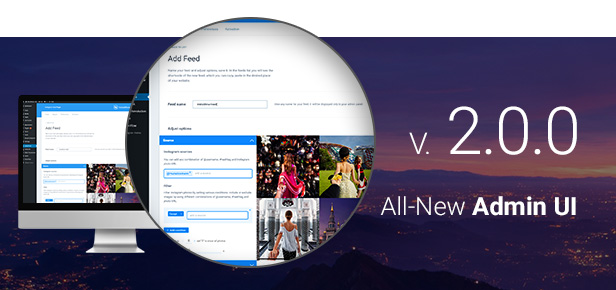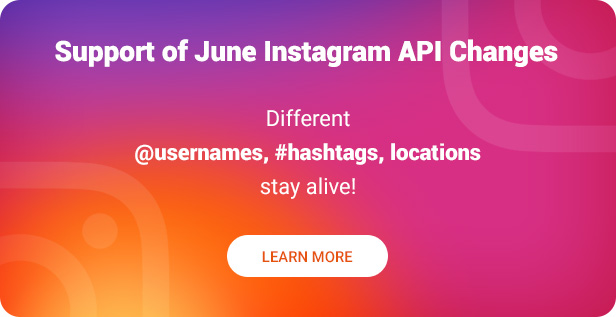 InstaShow is a premium WordPress Instagram feed for creating charming galleries of Instagram images. Take the advantage of an all-new multipurpose responsive Instagram feed for displaying various photos from Instagram with great number of possibilities to determine necessary resources and to set up additional filters.
60+ adaptable parameters and 10 color schemes will help to adjust the Instagram gallery as you wish. Use fully responsive and mobile friendly widget to attract your website?s audience in a flash.

Share the best with everyone!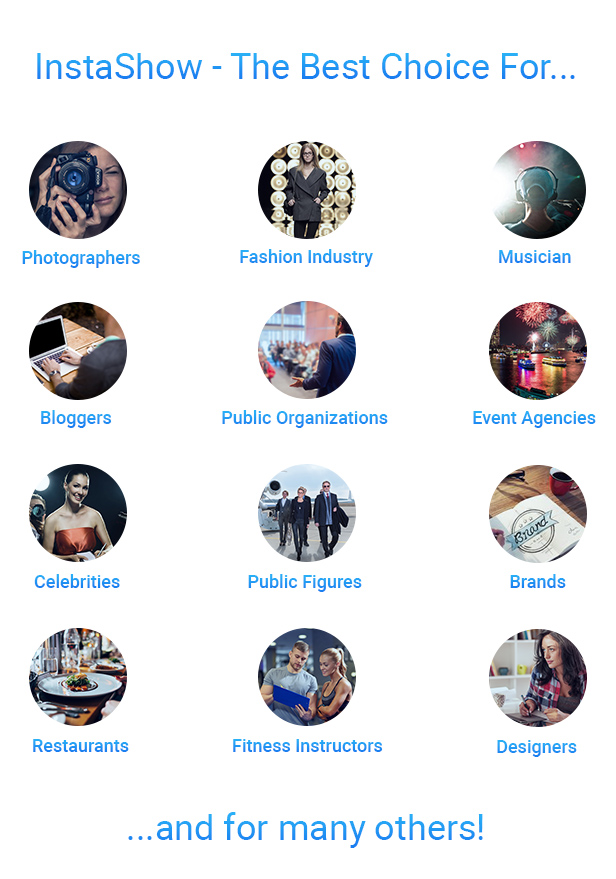 What our customers say about InstaShow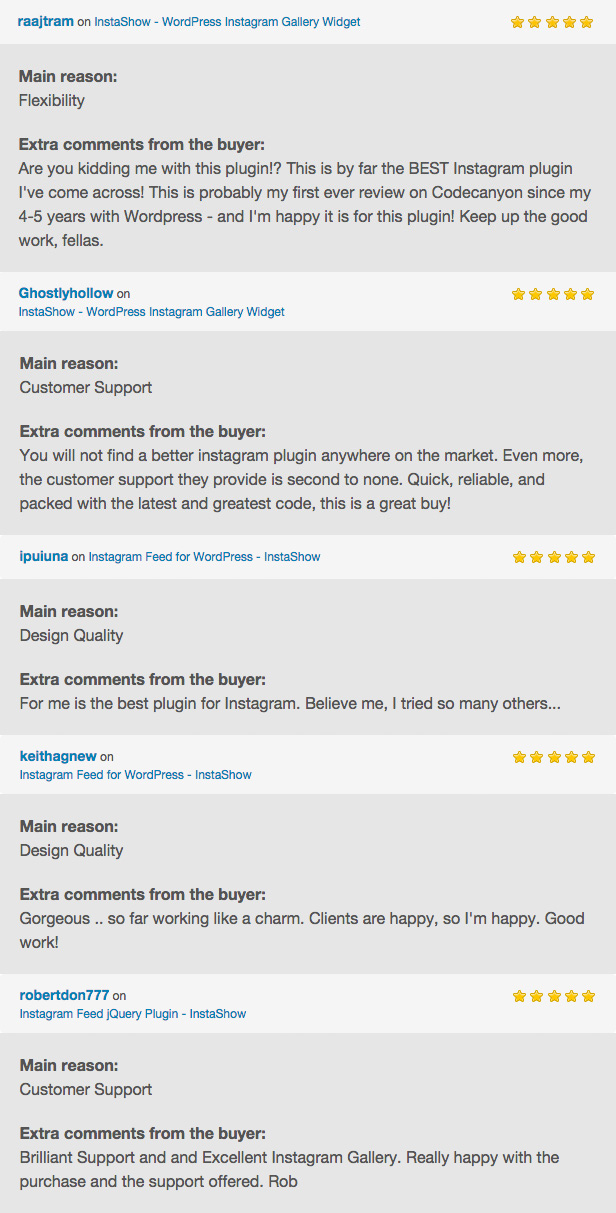 InstaShow Features
We aim at the production of high-quality and user-friendly products for our customers. That's why we strive to allow you to use full potential of a product. For Instagram WordPress feed InstaShow we've prepared more than 60 adjustable parameters so that you can easily adapt the Instagram widget to your website.
Source
The number of Instagram sources is restricted only by your desires
Add any combination of usernames, hashtags, locations or Instagram post URLs
Use additional conditions to filter Instagram photos
Exclude specific photos or photos which contain the specified hashtags or which refers to the certain authors or locations with "except" filter
Filter Instagram photos by @username, #hashtag, location or specific photo with "only" filter
Specify required number of loaded images to restrict their count with "limit" option
Define how long the photos will be cached in browsers' local storage with "cacheMediaTime" option
Sizes
Adjust width and height of your website Instagram feed for WordPress
Make Instagram feed responsive to adjust it to any screen
Set the number of columns and rows in the grid
Choose the appropriate gutter between photos
Specify the responsive breakpoints to set the columns, rows and gutter in the grid depending on a window width
User Interface
3 different navigation controls of the gallery: arrows, scroll, drag
Choose in which way the photos are scrolled: page by page or in free mode
Use the loop option to show an infinite Instagram feed. It's enabled by default.
Display or hide scrollbar indicator
Each UI element is Retina ready
2 variants of scrolling direction: horizontal or vertical
Automatic image scrolling with autorotation mode
Pause on hover in autorotation mode
2 animation effects of image scrolling: slide or fade
Adjustable animation speed
Choose animation easing of slide switching
Share a link to any photo in your Instagram feed with the help of the popup deep linking option.
Adjustable image scroll speed in popup
Choose animation easing of image scrolling in popup
16 languages support (de, en, es, fr, it, nl, no, pl, pt-BR, sv, tr, ru, hi, ko, zh-HK, ja)
Choose the mode of opening Instagram images: in popup or directly in Instagram.
Gallery Info
Display or hide each UI element in the WordPress Instagram gallery:
Likes counter
Comments counter
Description
Popup Info
Display or hide each UI element in the popup:
Username
Instagram link
Likes counter
Comments counter
Location
Passed time
Description
Comments
Style
10 Predefined Color Schemes
Adjustable color of 24 UI elements
WordPress
Set the parameters as you wish with the shortcode generator
Use InstaShow with one of the most popular page-builder for WordPress – Visual Composer. VC InstaShow element is available with all customization opportunities.
WordPress Instagram feed plugin checks automatically new updates. You will be notified and able to update the widget in WordPress admin panel if a new version is available.
  Support, Questions and Offers
Our support team is ready to answer on any kind of questions.
Do not hesitate to ask ? we will figure out how to help you!
  More plugins by Elfsight


  Change Log – new version 2.3.0 is available for download
February 21, 2017 – Version 2.3.0
### Fixed
 * Multiple filters bug
 * Custom filter option bug
 * Antivirus conflict
 * Location filter bug
 * Preferences saving in Safari bug
 * Deep linking option inside admin panel bug

### Added
 * WordPress widget support
December 02, 2016 – Version 2.2.0
### Changed
 * Improvement in loading speed for the hashtag source type

### Added
 * New source type - Instagram Location
September 21, 2016 – Version 2.1.0
### Fixed
 * Visual Composer checkbox options bug
 * Old PHP versions error 
 * JSON quotes issue in API

### Changed
 * The auto option is off when popup is open
 * "View in Instagram" label changed to "View on Instagram" 

### Added
 * Empty account message
 * CSS property clear: both added to the gallery
July 27, 2016 – Version 2.0.3
### Fixed
 * Missing photos by hashtags issue
 * API SSL certificate verification issue
 * API timeout issue
 * jQuery 3.1.0 compatibility issue
 * Saving of API settings issue
 * Bug with comments option in the popup info 

### Added
 * Clearing of server-side cache after changes in API settings
July 21, 2016 – Version 2.0.2
### Fixed
 * Client id & Access token issue
July 21, 2016 – Version 2.0.1
### Fixed
 * Responsive option bug
 * Navigation controls bug
 * Safari issue in the admin panel
July 14, 2016 – Version 2.0.0
### Fixed
 * Deleted photo bug
 * Hashtag uppercase bug

### Added
 * New Admin UI
June 11, 2016 – Version 1.9.5
### Fixed 
 * API paths parsing issue
 * API url issue

### Added
 * API transport fallback
June 07, 2016 – Version 1.9.4
### Fixed
 * Hashtag loading issue
 * Filter option bug

### Added
 * Internal API new transport
 * Old browser prefixes
June 02, 2016 – Version 1.9.3
### Fixed
 * Hashtags media order bug
 * Hashtags restriction issue
May 31, 2016 – Version 1.9.2
### Fixed
 * Thumbnails display bug 
 * Popup deep linking option bug
 * Needless query param issue 
 * API trailing slash issue
May 27, 2016 – Version 1.9.1
### Fixed
 * Instagram API compatibility bug
May 26, 2016 – Version 1.9.0
### Fixed
 * Repeated images bug
 * RTL mode bug
 * Feed loading bug when there is a broken source

### Added
 * New Instagram API requirements support 
Attention! Important update to fit Instagram API Changes.
Learn more
April 14, 2016 – Version 1.8.0
### Fixed
 * Instagram specific image in source option bug
 * Mobile drag control bug
 * Scroll control default value bug
 * Not working with mailchimp bug

### Changed
 * Grid calculation

### Added
 * VC preview
 * 'instaShowReady' jQuery event
March 29, 2016 – Version 1.7.0
### Fixed
 * Source uppercase bug
 * Video in popup starts playing on description click
 * Popup image width bug
 * Arrows blinking during loading
 * Empty info options bug

### Changed
 * Analytics module changed
 * Second page loading on initialization prevented
 * Don't show error messages by default
 * Error messages text
 * Don't hide video marker in the gallery on media hover

### Added
 * Loop gallery option
 * Debug mode
 * Description links in plain-text converting to HTML tags
 * Experimental option to support high resolution images (1080x1080)
 * Gallery arrows active effect
February 05, 2016 – Version 1.6.0
### Fixed
 * Instagram API response data changes issue
 * Square images fitting bug
 * Old php versions issue

### Changed
 * target="_blank" and rel="nofollow" for all anchors

### Added
 * Custom templates support
 * Custom CSS and JS editor
 * Option to add InstaShow script on every page (for ajax websites)
December 28, 2015 – Version 1.5.0
### Fixed
 * Arrows in popup disappearing
 * The widget fell by using jQuery 1.9.1

### Changed
 * Image loading optimization breakpoints
 * Handlebars included in package version

### Added
 * Mode option
 * Filter option
 * Play icon on videos in gallery
 * Defer script loading support
 * Admin UI translation support
November 26, 2015 – Version 1.4.3
### Fixed
 * Responsive options sorting breakpoints bug
 * Internationalization, descriptions and comments special characters bug
November 22, 2015 – Version 1.4.2
### Fixed
 * Shortcode source bug
 * Responsive option bug
 * Empty comments array in response from Instagram API bug

### Changed
 * Option responsive allows url encoded string
November 21, 2015 – Version 1.4.1
### Fixed
 * Multiple sources images duplication bug
 * Option source specific media shortcode extended characters

### Changed
 * clientId is deprecated. Use accessToken instead.
 * Default value of cacheMediaTime option is decreased to 0

### Added
 * Live updates functionality
 * Images count limit option
 * Responsive breakpoints option
 * Instagram images loading optimization
 * Scripts loading optimization
More info about client id deprecation
October 29, 2015 – Version 1.3.0
### Fixed
 * Album-oriented images deformation bug
 * Over last view translation moving backward bug
 * Images with different sizes don't fit in popup bug
 * Gallery transitions glitches

### Changed
 * Gallery layout markup

### Added
 * Instagram Access Token support
 * Set specific Instagram image as source or filter
 * Instagram URL as a source or a filter support
 * Gallery info dynamic resize
 * Packaged edition (dependencies free)
October 15, 2015 – Version 1.2.0
### Fixed
 * Popup animation shaking
 * @username and #hashtags links in description and comments

### Added
 * Non-square images support
 * Popup deep linking
 * Popup video icon
 * Media list cache expiry time option
 * Shortcode generator autosave settings
More info about non square photos
October 04, 2015 – Version 1.1.0
### Fixed
 * Fade translation animation bug
 * Touchend popup initiation bug
 * Visual Composer Scroll Control bug
 * WordPress error message box position on InstaShow Page

### Changed
 * Popup close control for mobile devices
 * Info and Popup Info Visual Composer controls to checkboxes

### Added
- Analytics
- colorPopupMobileControlsBg option
September 27, 2015 – Version 1.0.1
### Fixed
 * WP plugin name conflict
 * Generator width and height input issue