Image Manager for Product Images
Whenever you conduct b2b work with companies that require you to use very large amount of images you always run into difficulties when operating with them.
Whenever these images don't appear on the page, nor a specific product has an .img attached to it at all or perhaps when you want to change the main image with one from the additional images Image Manager helps you do this all with ease.
For this little but annoying problem we create one solution = Correct Product Image Manager
How Does it Work?
Quick install the Image Manager to your Open Cart 1.5.x Store and Control all products. After installation the Image Manager allow to change and  switch off / on Products without  Uncorrectable products or Enabled uncorrectable products or Delete additional image afterwards or Disable uncorrectable products:
DEMO: Admin: demo >>>>>>>>> | Password: demo >>>>>>>>>
We provide bug fixes free of charge.
Our installation service is priced (details are at http://www.beway.eu ), and customizations are quoted based on complexity.

Please make your Backup before start the installation.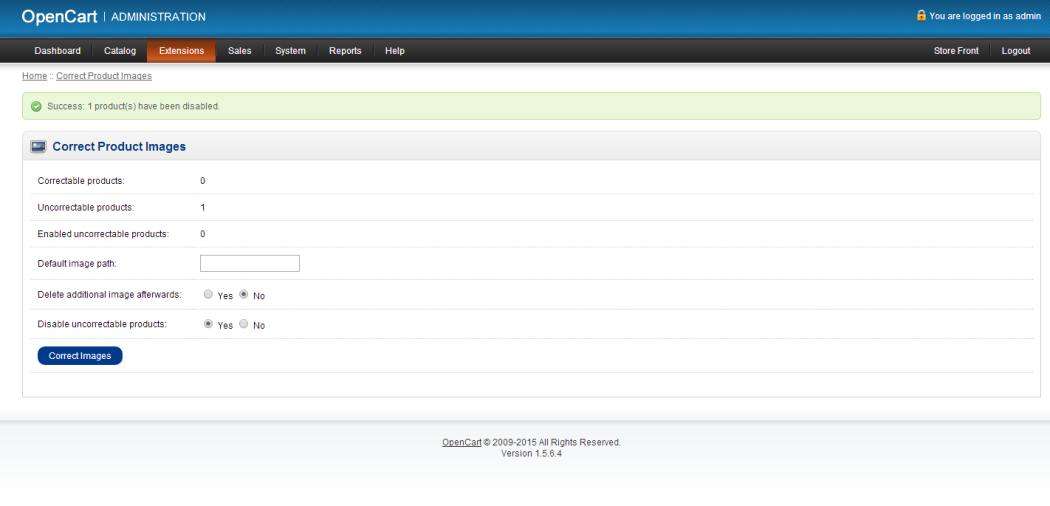 OpenCart 1.5.x.x
? vQmod installed
PHP 5.x or higher version
MySQL 5.x or higher version
HOW TO INSTALL
Before installing, make sure you have vqmod installed. It's easy to install and is required for almost all Open Cart plugins. If you don't already have it, it can be downloaded here:https://code.google.com/p/vqmod/
First: Unzip upload.zip and upload the files:

1. Use your FTP client to upload  the admin folder   to  your /public_html/opencart/admin/  directory
2. Use your FTP client to upload vqmod  folder to your /public_html/opencart/vqmod/  directory
3. Edit your user-group to have permissions on extensions:  tool/product_manager
4. Admin Panel >> Extensions >>  Correct Product Images
TROUBLESHOOTING
If the script doesn't seem to be working correctly, please try the following steps:
1) Make sure you're using Open Cart version 1.5.x
2) Check /vqmod/logs/xxxx.log (where the xxxx is the current day of the week). Often helpful error messages can appear here.
3) Make sure vqmod is properly installed, that /vqmod/logs, /vqmod/vqcache, and /vqmod/mods.cache have 777 world-writable permissions. Additionally loadhttp://www.yoursite.com/vqmod/install   in a browser to make sure it's properly installed.
 If you need help – support@beway.eu
SUPPORT
Due to the extremely low price of the script (of which the author only receives half), in-depth support is not always available, but If you have any questions suggestions or bug reports, you can email   support@beway.eu   . For bug reports, please include the relevant log file from /vqmod/logs .
Thanks for purchasing this extension!